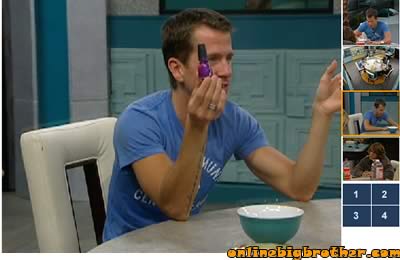 7:50pm Kitchen Everyone but Lane Ragan is going through Rachel's nail polish, he holds one says "even Rachels Nail polish has a STD…Brendon I can make you hard as nails". Britney and Ragan start bashing Rachel.. Brit: "The Rachel Riley's book club it like the Opera book club but Rachel's is about sexually transmitted diseases and self help books". Ragan brings up how rachel acted after she won the second Head of Household "Floaters grab your life vests… KRISTEN." Britney says Rachel was saying something after that but she can't remember. Hayden says Rachel was making fun of Kristen because she "only" had a fashion management degree and Hayden yelled out "try using a sentence without using the word like Rachel". Ragan brings up that Rachel was telling a story and was always saying emancipated but was trying to say emaciated. They all can't believe Rachel did the things she did on the Live Feeds.
They start taking about how insanely two faced Kathy is, Britney says Kathy talked more about Rachel showing her vagina then Y'all put together. Britney says the first time Rachel won Head of Household kathy was all over Rachel but after she would come down here and call Rachel a BLANK and a BLANK. They all agree that Kathy was the most 2 faced person in the Big Brother House, it was unsettling. Enzo brings up how Kathy was so buddy buddy with Brendon but when he was out of the room she talked "MAD MAD BLANK" about brendon. Britney impersonates Kathy during a Big Brother competition, Britney says that Kathy told her that she was going to take her time on it. Enzo: "No BLANK yo". They all go on and on about how incredibly useless Kathy was in the competitions.
Britney brings up when Kathy told her "you guys y'all have to all carry me through this week My Mind isn't in it".. Brit: "Sure KAthy you handled last week this week we have"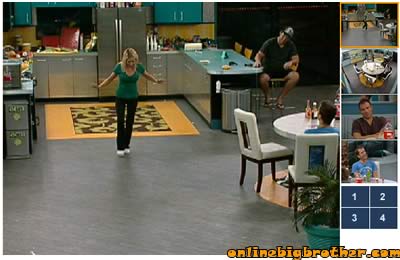 Ragan tells them that Matt was telling him he was planning on aligning with Pig Pen (Natalie) when he met her during the semi final casting on Big Brother 11. Enzo asks who won last years first Head of Household, Britney answer Jessie. Britney: "The one thing I told Jessie was I made it longer in this game then you every did". Ragan: "Here is my opinion about Chima.. I can understand how someone can crack in here but I don't have too much respect for someone he quits this game". Enzo: "She took a punk way out we're all in the same situation here"
Enzo warns them that during the finale Rachel is going to start a ruckus.. Ragan isn't worried because there will be a live audience. Enzo tells Ragan he did a good job not cursing during the fight with Rachel he could never do that, Exno mentions he feels sorry for Rachel's Family. Ragan: "Her mother will be the one in a confederate bikini" .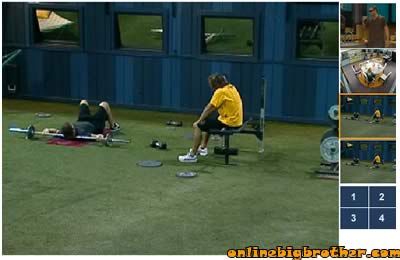 8:32pm Backyard Hayden and Lane talking about how important it is that Hayden wins HOH. Lane tells HAyden it's going to be a quiz. Hayden just hopes it's not a competition geared towards Brit winning. (it's going to be a insulting competition who ever can spew most insults in 60 seconds wins..) lane says that Britney told him she's voting Ragan to go so there's no chance of him staying. Hayden you guys are just working him for jury vote. Enzo joins them tells them to let him in on the game talk, "Whose taking me to final 3 yo.."
Enzo telling them that if they win HOH they have to make sure the "little BLANK" doesn't get into their heads. Hayden: "Hey man don't worry I wouldn't do that"
Lane brings up that the Diary Room is messing with his head.. making him second guess himself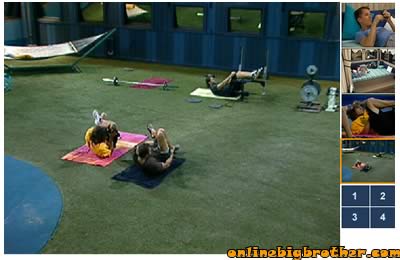 9:14pm hayden, Lane and Enzo working out. Prior to this they were talking about however wines it will take the them all to Steamboat to party.
9:27pm Enzo brings up that Ragan and Brit are in the Cabana talking making a final 2. Lane laughs.. HAyden is actually getting worried he says he doesn't' want Brit to flip then Enzo has a brain fart during voting and says he wants to evict Hayden. Hayden asks Lane with he should go talk to Brit. LAne tells him not to waste his time everything is fine. Enzo tells Hayden later tonight they will all be up in HOH and Brit will tell them everything then. Enzo starst swinging the badminton racket around screaming YOUR GOING HOME RAGAN KEEP THIS BLANK UP.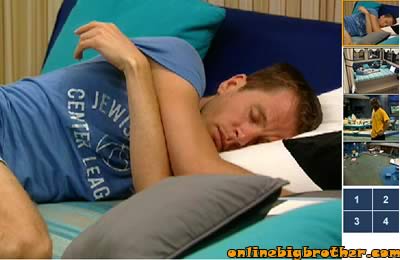 9:30pm Cabana Ragan's been alone more or less since after dinner. He briefly talks to the live feed watchers, but is mostly in deep thought.