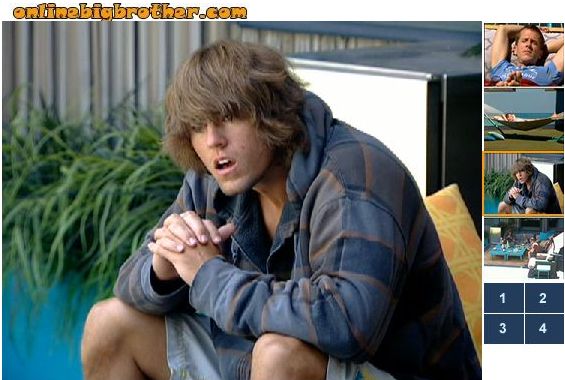 12:10pm – 12:55pm All the house guests are out in the backyard. Ragan is on the hammock by himself. Britney, Lane, Hayden and Ezno are sitting on the couch. Enzo has a bowl of cereal and he goes to eat it then says I don't even want this yo! Enzo says that they (CBS Big Brother production) better be doing something in there, cuz if there's nothing I am going to be pi$$ed. Britney says that they are probably fixing something. Enzo says this is why I am going to sleep all day. I am just going to start breaking things until then give us something. A airplane flies over head and and Enzo yell I'm on you b!t#h. In a couple weeks Imma be on you! Britney says that she is so jealous of the people on the plane. Enzo starts talking about how how in season 3 the members of a jury were asked how much of the $500,000 they would give up to charity and that the person that said they would give up the most got to come back into the house. Enzo yell out to big brother …yo make up a bootleg competition or something .. anything. They all want a Luxury Competition. The house guests are commenting on how there are lots of helicopters over head and they wonder if they are filming a movie or something. Enzo does his Arnold Schwarzenegger impression saying get to the chopper now!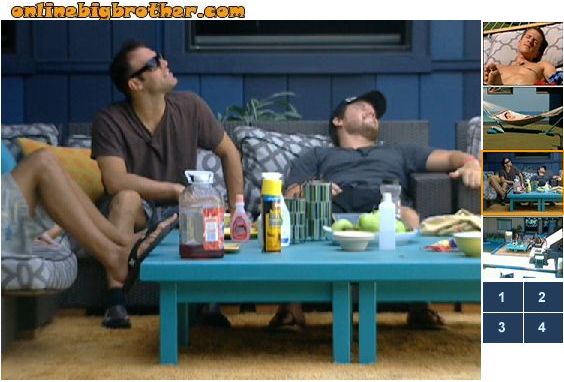 Britney thinks that theres a huge car crash with a celebrity and that they're filming it right now. Britney says oh my gosh …I hope its not Britney Spears. Lane says he's sick of them and then jokes that if he sees one back on the ranch, he is going to shoot at it. Lane asks what if its 4 guys that just busted out of prison and they hop the fence and come in here. Britney says that would be awesome. Britney says then Lane could beat them up. Lane says four of them…what if they have shanks … I'd make friends of them and invite them to the pool. They continue to speculate what happened and what the helicopters are doing. Enzo thinks its Octo-mom and that the reason they dont hear any police or sirens is because no one cares. When the helicopters leave …the house guests all sit in silence, Big Brother House is pretty boring right now. Ragan is now sitting with his feet in the pool with his back to the other house guests. Big Brother announces House guests the lock down is over, you are now free to move about the house. They all get up and head inside. Ragan heads straight for the Taj bedroom and lays down in his bed and stares at the wall. Britney asks Lane if he is going to nap. Lane says that he wants to work out but that he feels too lazy. Hayden says that he's going to make breakfast.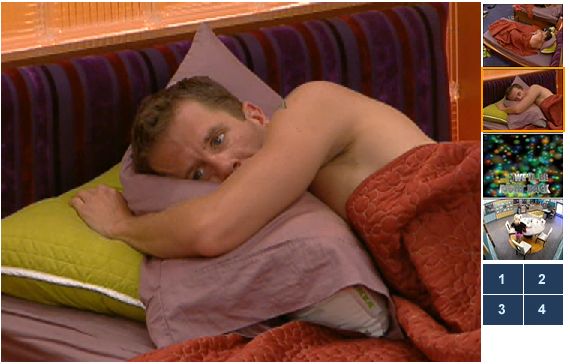 1pm Britney goes up to the HOH room and asks Lane if Ragan talked to him already. Lane says that Ragan made some good points. Lane asks Britney what shes going to do. Britney says that she'll probably go lay out… and that she's so bored. Britney gets into the Head of Household bed. Lane asks her if she will rub his waist. Britney says no. Lane asks her if she will rub his inner thigh. Britney laughs.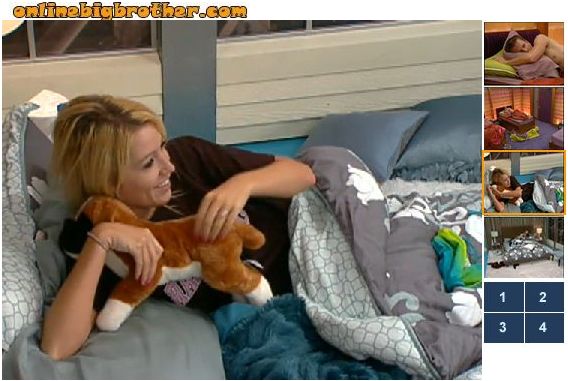 1:05pm – 1:55pm Lane says again that Ragan made some good points. Britney says that Ragan told her flat out that she has no chance of winning. Lane says that he would never let anyone ever tell him that. Britney says that she understands that she can't win and that she is going for the $50,000. Lane says he has a better shot of beating Hay than Enzo. Lane says that if Ragan stays he has a worse shot of getting to final two because it's harder to get Ragan out. Britney says that Hayen might send him out next week if he gets POV and she is HOH. Lane tells Britney that he would pick her at final two. Britney again tells him that she thinks Hayden would put him out over Enzo. Britney says that Hayden will get Brendon's vote. Lane agrees, but says he thinks can beat Hayden because Hayden got the prizes during that POV competition. Lane tells her not to go tell Hayden she knows about it. Britney saying she thought he had won because before the competition he asked if the jury would know who won the prizes. Britney says that makes her feel better about Matt…and that was part of the reason she put him up. Britney says that Hayden will deny it. Britney tells Lane not to say anything to Hayden. Britney says that she knows she's playing for the $50,000 and that anyone would be dumb to get rid of her. Lane says that he knows what Hayden is doing and Hayden knows what he (Lane) is doing. Lane says that Enzo knows he has to win everything to stay. Britney says that Enzo deserves to the win the least and that she doesn't want him to win. Lane says that he knows.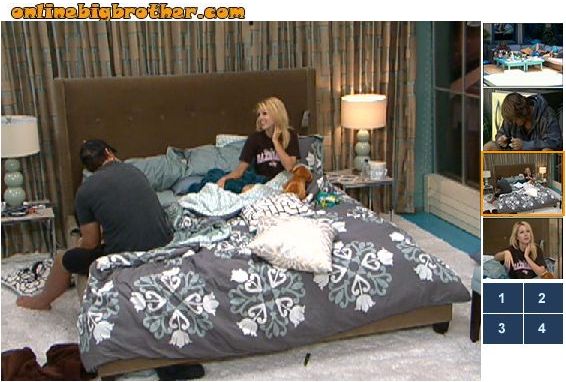 Britney says that Ragan has good points. Lane says he does and he agrees he would beat Ragan in the end, but it's harder to get there against Ragan. They both agree they don't want to compete against Ragan in the final three, especially in endurance. Lane and Britney go over the scenarios. Britney tells Lane that they are going to ask you what your big move was ….and you are going to have to say something. Britney says that she is going to say getting out Matt was her big move. The conversation changes to talking about their dogs. Britney says that when she gets out she is going to buy so many doggie toys for her dog when she gets out. Lane and Britney both tell stories about their dogs. Britney and Lane talk about Nick. Britney says that Nick can see what she is doing any time she wants but that she has no idea what he is doing. Britney says that the difference between Nick and Lane is that Nick is engaged and that he is not allowed to text or be calling any one. Lane says that this is how it is going to go … you will get home and he wont tell you right away ..you will have sex for a couple weeks to make him feel better and then he will get lazy and let it slip. Britney and Lane keep speculating on Nick cheating on her. Lane says that she was with someone else for a long time and you thought that would work and it didn't and now you've been with Nick even less time so it might not work out. Britney says that at the finale she is going to tell him to tell her 3 things that he did wrong and that she wont hug him till he does. They end with Lane says that Nick is probably a good guy and none of that happened.. Lane says 82% that wont happen..
2pm Enzo is passed out sleeping out on the backyard couch. Up in the HOH room Britney and Lane talk about Monet and other random things. They talk about what it was like in the beginning and how they have made it so far. Britney says that she is proud of herself for making it this far. Lane says that she is going to get the most opportunities out of all the people that have left before her.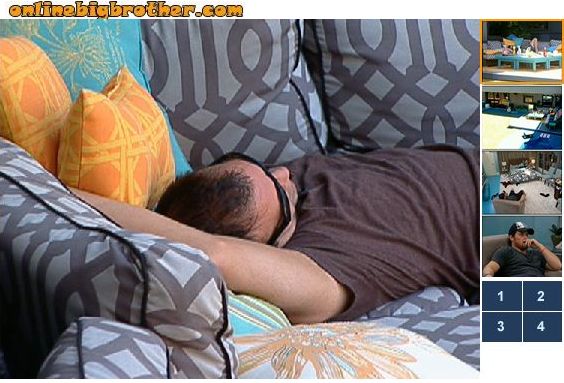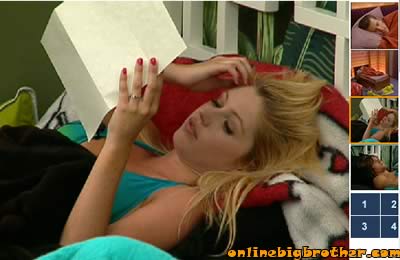 3:26pm Jumanji, Brit, Enzo and Hayden Enzo sleeping, Hayden and Brit reading each others HOH letters aloud. 10 minutes before this Brit was not there and enzo/hayden were talking about whether or not they would still vote for Lane in the final 2 if he took brit. They both come to the conclusion that they will but both will be pissed at him.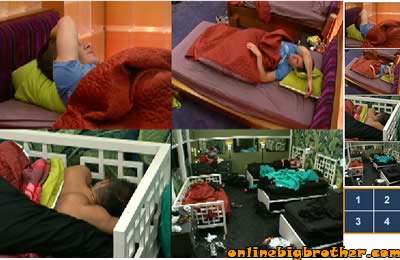 4:15pm Indoor lockdown sleep fest on the Big Brother Live Feeds These house guests seem down and out until another competition comes up or Production does something to stir the pot a bit.