Watch all drama on FLASHBACK! FREE 3 Days TRIAL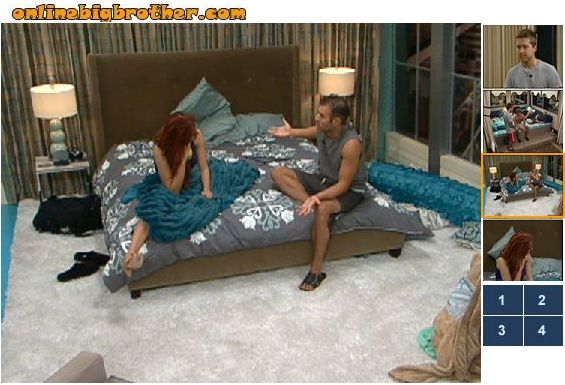 3:50pm Enzo and Rachel are alone in the HOH talking. Enzo tells Rachel that the others planned to trick Brendon into thinking he was staying to throw him off for HOH. Rachel says that she wants to know when everyone knew the vote was set. She thinks it was Wed. night. Enzo says that he and Haydon had their backs against the wall. Rachel tells Enzo to keep working with Haydon and Brendon. Rachel says that she feels like Enzo is her friend. Rachel tells him that she doesn't want to see you in the jury house. Rachel tells Enzo that she would like to see Enzo win if Brendon doesn't win. Enzo lies to Rachel and says that Brendon is the only one he trusts in the house. Enzo says he wants to see Britney gone. Enzo says that if Brendon wanted to go home they should have sent him home. Enzo says that he doesn't like being in the middle. Enzo says that both him and Hayden said if he wants to go home send him home. Rachel says that she thinks she was voted out because the others wanted to hurt Brendon and Rachel. Rachel tells Enzo to study hard for the quizzes. Rachel tells Enzo that he can't trust Matt. Rachel warns Enzo that Matt is really good at physical competitons.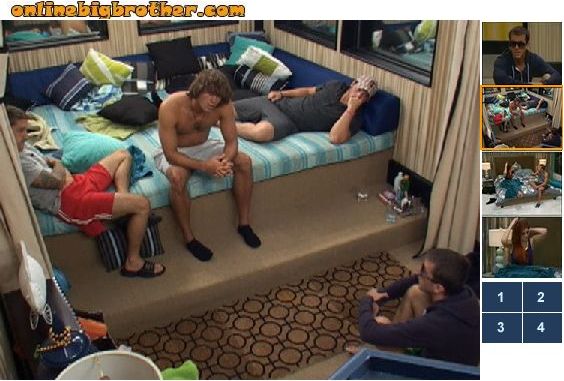 FLASHBACK – Don't miss a minute of all the action
Superpass – 3 Day FREE Trial
4pm In the cabana room Matt, Hayden and Lane are talking about the jury house. They all say from what Rachel has said it sounds pimp. Lane says he thought Rachel was there to make them miserable when she first came in. Matt says that he doesn't think Brendon is in Pandora's Box. Matt says that he thinks Big Brother took him somewhere. Haydon says that he thinks Brendon got some sort of 24 hours luxury prize to be away from the house some where. Matt says that this means they can't get in Brendon's head before POV nominations. They talk about how they will to push for Britney to go up to Rachel in case Rachel gets to talk to Brendon before she leaves. Matt and Hayden talk about how crazy it is that Rachel came back in the house. Matt says he that doesn't remember being mean in his goodbye message, but she says he was. Hayden says he wonders what he looks like on TV since Rachel said he seemed different on TV.

In the have not room Ragan is talking to Lane. Ragan asks Lane if Rachel understand why he reacted to her like he did. Lane says that Rachel said she said she didn't mean to come in here fighting. Lane says she forgave everyone and has to talk to everyone as part of her duties. They talk about how Rachel said that this season has the highest ratings ever. Ragan says that he thinks Rachel changed her tune and stopped fighting because Brendon wasn't there.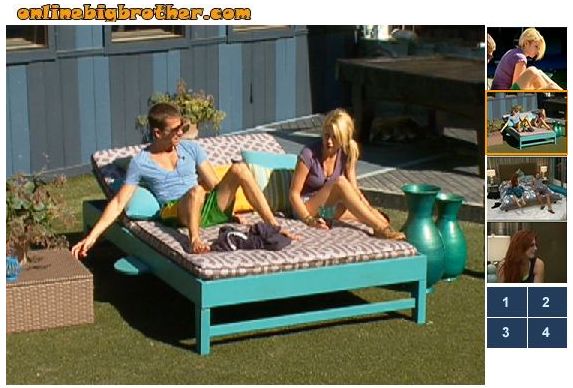 4:20pm Ragan and Britney are in the backyard talking. Britney says that she doesn't think Brendon will be back for 24 hours. Ragan laughs and says that he loves the idea of Brendon and Rachel's limos passing each other and how if Brendon went to the jury house …it would be so funny that he would be expecting to see Rachel there and she isn't. Ragan says that Rachel will be nice without Brendon to back up her bad behavior. They talk about what they think Rachel is talking to Enzo about. Britney says that she thought her message was nice. Matt sayings he thought his was too.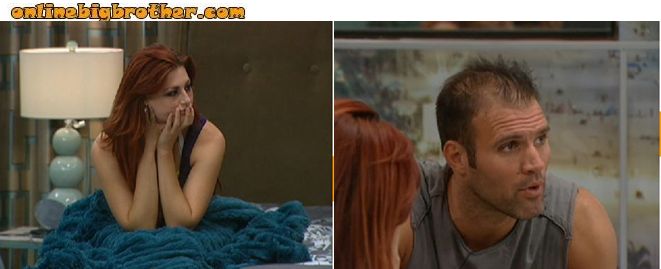 TRY the Live Feeds for FREE!!
Superpass – 3 Day FREE Trial
4:40pm Enzo is still talking to Rachel in the HOH room. Enzo tells Rachel that he is going after Ragan and Britney. Enzo says that Ragan over reacted to Rachel's entrance into the house. Enzo tells Rachel that Ragan is a little bitch. Rachel and Enzo make fun of Ragan. They says that Ragan is always talking about previous seasons and that he needs to come up with his own stuff and stop imitating others house guests. Rachel says that her and Enzo should have been best friends all along and that she can't wait to make appearances together after the season ends. Enzo says that he can't wait either. They tell Big Brother to bring Brendon back into the house. Enso says that he worries the others will throw him under the bus now. Rachel tells Enzo again to study hard for competitions. Rachel tells Enzo about how she notices stuff is missing from the house. (LOL Ragan and Britney hid stuff before Rachel was gone because they wanted to mess Rachel and Brendon up. They wanted them to study and worry about a bunch of useless things missing so that they would do poorly at a quiz competition.) Enzo tells Rachel that it was Ragan and Britney that were moving and hiding stuff to throw her and Brendon off in the competition. Rachel tells Enzo that he can totally trust Brendon. Rachel tells Enzo to be careful of Hayden because she doesn't think he's a really good game player. Rachel tells Enzo that she really feels like there are two life long friends in the house. Rachel says that no one told her, but that she just feels it. Enzo says he knows that he can trust Brendon. Rachel tells Enzo that he can totally trust Brendon. Enzo says that he respects Brendon and Rachel a lot for not turning on each other. Rachel tells Enzo that she doesn't want to not see Enzo or Brendan in jury house. Enzo says he will relay everything he said to Brendon if she doesn't get to see him. Rachel and Enzo head down stairs.

FLASHBACK – Don't miss a minute of all the action
Superpass – 3 Day FREE Trial