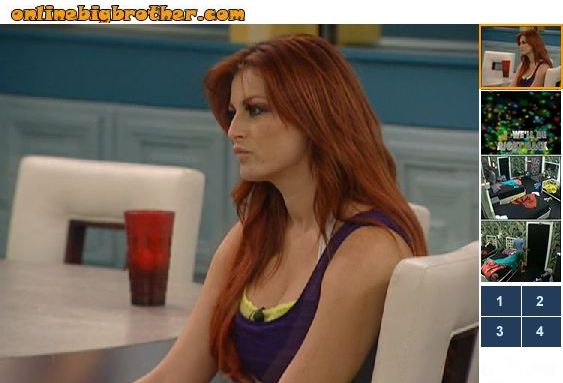 Watch all drama on FLASHBACK! FREE 3 Days TRIAL
3pm Rachel comes into the house and says that she is BACK BITCHES!!! RACHEL IS BACK IN THE HOUSE FOR 24 HOURS!! Rachel asks who is on the block. Ragan said he is. Rachel says oh what a shock, so you'll be joining me on the jury. Ragan says he won veto. Rachel starts attacking Ragan saying that he isn't really a man. Rachel says that you guys got what you wanted. Why are you still being evil. Ragan says it's because of how she came in. Rachel says because I said I'm back bitches! Come on! …grow some balls Ragan. Ragan tells Rachel that she should make this opportunity to have fun. Rachel says that she will make every moment of this 24 hours miserable for him. Rachel says that Britney gave Rachel a dirty look when she came in the house.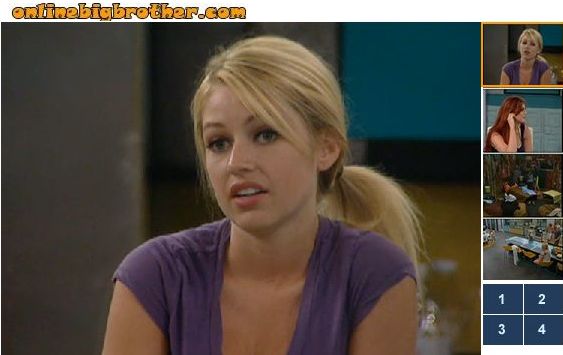 Britney says that she didn't. Ragan leaves the kitchen. Rachel says that she is really not that big of a bitch, but that there are going to be six of you joining me in jury and we need to try to get along. Britney starts asking Rachel questions about the Jury House. Rachel says that it is so nice…laughing and chatting with them. They talk about how Brendon was swapped out of the house for 24 hours. So Rachel came into the house and Brendon is gone. Kathy says that Brendon was up in the HOH room and now the door is locked. They are trying to figure out where Brendon was. Britney thinks that Brendon was offered a Pandoras box and it caused Brendon to be taken out of the house and Rachel to be brought back in his place.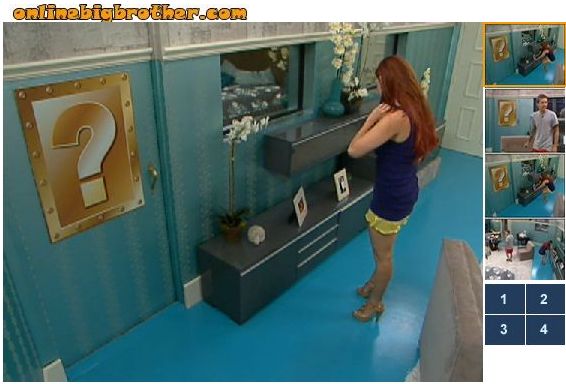 TRY the Live Feeds for FREE!!
Superpass – 3 Day FREE Trial
3:15pm In the kitchen Rachel ask why they evicted her with a 6-0 vote even though Kathy said she was voting for Brendon? Lane says they thought she was better than Brendon. Britney says they thought she was more of a threat because they thought the next HOH competition would be a quiz. Rachel didn't know that Brendon won the HOH this week and so they tell her all about it. They tell her that Brendon said that this is for you Rachel when he won it. They tell her that Brendon nominated Ragan and Lane. Rachel asks about the hair extension comment in her goodbye message. Britney denies that she said anything bad and says the Big Brother must have put something together from her pervious diary room sessions. Rachel says that she left Rachel a really nice goodbye message. Rachel then goes up to the HOH room to see if she can talk to Brendon through the door if he is locked in there under solitary. Rachel finds that the door is open and walks in calling Brendon's name. They all run up to the HOH room except Ragan who is in the have not room by himself. They figure that Brendon is locked in Pandoras box while Rachel is in the house.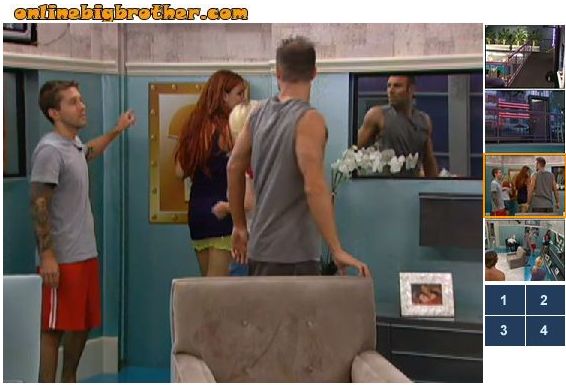 3:45pm They are all up in the HOH room yelling Brendons name. Enzo stands at the side door in the HOH room …it has a question mark on it … Matt says that it is Pandora's door. Enzo says meow meow and then says that Brendon will respond to that better than his name. Rachel knocks on the door and calls out Brendon, with no answer from Brendon. They talk about how he might be gone. Matt says maybe he'll come back after 12 hours. They listen at the door and don't hear anything. Rachel says that she didn't know Brendon won HOH until she came back in. Kathy tells Rachel about the latest saboteur message. Matt asks Rachel questioning about what she's learned out side the house. Rachel says she didn't get any game play information or who the saboteur was or anything like that. Enzo says he hopes Rachel gets to see Brendon before she goes. Rachel says that she has to ask them lots of questions before she leaves. Rachel says she is supposed to ask each one, individually, questions that she has to ask before she can see Brendon. Matt says oh you have set things questions that you're supposed to… Rachel says no, not like, they didn't say I have set things…. the feeds cut out. When they come back they are still in the HOH talking about whether Brendon can see them or not. Kathy says that they should all go out side and look for clues because they havent been out there yet.

Watch everything LIVE as it happens!!
Superpass – 3 Day FREE Trial