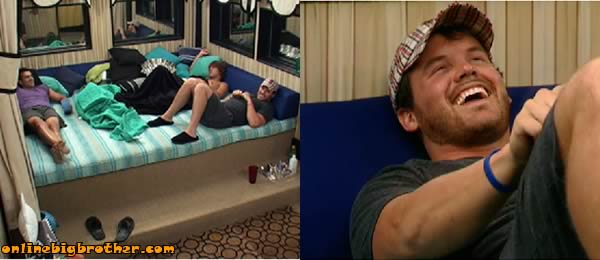 SEE what they CAN'T show you on TV! 3 Days FREE No Commitments
8:38pm Cabana Brendon, Lane, Enzo and HAyden Brendon is telling them all about the beetles and Yoko Ono and how everyone thinks she is what broke the beetles up. Hayden asks him who Yoko Ono?
Enzo saying his wife must be pretty pissed off at him right now because he's winning BLANK. Enzo: "What the BLANK yo is up with these competitions why don't they let us hot wire a car or something yo".. They all chime in about how hard the competition is. Brendon tells them this is what he calls a endurance competition.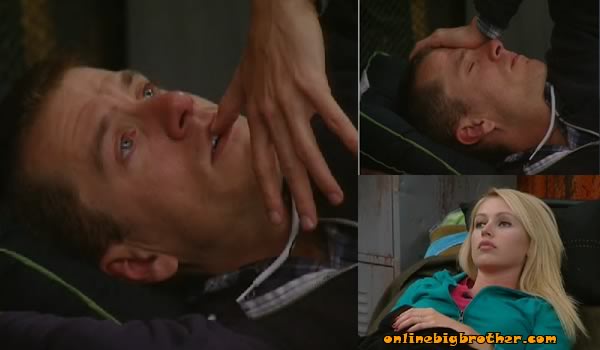 8:47pm Have nots Ragan and Brit
They both hate the act they are crying, Brit: "I always hated the girls that cried on reality shows" She suggests that maybe they should of kept rachel. The talk about how the rope was so heavy they couldn't lift it. Ragan: "I feel like such a douche bag right now for melting down during the competition and calling Rachel a witch" Brit: "Neither one of use stood a chance in that competition lets be honest don't be upset"…"nobody will ever know what we had to put up with in this house for the last week" ragan says he needed to be reminded how lucky he is to be in here in the first place. Brit: " we must feel very fortunate for even being on this show" Ragan: "This is like you and Monet all over again" Brit wonders if they will find out about the saboteur tomorrow. Ragan isn't sure.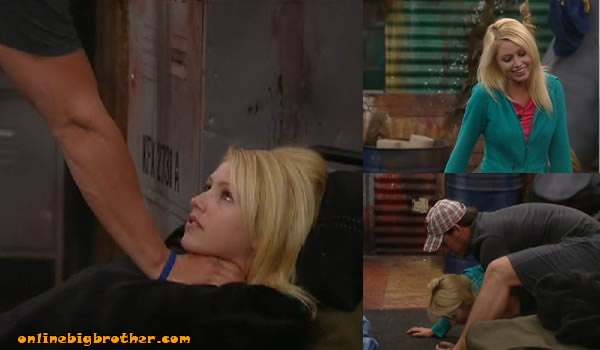 8:59pm Lane comes in to cheer them up Asks Brit if her brother and NIck would be made when they see him chokes her. Brit :"No.. because i ask for it" Brit wants Lane to curb stomp her or choke her out. Lane:"Like American History X" Lane jokes that he'll do it but doesn't no where they will keep the body. Ragan brings up weekend at berneys and they can just put a hat on brit's corpse and nobody will now. Brit never saw that movie so ragan explains. Matt joins them. Lane starts giving tips to BRit on how to fend off a intruder. He goes through all these wrestling moves. Ragan tells him to show her the shoulder thing.. he explains to Lane what it is. Lane: "HUH thats WWF style". Brit: "I want you to show me how to defend against a rapist". Talk moves from football injuries to 69ing with a Australian chick.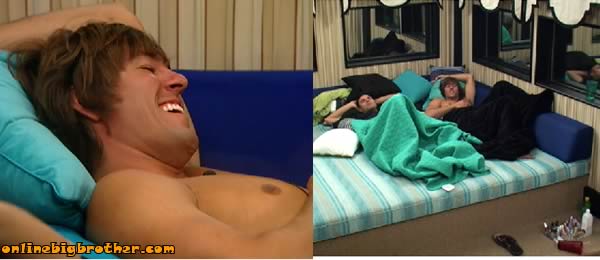 9:00pm Cabana Room Enzo and Hayden They are very happy with their position in the game. They have the brigade and now this side alliance with Brendon "GOLDEN YO". enzo wants to name the new backup alliance. Enzo is a bit bummed out that he hasn't won anything hayden tells him not to worry. Enzo:"We're playing a good game yo.. we're playing a very good social game" They laugh a bit at Enzo's pathetic performance in the HOH, Enzo says his wife has left him after watching that performance.