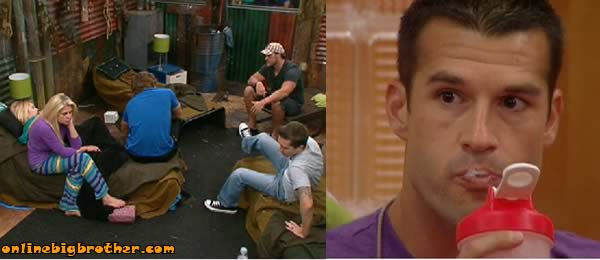 SEE what they CAN'T show you on TV! 3 Days FREE No Commitments
9:44pm Taj Enzo and Brendon. Brendon is pissed that everyone is in the havenots. Brendon: "why I didn't know HOH was moved to the have nots". Enzo: "Yo i'm not going to any Have nots to hang out yo". Enzo is complaining about how BLANK he's doing in the comps and how his wife is embarrassed by him. brendon wonders why Hayden is in the have nots with brit, Ragan, MAtt and Kathy. Enzo says that Ragan was crying now everyone is having a pity party. Enzo: "Only one person goes home yo ". Brendon is really getting annoyed that hayden is in the Have nots. Enzo tells him not to worry Hayden is just there gathering information. Brendon lecturing enzo on how they need to worry about the jury votes now. Enzo says that this is a very hard game and he has a much greater respect for the champions now. Brendon brings up up that the physical competitions are not only hard you have the isolation. Enzo:"the best idea is to have a girlfriend in the house it's the best alliance". Brendon agrees then says him and Rachel got backed into a corner since day one they had to fight against the house because the house took it personally. Brendon now pissed that they didn't vote him out like he wanted to, Brendon: "I warned the people of the house you let her go and you unleash a BLANK monster in this house". Brendon says all the crazy things Rachel did was for the TV and brought on by the other players. Enzo just agrees with everything brendon says standard brigade intelligence gathering. Brendon says everyone in the house hasn't been playing the game and if they've won anything it's because they play dirty. Enzo :"yo it's bb MAN" Brendon isn't going to play any tricks this week he's going to go into the have nots and ask them if they want to come up to the and see his HOH room they can but don't be fake happy if you come. He forgives them for what thet did to him but he won't forgive them for what they did to Rachel. Enzo :"hey hey yo hey making her cry and BLANK hey" Enzo: "Did anyone come and congratulate you on winning the HOH". Brendon says now, Enzo: "yo man you gotta respect the game you thats not right" Brendon thinks he can hear through the walls and hear what they are talking about in the Have nots room. He walks up presses his ear to the wall and says that he can hear them they're are talking about past Big Brother seasons.
Kathy comes in and says she wants to go outside and smoke a cigarette.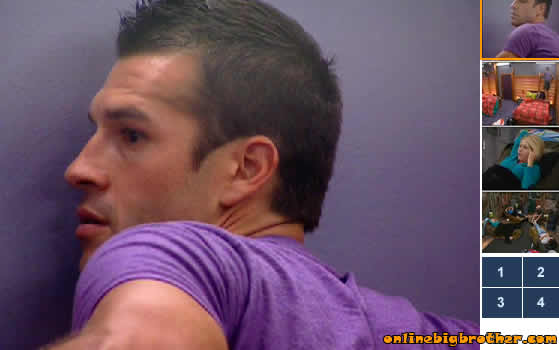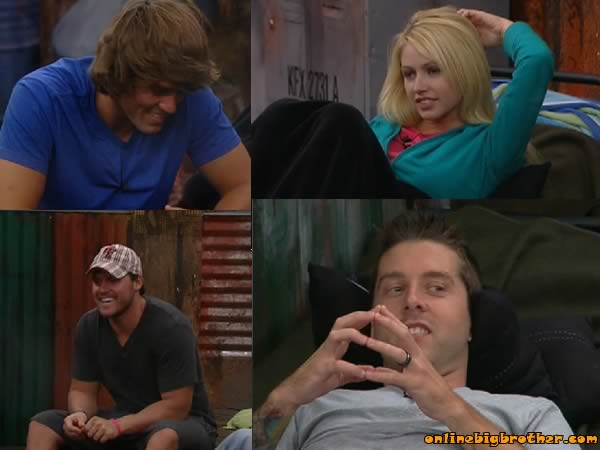 10:00pm Have nots Matt, Brit, Lane, and Hayden random funny conversations