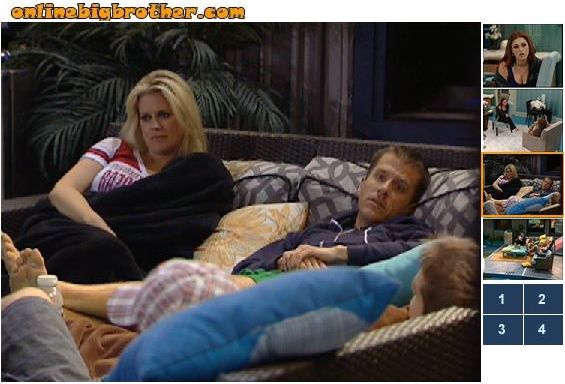 8:45pm Ragan comes out to the backyard and tells Hayden, Matt and Enzo that Rachel apologized to him and that they had a good talk. Ragan says that it should be a calm night. Lane asks what Rachel's reasoning was for the fight and Ragan thinks Rachel just wanted to be a memorable character. Ragan tells them that Rachel is the classic case of a bully .. that they attack and they apologize after.

Watch everything LIVE as it happens!!
Superpass – 3 Day FREE Trial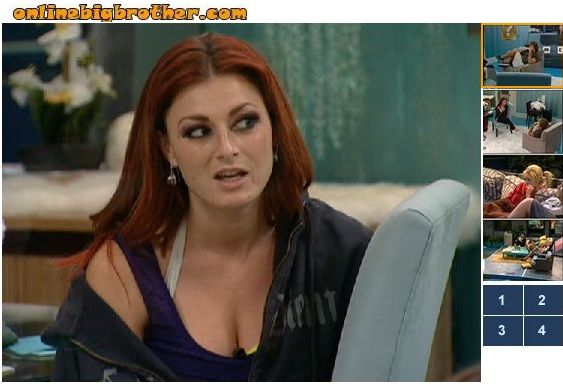 UP in the HOH room Hayden and Rachel are talking. Rachel hugs Hayden and says she is happy to see him. Rachel says that Kathy is just floating through the game. Hayden agrees. Rachel says that Kathy was BFF's with Brendon two weeks ago and wanted nothing to do with him last week. They both agree that Kathy will be around for a couple more weeks. Hayden wonders where Brendon is. Rachel tells him that she was told in an interview that both her and Hayden yell a lot in their diary room sessions. Hayden says he needs to stop yelling in the diary room because Rachel told him before that both her and Hayden yell in the diary room. Rachel says that she's supposed to, well, not supposed to, but will ask Hayden why she should vote for him and what's his game plan for the rest of the game. Hayden says to win is his plan. Rachel wonders what Ragan will do if he wins HOH and Hayden says probably Enzo and Brendon. They talk about different scenarios for the coming week. Rachel blames Matt for both her and Kristen not being in the game anymore. Rachel blames Matt for Brendon/Rachel and Hayden/Kristen not working together. Rachel says that Matt told her Kristen was coming after her, so that's why she targeted Kristen. Rachel starts complimenting everything about Kristen and says that it was Matt who poisoned her mind. Rachel says Britney might win a competition, but everyone knows her game, which is to follow the power. Rachel says that Matt plays mind games and is a really sneaky player. Hayden asks if it'd be better to get Matt out this week and Rachel says yes. Hayden says that whoever goes up after Ragan, they'll need to get the votes to keep Lane. Rachel says no one will vote against Lane. Hayden asks her is she knows anything about the saboteur and she says no, only her own opinions. Rachel says that she thinks Lane is the saboteur and that keeping the saboteur in the game is best.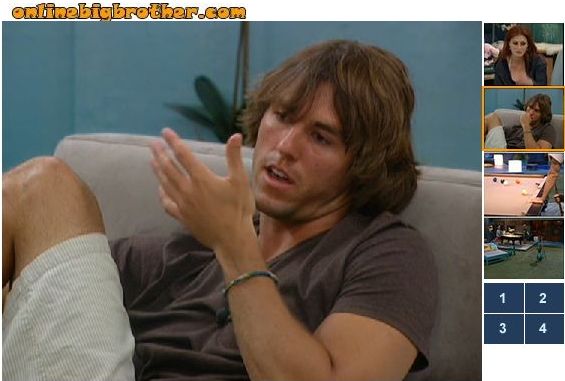 Out in the backyard Britney and Kathy are alone talking on the couch. Britney says you can't just go off on someone about being gay and not expect something back. Britney says that she is going to go inside to make a protein shake. Kathy says that she is going to do laundry. Lane and Matt are playing pool.

Watch all drama on FLASHBACK! FREE 3 Days TRIAL
9:10pm – 9:45pm Back up in the HOH room, Hayden tells Rachel how Brendon threw everyone for a loop when he nominated Ragan and Lane. Rachel thinks it might have been to secure Ragan leaving. Hayden asks her about Lane picking him over Britney. He tries to find out if Britney told Rachel about any of this, but Rachel says Britney didn't mention it. Hayden asks if Brendon is the saboteur and Rachel says no. Hayden asks if Rachel is and she says no. Rachel says that Britney was trying to convince Rachel that Enzo is the saboteur. Rachel says that Britney also told her that Brendon thinks Enzo is the saboteur, but Rachel doesn't believe Britney. Hayden asks what Britney's reasoning was and Rachel says that Britney said that if America likes Enzo so much, they would have voted for him to be the saboteur. Hayden and Rachel wonder if Britney is the saboteur, but Rachel thinks if Britney was the SAB, then she wouldn't have left a message saying there were still BFFs in the house that were a guy and a girl pair of life long friends. They continue to talk about possible saboteur. Hayden says that Brenden winning HOH this week was the best case scenario for us. Hayden asks Rachel if she cares if he tells Enzo that Britney is saying that he is the saboteur. Rachel says that she doesn't care, and that she will tell him herself. Rachel says that she was trying to put that in Brenden's head too. Rachel says that she thinks Matt is the better choice to put up against Lane. Rachel tells Hayden that he can beat Britney in the next competition but that it will be hard to beat Matt. Rachel says that if Matt gets through this week, he will make it to the final four. Hayden says that he hope she gets a chance to tell Brenden this. Rachel says that she thinks Matt is lying about the dollar thing and that Big Brother will not go through our bags. Hayden asks what if Matt was told if you open Pandora's box.. you have to be the saboteur? Rachel says that something good happened to Matt…and that he is lying. Rachel tells Hayden that it was Britney and Matt that were pushing for her to get rid of him and Kristen. Hayden asks so Matt?.. was pushing to get rid of Kristen? Hayden says that Matt has to GO! Hayden tell her that they should go play pool. Rachel says that she will but first wants to read Brendon's letter. Hayden leaves the HOH room.

SEE what they CAN'T show you on TV! 3 Day FREE Trial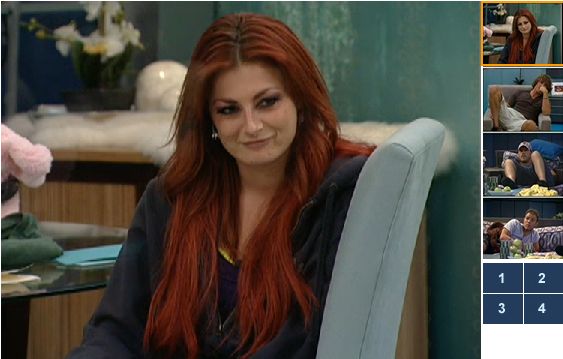 9:50pm – 10pm Lane and Enzo are talking in the backyard on the couches. Enzo says that he doesn't understand why Brendon would think he is the saboteur. Enzo says that he needs to talk to Brendon ASAP. Enzo says they need to get Britney out, YO!! Enzo says that she hasn't talked game with him since Monet left. Lane says that she stopped talking to him after he was nominated. Enzo says that's because she thinks he might need votes. Lane says that he doesn't understand why he was nominated. They talk about how they don't trust Brendon or Ragan. They say again that they want Britney out this week. They talk about how they will be upset if Enzo goes up at the POV ceremony. Enzo worries that Brendon said that he wouldn't get manipulated by Britney and Ragan, but then he didn't nominate Britney. Enzo says that Brendon needs to understand the only ones who won't put Brendon up are Enzo and Haydon. Enzo says that Rachel loves him. Enzo say that he thinks Brendon will get to talk to Rachel because if not, that would be a disadvantage to him if everyone else got to talk to her and he didn't and it wouldn't be fair. They talk about Ragan winning the POV. Lane leaves to go over and play pool. Ragan comes out and talks to Enzo. Rachel then comes down from the HOH wearing Brendons clothes.




10:15pm – 10:20pm Ragan and Rachel are talking on the backyard couches … Ragan says that it is crazy that she got a taste of the outside world. Ragan asks so people were yelling Vagas to you?! Rachel says yeah. Rachel say wouldnt it have been crazy if I got to make the nominations for the POV ceremony?! Ragan says yeah. Rachel says that it forces them to talk to her and that she will have to talk to him about what happened the last 24 hours ….what vibes she got from people and then he will have to do the POV ceremony right after. Ragan says that is it. Rachel says that her and Brendon are a very unique alliance and that since week one they have been playing the game together… Rachel goes to play pool with Britney.

Watch all drama on FLASHBACK! FREE 3 Days TRIAL