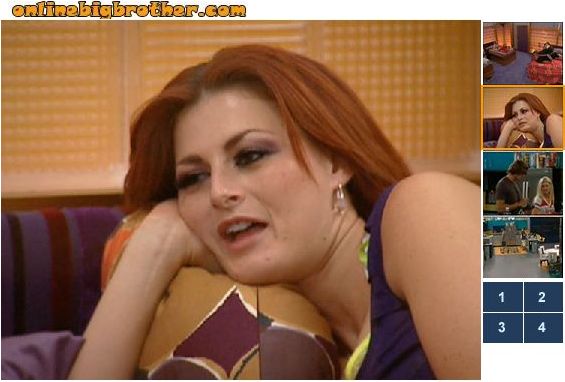 7:35pm – 8pm Britney and Rachel talk in the Taj bedroom. They talk about the goodbye message that Britney gave Rachel and they figure out that Rachel just misinterpreted what Britney had meant. Britney says that she just said that she would miss wearing her hair extensions and talking about tequila shots and Vagas. Rachel says that she took it as though Britney was mocking her. Britney says that when she was mocking… she wasn't mocking Rachel and that if she was mocking someone it was Brendon after what he said about Nick. Britney apologizes for not saying goodbye at the door when Rachel left. Rachel says that in every goodbye message that she gave she told people not to mess with her man!! Britney says that she didn't know what to do and whether or not to hug her.

Watch everything LIVE as it happens!!
Superpass – 3 Day FREE Trial
Britney tells Rachel that she never wanted to be against her. Rachel says that she doesn't know what happened between them because they were friends. Britney says that she had Brendon and she just organically started hanging with Ragan. Rachel tells Britney that she was so hurt when Britney turned on her. Britney says that she had a long talk with Brendon about everything and she tells Rachel that Brendon apologized for everything and things are better now. Britney tells Rachel that Brendon told her he didn't put her on the block because Rachel wouldn't like him to put up competitors. Britney says that since Brendon apologized to her everyone has been getting along. Britney says that everyone has been hanging out up in the HOH and that Brendon has been really friendly. They start talking about the HOH competition that Brendon won and how hard it was. Britney tells Rachel that she would be really proud of him. Rachel and Britney talk about the jury house and what it is like. The feeds cut out….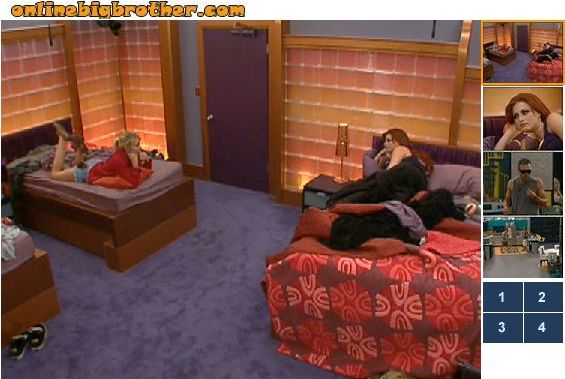 Watch all drama on FLASHBACK! SUPERPASS – FREE 3 Days TRIAL
8pm Britney asks what if she doesn't get to see Brendon at all? Rachel says that would suck!!! Britney asks if there is anything that she would want her to tell him if she doesn't get to talk to him. Rachel tells Britney to tell him that she loves him and that she misses him. Rachel tells Britney to tell him that she doesn't want to see him in the jury house… not in a way that she doesn't want to see him …but that she really wants him to win this thing.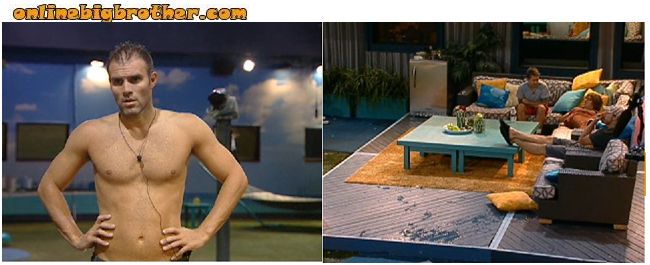 8:25pm – 8:40pm Matt, Hayden and Enzo are talking in the backyard. Enzo is asking Matt what happened in the have not room with Rachel and Ragan. Matt says that Ragan and Rachel were having a heated conversation… not in a bad way …just that they were talking about what happened. Matt says that Rachel was talking about how much she loves gay people and stuff. Matt says that Ragan and Rachel then left the have not room to talk more. Enzo says that he can't wait to talk to Brendon. Matt questions him and asks Brendon?!! Enzo says just to talk about whats been going on. Hayden says they might be able to talk to him tomorrow before the POV meeting… Big Brother cuts the feeds… (I think Big Brother will let Brendon come back in and him and Rachel will get a few minutes to talk and where she will need to tell him everything that happened and who he should nominate. I think Brendon won't get a chance to talk to anyone before the POV ceremony and will have to go off of what Rachel says to him.) Enzo tells Matt and Hayden that they need to push really hard for Britney to go up. Enzo says that Ragan winning was the worst care scenario. Matt and Hayden agree. Enzo asks how did he do so good?! Matt tells Enzo and Hayden that they will get another saboteur message again tomorrow, he says that it follows a pattern its always on the same days before POV meetings and HOH competitions. They talk about how they think Rachel is the saboteur and that they want to confront her about it. They think the next message will be saying that they got her. Enzo asks Matt why Brendon thinks he is the saboteur… Matt says that he doesn't know …that he heard Britney talking about it. Enzo says that he really wants to ask Brendon exactly why he thinks he is the saboteur. Matt asks Lane if he is loosing Britney?! Lane asks what?! Why?! Matt says that he is just asking …are you and her still close?! Lane says yeah we are gonna play pool in a bit. Matt says good …and do you think she would vote for you if you were up against me or Hayden?! Lane says yeah. Matt says good because thats what we need to happen. Enzo says that if Rachel gets to talk to Brendon then we are straight. Ezno says that Rachel specifically told him that she wants Britney out of here…. Enzo says thats key …because thats exactly what I am going to tell him. Matt says yeah thats good. Enzo says that he thinks Brendon will walk in the door tonight saying Im back!! Hayden thinks as long as she is here he is gone. Enzo says that when he comes back in …he is going to drop a nice grenade and that he (Brendon) is going to go for it….