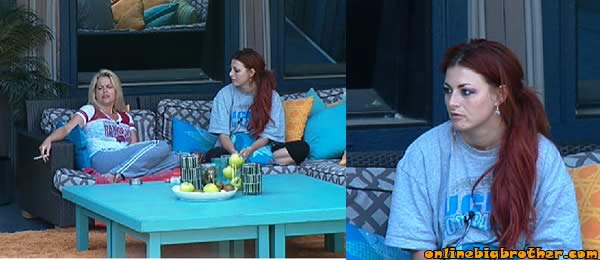 SEE what they CAN'T show you on TV! 3 Days FREE No Commitments
9:05am Backyard Couch Kathy and Rachel Rachel wants Kathy to give BRendon a message to explain what is going on in the house. Rachel is dead set that MAtt has to go up. Rachel says that Matt has been targeting their friends since week 2 and he's the reason me and kristen turned on each other he's the reason Kristen went home. Kathy: "Oh my God" Rahcel adds that Matt is why she put up Brit and Monet. Rachel thinks Brit is a big threat but Matt is more dangerous because he's sneaky and good at endurance comps. Rachel mentions that Brendon made the right nominations trying to split Matt and Ragan up but Ragan ruined it my winning POV now Brendon needs to put Matt up to complete that goal. Kathy brings up last nights conversation with enzo and how Enzo beleives everything Rachel says because rachel has no reason to lie. Kathy isn't sure where Lane site in the house alliances, Rachel doesn't know either she thinks that after this week it'll be clear who Lane is with. Rachel brings up last nights blow out, Rachel: "why would I lie about what Brit said.. I hate the sab don't you Kathy, Kathy: "I want to get a gun and shoot him". Rachel tells her that she misses Brendon a lot but she doesn't want to see him until the end because she thinks he can win. Rachel brings up that she loves Vegas but she also cares about Brendon. Rachel says her mom is going to be so mad at me over how I acted on this show all I did was stick up for myself a lot. Kathy those are just stupid fights .. you never did what Annie did. Rachel makes fun of Annie saying "rewind the tapes…uh like i ever said that" Rachel gets up to go into Kitchen and prepare breakfast, Rachel: "Oh I wish Brendon was back".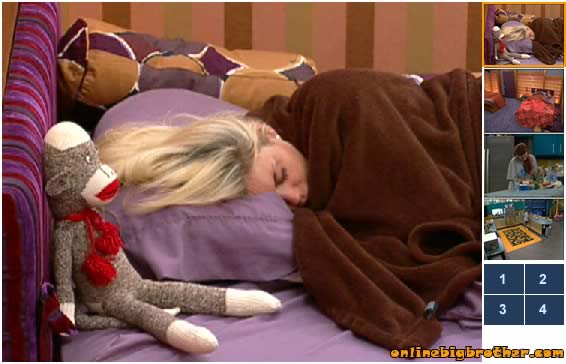 9:27pm Kathy goes back to sleep, Rachel is in the kitchen making breakfast
Share it YO!!
Tweet