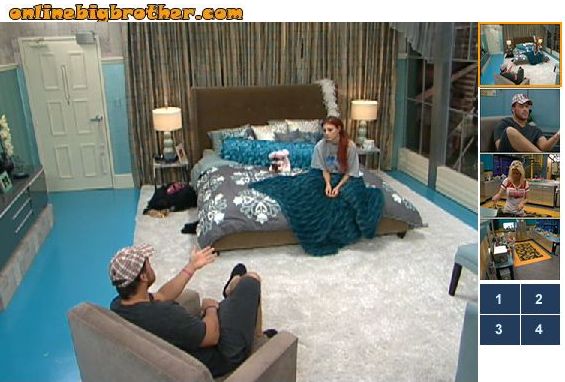 Watch everything LIVE as it happens!!
Superpass – 3 Day FREE Trial
9:50am Rachel and Lane are talking up in the HOH room. Rachel asks Lane why didn't give Brendon his vote to evict him like they had talked about. Lane says up until the last minute that was the plan, but that Brendon had said he had three votes and only needed a fourth but then when I started talking to people I found out that he didn't have any votes. Lane says that he couldn't then stick his neck out and vote against the house. Rachel says yeah okay. Rachel asks Lane why she should vote for him in the end ….Rachel say I want to see you winning some competitions! Lane says yeah me too I want to start winning things too …Its just … these competitions aren't made for me … I have been close but it just hasn't happened yet. Rachel then tells Lane that she though he was the saboteur. Lane says that he knew that they thought he was the saboteur but he didn't confront them about saying because he didn't want to cause any drama. Rachel starts throwing Britney and Matt under the bus. Rachel swear that Britney was telling her that she thought Enzo was the saboteur and that she is lying when she says that it was me. Rachel says that Matt is playing really sneaky and he is playing all sides. Rachel says that Britney, Matt and Ragan always up here scheming. Rachel says that you can not trust Britney …you can be friends with her but …you cant trust her …I swear to god she said that she thought Enzo was the saboteur. Rachel says that lane can trust Hayden, Enzo and Brendon and that they will never lie to you. Rachel says that you need to team up with them.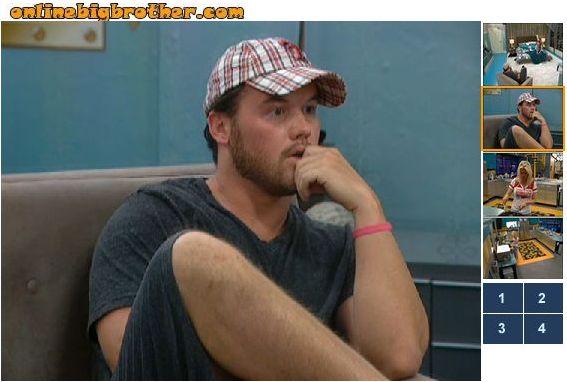 Rachel says that Brendon putting you up on the block wasn't to get you out of the house…. It was the only way to get Ragan out of the house. Lane says yeah I know. Rachel explains that if Ragan was put up with anyone else the other people would go home and that they need Ragan to go and that's why Brendon put up Lane. Rachel says that Ragan is someone that Lane really needs to watch out for. Rachel says that they really need to breaking up Matt and Ragan. Lane agrees and says that Ragan will be demolished if Matt leaves the house. Lane says that he see Matt as the head and that once you cut the head off the other two (Britney and Ragan) will be lost. Rachel says oh yeah …they will try and attach themselves to you after too. Rachel says that the more Britney attaches herself to you, the more they're all going to come after you. Lane tells Rachel that he knows when she is voting for the winner she will take the personal stuff out of this game and look at who's competing. Lane says that he is trying and that it just hasn't happened yet. Lane says that he will start winning shit now… then says lets just start from when I say ….lets start now. Rachel laughs and says okay….then says that she has seen Enzo and him trying. Rachel tells Lane that if he comes into the jury house she is going to yell at him.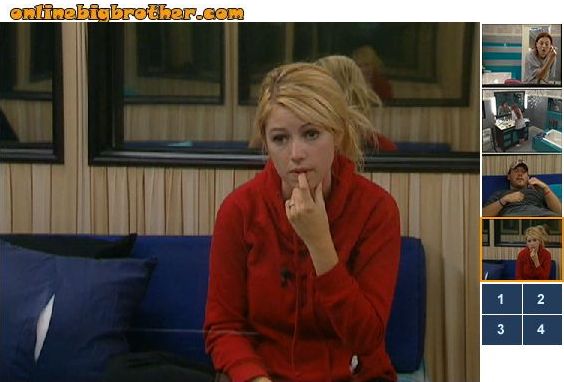 TRY the Live Feeds for FREE!! Superpass – 3 Day FREE Trial

10:25am Britney and Lane are in the cabana room talking. Britney says that Matt told her that she can throw him under the bus and say what ever she wants to because he really wants to go up on the block. Britney says that Matt told her that he wants to go up because he knows he has the votes to stay over Lane and that he wants to be the one to take out Brendon. Britney asks Lane if she should go up and suck up to Rachel right now. Lane says no … especially if I just came down for there. Lane tells Britney that she isn't the target … its Matt that they want out. Britney says that she doesn't understand why Matt thinks he has the votes to stay …. He is banking on Kathy, Ragan…. And I also think he is banking on my vote to …and I don't know why because I would be voting to keep you here.

10:45am – 11:15pm Lane and Ragan are talking in the bedroom.  Lane tells Ragan the entire conversation he just had with Rachel.  Lane says that it's the same HOH dealing up there, you feel like you have to go up there and suck up. Lane says that he has been working on his speech for Monday and it's really good. Ragan asks if he wants to practice it on him. Lane says no, it's a surprise. It's going to be so good that you're going to use the veto on me and you're not even going to know it. Then I'll put it on my neck and I'll sit you down and I'll say DUH. Ragan laughs. Lane says that he is just not sure who he is going up against. Lane says that he just wishes he knew who was going up against him so he could pull a Tonya Harding on them and break a leg so they would have to forfeit. Ragan says that he just wants to stay in the bedroom till 3pm when Rachel leaves. Lane says that he just wants to hide out for the next three weeks …because they can put up they can they… They laugh.. Ragan says that he hopes the 24 hrs has been solitary confinement for Brendon, …he says that would be awesome. Ragan says that he just wants Rachel gone already!! Ragan says that it's going to be a long week, and thinks it's definitely going to be a double elimination. Britney comes into the bedroom after her shower…and wearing just a towel. Ragan calls Britney a hot momma. Lane asks what is that. …you wanna make out? Britney say no! Lane and Ragan talk about LA and how Lane wants to move there. Ragan says that it is really hard as an adult to move to a new city and not know anyone. Ragan says that it might be easier for Lane because he will have just had this experience and will have lots of people that recognize him. Ragan talks about how there are millions of people watching Big Brother, and that he thinks there are more viewers in Canada than the U.S..

Watch all drama on FLASHBACK! FREE 3 Days TRIAL