9:51pm Hot tub Lane and BritLane explains to her the strategy they have for the POV competeiong how it'll be point based etc etc shows her the angles that are best to hit it the ball. Lane is pissed though becuase he thinks hayden told Kristen about it. He can tell because earlier in the evening they were alone outside and now she practicing using their technique. Lane asks if kristen wins Pov who will Rachel put up… "Kathy?" .. Brit says no, Lane "WHY" brit explains that she wants to break up kristen and hayden. Brit thinks she'll put up either lane or herself.. but she's not worried becuase they have the votes. She counts out that they have ragan, matt, enzo and brit/lane. brit tells him she wants kristen to go home becuase she is coming after the girls she'll fight for the POV not to be used and she'll try her best to protect her and lane. She says if it comes down to it they'll have to get rid of Hayden.
Lane tells her why is she thinking 2 weeks in the future.. gives her a look. Brit:"don't look at me like that all disgusted i'm looking after you and me and thats it". She tells him that they need to keep her, lane, matt and ezno intact (New brigade yo) Matt joins them and lane asks hows Kristen's doing. matt explains that she's doing very good….. ragan joins and they start talkign about drinking etc..
Brit tells them a story about when she told her little brother that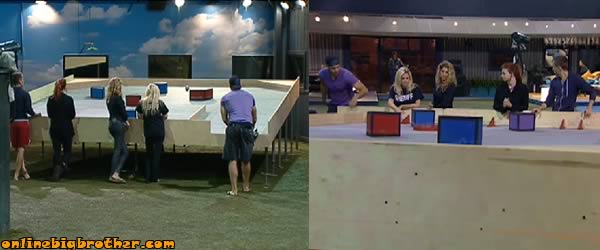 10:17pm Most people practicing for the pov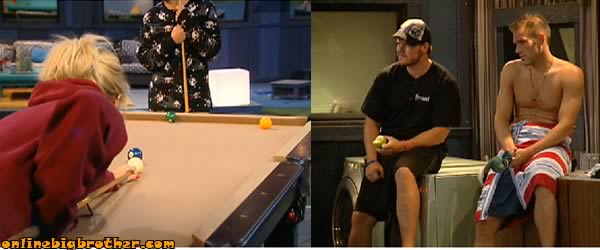 10:52pm some houseguests playing pool some practicing the POV. At one point Brit tells lane that kahty heard him says that she would be stupid if she used POV.. Lane doesn't care he'll tell her that cause it's the truth.