4:51pm Backyard Lane and Hayden Lane asks him who he thinks they should take out this week, Brendon or Rachel. Hayden thinks that after his talk with Brendon in the Taj room he's pretty sure that Brendon is broken they should Evict Rachel. Lane agrees "his heart is not in the game anymore". Hayden: "right now Brendon just wants to hang out with Rachel". Hayden explains if Brendon wins HOH he will nominate Matt and Ragan. If the Power of Veto is used then Britney will go up as the replacement nomination. Lane wants Rachel gone because she causes so much Drama and is a real pain to have around. They start to talk about Pandora's Box and they think that Matt won more money than a dollar, they're thinking he may have won 10 thousand. Lane is sure that Matt will tell the brigade what happened when they're alone.

Indoor lockdown called

4:55pm Brendon is offering to make her dinner but she tells him she want's nothing. He reminds her she needs to eat to keep her strength for tomorrow's POV Competition. Rachel corrects him that the Power of Veto is on Saturday's, Brendon nicely says that tomorrow is Saturday. Rachel is having a pity party saying that Kristen was the b!tch in the house not her, Brendon assures her that If America watched the show they will know what Rachel is all about and that she's not a b!tch. She tells him all she wants to do is sleep. She's hating her experience in the big brother house. Rachel rattles off a bunch of complaints, her head itches, her head hurts and her BOTOX is wearing off, "I need a botox injection STAT" Brendon tells her she doesn't need to use botox anymore she's beautiful the way she is.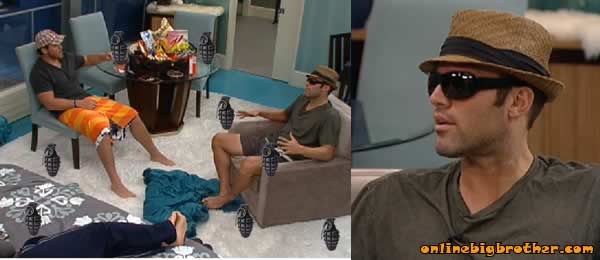 5:08pm Head of Household room BRIGADE Matt is going over the Brendon and Rachel deals. He tells them that he got just 1 dollar in Pandora's box and that's the truth. Enzo jokes that he should sell it on Ebay he might make 2 dollars. They start to go over how Enzo is doing befriending Brendon, Enzo says he's in there tight and Hayden isn't in that bad of standing either. Lane laughs at Enzo because Enzo has to hang out with Brendon all the time. Enzo: "That guy is f****ing done yo he thinks we're close" Lane points out that nobody is close to Rachel and they have 2 brigade members (yo) that are pretty close to Brendon so it's kinda a no brainer to get out Rachel this week. Matt and Enzo agree, they bring up that Brendon isn't as deadly as Rachel in competitions. Enzo thinks the entire pandora's box shifted everything a day they will feel the effects of Pandora's box tonight and nominations will be tomorrow. Matt brings up that Brendon was telling him that they have not had any real endurance comps yet and when they do he'll most likely win it so they should keep brendon he'll keep matt safe. They all laugh, wonder why the hell he would say that it's a dig to matt. MAtt says he doesn't let brendon get away with saying that shit anymore. Enzo tells them ealier today when they were talking one on one with Brendon he told Enzo that he's done trying to make fake friends he knows Matt is against them and he's against Matt. Enzo rehashes what Brendon said "I'm not sucking anyones dick anymore". Matt tells them they have next week covered the worse that would happen is Brendon puts up Lane/Brit or Matt/ragan either way they have the votes to stay. Matt says he loves ragan he's a great guy and a good friend in the house but he wants to win the money just like ragan does. Matt tells Enzo he needs to convince Brendon to put Matt and ragan up if he wins HOH to ensure that 2 brigade members don't go up. Enzo "yeah i can do that". Enzo is amped about the Brigades position in the house he says that this has never been done before in BB history what they have accomplished is a masterpiece. They all agree they could out the brigade right now and no one will believe them. Lane starts joking that when they out the Brigade they should make whoever is left in the house be a have nots. Matt asks what is going on with kathy she's being very active in teh game right now. Enzo: "I told her to just relax and smoke she's going to final 5" they all laugh. Matt tells them that rachel has been acting weird since her Diary Room session.. they think it has something to do with Pandora's box and they hope to hell it's not a special power given to her. Enzo says if Rachel has a special power then she'll Nominate Ragan and Britney the brigade has nothing to worry about.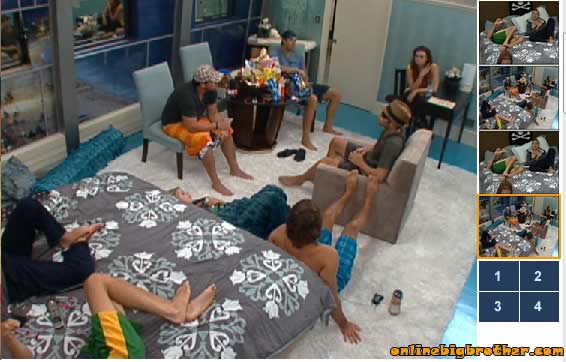 5:20pm Everyone in the HOH room They briefly talk about the screen changing in the living room it now says NOMINATIONS ARE TODAY

6:15pm trivia nominations ceremony going on right now