SEE what they CAN'T show you on TV! 3 Days FREE No Commitments
3:15pm Cabana Room Matt, HAyden, Kahty, ragan and Brit Matt is telling them that he opened Pandora's box, he was told he would get riches if he did and all he got was a dollar. Ragan is suspicious that Matt got pulled into DR for pandoras box then right after Rachel gets pulled in. They are speculating that Rachel might be give a special power. Ragan tells them that America loves drama and Rachel is the biggest drama queen ever so it's not a stretch that she'll be given it. Brit brings up that kayser had been voted back in and he was drama less, Hayden brings up that giving the POwer to Jeff last year was definitely not a drama vote. They all agree that Rachel has a horrible poker face so they would all know whats going on the second she comes out of the DR. Matt starts to go over the what happened during the pandora's box event. He was in the HOH and there was a card that read "you will uncover great wealth" He opened the secret door in HOH and inside was a briefcase inside there was a card and a dollar. The card read "This is the wealth you have attained… Beware of the consequences this power will unleash on the house" Ragan is convinced that a houseguest is coming back and it'll be america's vote. He's certain it'll be rachel. Hayden thinks it could be another Coup de tat, ragan agrees. They decide to head up to the HOH room to wait for rachel to come out of DR and see her reactions.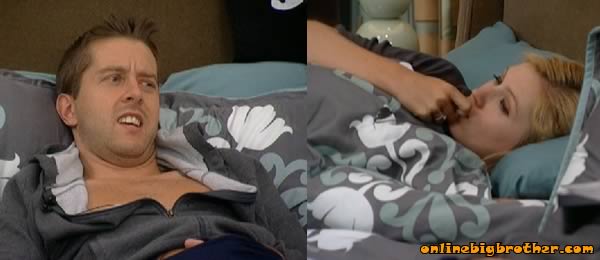 3:35pm Matt, Brit and Ragan HOH Matt is going over all the recent conversations he's had with B/R. They told him that they are 2 strong players and that MAtt aligning with them would be his best course of action. Matt told them that he doesn't see the logic in keeping 2 strong players in the game this late. He thinks that early its a good idea to attach to dominate people but now there getting into the meat of the contest and they need to worry about who can win the competitions and who can't. Matt says B/R told him that the house is filled with floaters who are holding back and they will start winning next week so matt has to worry about them, but if he keeps B/R he'll have there protection. Brit interrupts tells him to put the HOH cam on the living room so they can catch Rachel when she leaves DR, "if rachel is skipping and runs to brendon then we know something is up." Hayden gets called into the DR so they all check the screen to see Rachel leave but she doesn't.. they guess she must of been released when they were going up to HOH. Brit heads down to investigate. She finds Rachel who isn't in the best of moods, Brit asks her where she's been Rachel says the DR and walks away. Brit runs back to HOH to tell the guys. Ragan is still convinced that they are going to give Rachel some special power. Brit doesn't understand why she's certain America hates rachel based on the questions she's received in the DR. Matt isn't sure what production will do but he has a feeling that pandora's box will be a silly twist nothing like the wizard power or bringing someone back. They see Rachel roaming around on the screen, Matt: "That does not look like a happy rachel". Matt brings up that rachel told him she is winning POV and will be off the block then next week the HOH will be a quiz which she will win because none of the other houseguest will even try. She told him that the entire house is after MAtt and ragan so he better take B/R alliance offer. Brit "umm the entire house is after you MAtt.. well i didn't know" (ragan and matt laugh) . Matt tells them that B/R are convinced they are winning POV and next weeks HOH, "All I told them was Bring it lets see what happens" Ragan brings up that rachel said the same thing to him. Matt says he told them straight up last week that he wasn't making any deals with them then and he's not making any deals with them now (Matt's growing balls finally.. must be all that massaging he's doing). MAtt says they're just being bully's, Ragan: "Not the best way to play this game"
4:10pm Feeds cut to Trivia Nomination ceremony
4:27pm Feeds cut to Trivia Nomination ceremony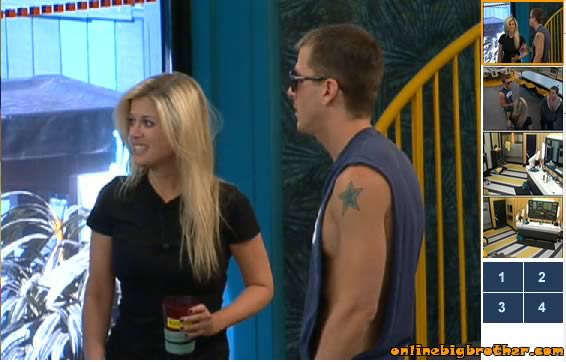 4:38pm Feeds are back Kathy, Ragan and MAtt in the kitchen talkign about how the nominations ceremony hasn't happened yet. Usually production posts "Nominations are today" on the living room TV but they haven't yet. Ragan is freaking out he thinks that something is up, "I have a bad feeling about this". They all head outside.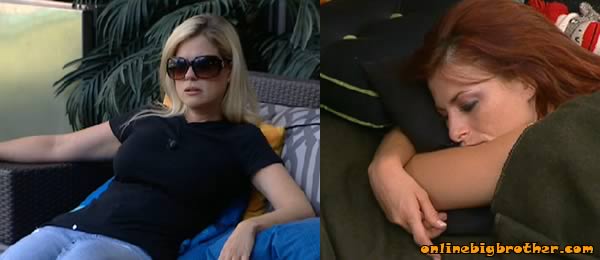 4:42pm Enzo , Kathy, ragan, MAtt they're all freaking out because the nominations have't happened yet. Kathy tells them she say Rachel in the have nots laying in the cot "With a smirk on her face" (theres no smirk Kahty has gone senile) Enxo tells them theres something fucked up going on because a) she's in the have nots b) she not with Brendon. Kathy asks: "Wheres Brendon" Ragan: "hopefully at the bottom of the pool". Enzo: "Don't they usually tell us if there is a coup de'tat so we can strategize". Matt: "Not necessarily" Matt gets up to talk to Rachel to figure out what is going on.