SEE what they CAN'T show you on TV! 3 Days FREE No Commitments

9:40pm HOH Hayden, Lane, Enzo Brigade is trying to figure out how they can use the POV on Lane and not have anyone figure out about the grenade. They think if they get a story rolling against Brit they could sell it to Brendon. Lane says he wasn't sure if Britney would use the veto on him he thinks it's a fair enough reason. Enzo says to include that Britney is young and crazy and those young wild girls can't be trusted. Lane would also add to the story that he was going to pick Matt but he wasn't sure Matt would save him. Brit walks in for a second then leaves to grab her mic. After she goes Hayden warns them all that Brit is on to them. She comes back and tell them Ragan and MAtt are freaking out about Lane picking Hayden for the POV. They ask brit why. she explains that Rag and Matt think Hay/Lane have a secret deal. Matt walks in after listening at the HOH door for a second.. they ask him how Ragan is doing, Matt thinks he's doing alright but it'll get worse after tomorrow. They start talking about the POV comp, Brit is thinking it'll be the morphed faces. Brt says the POV has to be tonight because of the early player picks. Hayden say he hopes something crazy happens tonight like Aliens come out of the mirrors. Everyone starts quizing each other for the test.. Going over votes, nomination orders, HOH's. They get to Rachels eviction and wonder what she's doing rightnow. Matt: "drinking tequila and crying". Brit: "it's alot more quiet with her gone". Matt: "but it seem more crowded because now Brendon is around us, before him and her would always whole up somewhere" Enzo: "that was along ass speech he gave today". Matt:"it made no sense" Enzo: "yeah he was all over the place".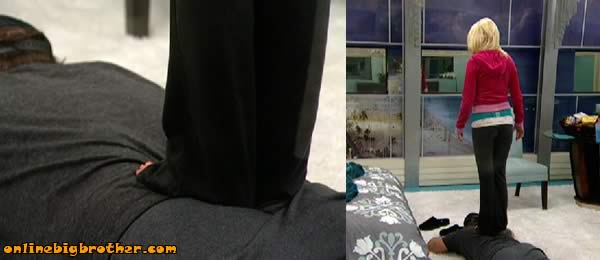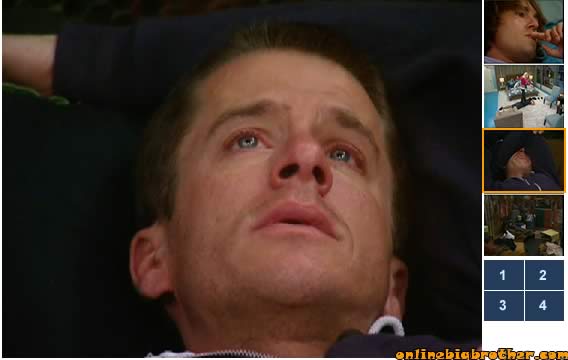 9:50pm Havenots Room Ragan thinks the POV will be a puzzle and he's horrible with puzzles. He goes over all the possible scenarios this week. His best case is he wins POV saves him himself Brit goes up and they get the votes to save Brit. THey next best case is He wins POV matt goes up and they get the votes to save matt. Ragan is pretty upset at the possibility of MAtt going home. "This just seems like a lose-lose. Even if I win, one of my 2 best friends goes home." He doesn't think he can campaign against Matt how can he ask another person to vote matt out.. Ragan gets made at himself for being so pathetic and crying. He says the worst part about getting evicted is going to sequester to be with the gummy bear monster. "I'll either rise to the occasion or crumble under the pressure.. This is my time to shine"
10:33pm Hayden and Brendon Brendon is all excited and Surprised that Lane picked Hayden for POV, HAyden says he was surprised as well, Hayden: "that shows us he's on the outside looking in with that group". Brendon changed his mind about noms because Brit was pleading with him and he agreed that she was a competitor and deserved to be there.Hayden: "if one of us wins veto me, you, enzo Lane will be more likely to gravitate to us and we can put Matt up and we'll send ragan home" . Hayden explains that by doing this they pull in lane and you piss off matt but he'll be gunning for you anyways. Brendon isn't sure Matt will be he thinks because Brendon didn't put him up on the block this week that Matt will keep him next week. Brendon: "if ragan goes home matt is going to try and latch onto you and enzo I don't see him attaching to brit" Brendon is confident that regardless of what happens tomorrow he'll be able to control who is going home. Brendon has been thinking a lot about Jury votes and he thinks Brit will not give him on if he backdoors her. Hayden disagrees he thinks out of anyone in the house Brit will appreciate game play and strategy. Brendon goes on and on about how his nominations were done great because they drive a wedge through the other group. Hayden says Brendons nominations are perfect, Brendon: "and in conjunction with he POV player this is perfect this is crazy man" Hayden if we win POV we have a lot of bargaining power. They both are laughing about how the other group of 4 don't want Ragan to win POV because then they will go up.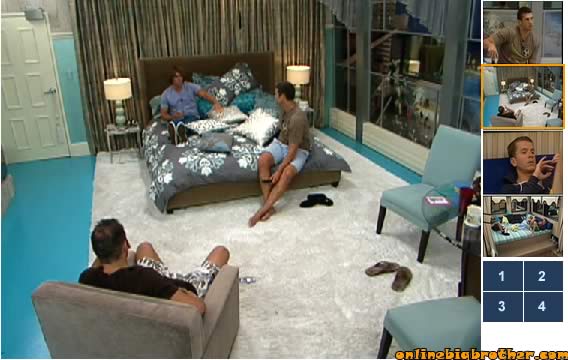 11:05pm Enzo, Hayden and BRendon Studying for the quiz