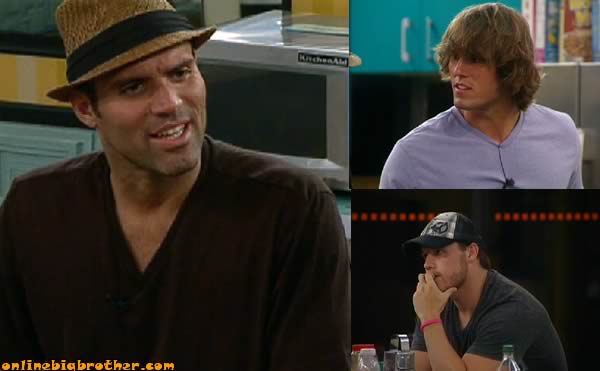 SEE what they CAN'T show you on TV! 3 Days FREE No Commitments
8:10pm Kitchen, Lane, Enzo and Hayden They are trying to tell Lane not to worry, Brendon had come up to Lane 10 minutes ago and told him he's not the target. They tell Lane that as long as Brendon says he's goign to do even if POV is used it'll be LAne/Brit or Ragan/matt and they have the votes to keep the brigade in. Enzo and HAyden say they will push Brendon hard to get Brit up if anyone gets taken down. Lane mentions the Nomination speech and how douchey Brendon sounded talking about taking out floaters. Matt joins them… They start talking about how Brendon really wants Ragan gone, they can't understand why. Enzo starts joking telling the brigade he'll take them into the Brendon alliance "I'm taking you all into the promise land". Matt rehashes some of his conversation with BRendon on how he wasn't going to back door someone and he wanted MAtt to stay int he game. Lane HAyden : "Brendon needs to go", Matt: "I can't believe that his target is Ragan over me and Brit over me it's BLANK up I feel so offended".. Feeds cut to TRIVIA WTF!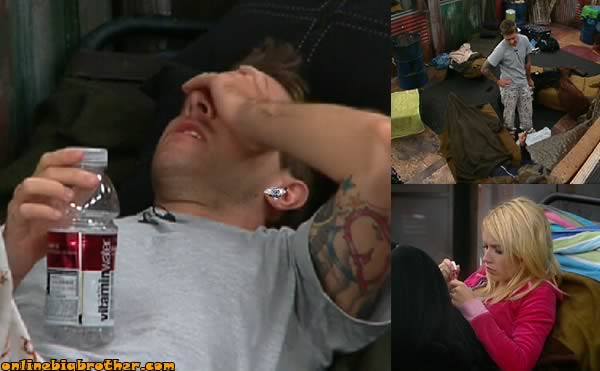 8:45pm Feeds back
Ragan is depressed he asks Matt if Hayden and Enzo will try to win it Matt says no they won't. Ragan: "If I win POV you will go up" Matt: "YOU MUST SAVE YOURSELF".. "I can get the votes don't worry about me" Ragan thinks it'll be the "How bad do you want the veto" competition. Matt says great, Ragan needs to do whatever it takes to win the POV. Brit walks in comments on how BLANK Season 12's POV picks are, Matt tells Ragan he's fighting againsrt 3 strong guys but Ragan is much smarter in the game then those, he recommends ragan keep his cool. Matt reminds him that Kathy will not win and Enzo isn't going to win. Brit asks if Hayden will use the POV, Matt isn't sure they might be able to talk Hayden into it. Ragan thinks hayden will use the POV because Brendon will want to Backdoor someone. Matt lays back on the have nots couch tells them he's getting a brutal headache. Brit says she'll take a penalty for a bowl of fruit loops. Ragan says the cards are staked against him there is no way he can beat those guys in a physical comp. Ragan: "Did you see me in the HOH I totally choked". MAtt leaves. ragan: "My goose is cooked" Brit: "Don't say that it's not true and that is a lame thing to say". Brit telling him that she thinks Ragan might have the votes to stay all he needs is three. Ragan feels like theres no hope, if Matt goes up with him he'll be a nervous wreck. Ragan asks how Lane is doing, Brit says Lane is doing well but that is the way he is. Brit: "I'm sure he picked Hayden to be in the POV because he thinks Hayden will use it to save him". Brit says he's sure that the POV is going to be used, she's sure Brendon wants to backdoor someone. She thinks Enzo, Kathy and HAyden will use it to save Lane and MAtt will go up. Ragan: "This is BLANK". Ragan doesn't think it'll be questions
Brit: "Brendon knows he's not going to win this game all he's doing is going after revenge" ragan: "Brit so you realize that whoever leaves is going to have to be with B/R for an entire week because it's going to be double eviction..He's such a coward" Brit agrees.
POV players are ENZO, Brendon, HAyden, lane, Kathy and Ragan Matt and Brit sitting out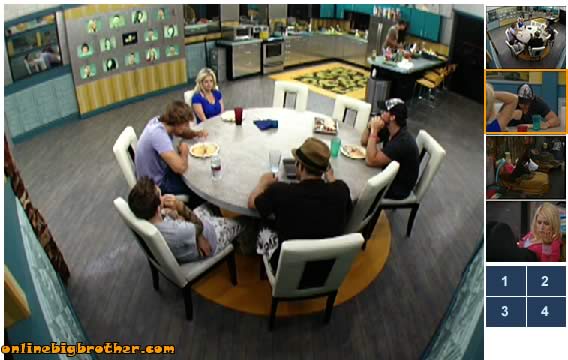 9:15pm eating with your mouth open in a mic