SEE what they CAN'T show you on TV! 3 Days FREE No Commitments

11:41pm HOH Enzo and Hayden They are talking about not wanting to put Brendon up because Brendon is in there side alliance. Enzo points out that Lane wouldn't put Brit up and MAtt won't put Ragan up so they don't have to put Brendon up. They try and think of a name for their new alliance with their "Toy Soldier"(they call Brendon their toysoldier) the pump chump and the one week wonder. They doubt that alliance will last longer then a week. The rest of the house will be putting Brendon up if they win HOH. Enzo thinks if they win HOH they should keep Brendon for another week and take out Brit. They both agree they don't want to be the one that takes Brendon out because it'll cost them 2 jury votes. They talk about the POV tonight and wonder if it will be one with prizes, Enzo thinks that maybe they should jsut go for the prizes. Hayden doesn't think it's a good idea becuase if Ragan gets POV he could put up Matt. Enzo suggests cutting Matt out of the final 4 and take Kahty along. Enzo says it's looking pretty good for the Brigade, Enzo is going to win, Hayden gets second, Lane gets fan favorite and MAtt already got the 10g's in Pandora's box but he's not admitting it.
12:00AM Brit and Hayden Taj Brit is telling Hayden not to use the POV. They both agree if the nominations stay then Ragan is going home. They count the votes, and the only 2 people that will vote for Ragan to stay will be Matt and KAthy. Brit thinks if Brendon wins the POV he'll take Lane down and put up Matt. She'll vote matt out if that is the case. Hayden tells her they need to think about the final 2 because if Enzo and Matt get to that point they're is no way any of them will win. Brit is sure that POV is a puzzle and she has a good feeling that either Hayden or Lane will win it. hayden is still nervous about the comp. Brit explains Brendon's weirdness today with the Votes. He told Brit she was going up and then 20 minutes later he tells me he has't made any concrete decisions. She says she started to plead my case focusing on me being a competitor and the fact that she wants to not be backdoored she wants to be able to play for POV. Brit mentions how if she goes up against Lane it's all over for her. Hayden doesn't think so she'll have Matt, Ragan and maybe Kathy. Brit isn't sure kathy will vote for her. Brit explains how the pairs are going to be put up if POV is played. Hayden isn't sure if that is what Brendon is doing because it would of been easier to just put the pair up first. Brit says Brendon is scared of competing against matt.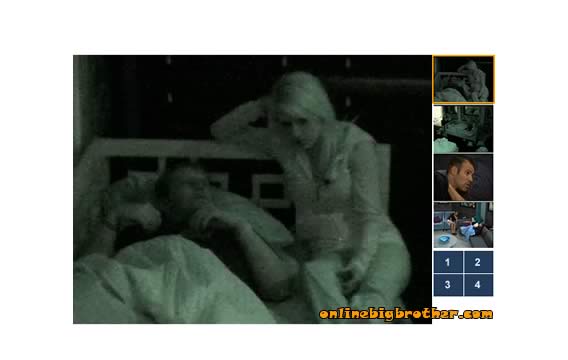 12:30am Jumanji Brit and Lane Brit asks Lane who he has a final 4 deal with. Lane laughs, "I had one with Hayden, Kristen and Andrew". Brit tells him not to make anymore alliances without her because she considers they are in an alliance. Lane doesn't think they are . She goes to explains how she saved him when Kristen was on the block because she didn't use the POV because Rachel told her she would put up Lane. Lane tells her they don't have to worry the target is Ragan, Brit knows and asks what if Ragan win POV. Lane: "then it'll be Brit or Matt up". BRit is dreading going up against Lane, he reassures her that ragan is a good guy and all but he's not going to win POV. Brit says if the nominations stay she will vote out Ragan. Brit will have to throw matt under the bus if Ragan gets the POV to prevent herself from going up. She not looking forward to it but it's her only chance to prevent getting put up against Lane. Lane tells her to do what she needs to do .
12:40am Jumanji, Hayden, Lane and Brit Brit telling them how steamed ragan and matt where that Lane picked HAyden to play POV. She knows why he picked him, She doesn't want the POV to be played. Hayden comments on how broken down Ragan is, Hayden: "He's got thin skin". Lane points to the floor: "Hey whats that". Brit: "My panties" She goes to grab them, tells the guys she's embarrassed. Lane asks why she walks around bikini bottoms every day.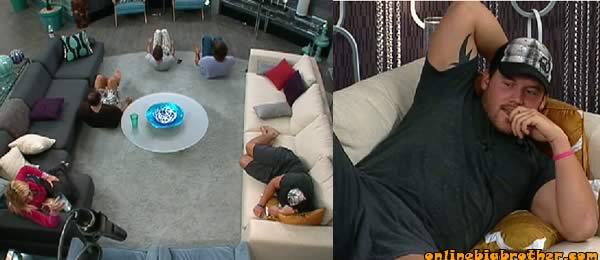 1:00am Brigade in training