8:45am In the have not room Matt is awake. Matt keeps hearing noises and gets up out of his cot and going over to the door to listen. He waits there silently for a minute then returns to his bed, then gets up again a few times to listen. He stands over Britneys bed and listens, then gets back into his cot and tries to go back to sleep. He keeps hearing the creaking noises and sits up each time to look around the room. Matt is definitely buggin out!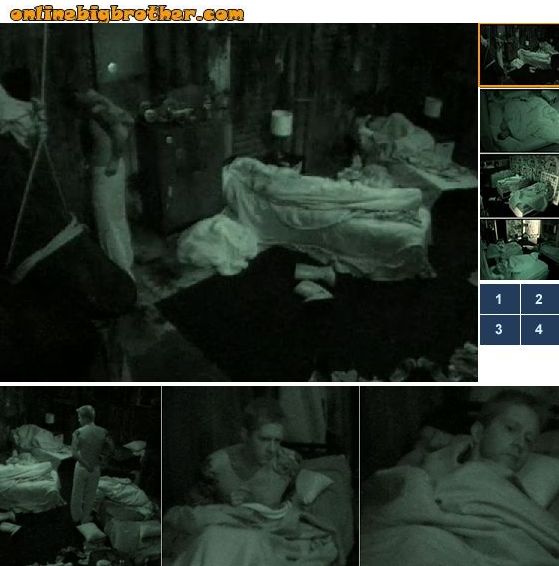 9:20am Ragan and Matt are awake, they leave the have not room and head into the cabana room. Matt says that he had to go to the bathroom and kept hearing things and wanted to go look but didn't want to be implicated so he stayed in the room. Matt and Ragan think that they're going to have a luxury competition today because they are on an indoor lock down. Ragan says that he wishes they would shut off the fans. Matt says I know …you would think they would cause noise with the conversations and stuff. Ragan says yeah. Ragan says that he doesn't know what to do. Matt asks with what?! Ragan says with this situation. Matt says I don't know, we just have to fight the best we can. Big Brother cuts the feeds to wake up the other house guests.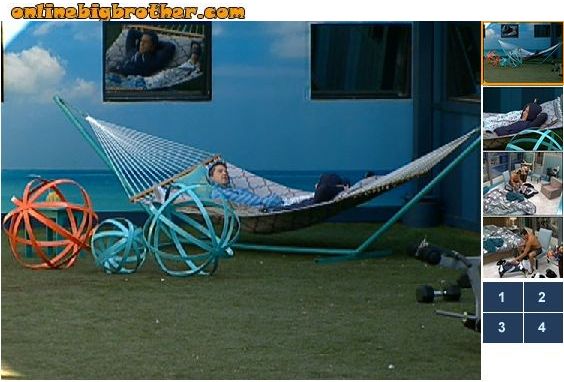 9:38am When the live feed come back Matt and Ragan are laying out in the backyard hammock. Ragan says that he was trying to think back as to how he got to where he is at this moment. Ragan says that if you are a logical player …we are not the most logical targets. Matt says that we are not. Ragan says that he could argue with him till he is blue in the face but that Brendon won't listen to him. Ragan says thinking back at what point did it all go wrong. Matt says that Ragan is in a better position than he is. Ragan says that if Brendon can't see how it would have been impossible for the house not to put them up after the way Rachel behaved week two. Matt says yeah. Ragan says that he is not…. When it comes to thinking things through he is not very smart in that way … he just doesn't know how to rationalize things. Matt says that maybe know that she is gone he can…. Before they were both so wrapped up in each other that the game was the last thing on their minds… maybe now he can because the game is all he can think about. Ragan says that he thinks Brendon wants Matts blood. Matt says yeah .. so I don't know why you are worrying. Matt says that in the mean time he is going to try and fight for the veto. Ragan says how do we get through this week though without giving up. Matt says that giving up is not an option. Matt says that he heard Ragan and Britney talking about how this is just a blip in the radar of life. Matt says that this is not just a blip for him …he is fighting to save his wifes life. Ragan says that he needs to be here too because he is 6 figures in debt. Ragan says he would never throw Matt under the bus… if he was able to talk himself out of going up … and then Matt and Britney are put up … then you win the POV … Matt interrupts and says that they don't even know how Brendon thinks by himself… he is up in the HOH for the first time by himself. Ragan talks about how he tried to talk to Rachel when she went off and how he explained things to her and she just couldn't see it. Ragan says that even Brendon was agreeing with him and that he just couldn't associate himself with her after that. Ragan says that when Brendon started attacking him when Brendon had no idea about the conversation or what was going on was not right. Ragan says that he could not just let Brendon bully him. Ragan says that Matt and him are different …that when they make a deal they stick by it. Matt tells Ragan that he need to save himself and that Matt will worry about himself and worry about winning the POV.
9:50am- 10:10am Matt tells Ragan that he can subtlety implicate people without actually saying any names. Ragan asks if he should talk to Brendon this morning. Matt says yeah of course. Matt says that it is a lot less suspicious if you say that I am okay …but not too much … they already think we are in an alliance.. but it is better for you to just save yourself. Ragan says that he just doesn't want to talk to him. Matt says well it is totally different now … its no longer Brendon and Rachel… it is just him now so it might be a totally different conversation. Ragan says that he will need to talk about the emotional aspect first and then talk logic. Matt says yeah … it may at least calm down his nomination speech. Ragan says that he thinks that Brendon even realizes that Rachel's actions were wrong after winning HOH. Matt says that it is factual that Rachel was acting f'ed up … its not his opinion …it is factual that her actions were totally f'ed up. Ragan goes through Rachel's behavior, listing off what Rachel has done that was inappropriate. Ragan asks when should he talk to him …after he eats breakfast. Matt says yeah. Ragan says that the last person he wants to work with is Brendon …but that he wants to make sure him and Matt stay. Ragan says that he thinks Matt and Ragan are the only people Brendon can work with. Matt says that he needs to make a deal before he goes on the block …because if he goes up and wins the POV ..then he is definitely going after him …game on. Ragan says that they key to explaining all of this is telling Brendon that after Rachel did what she did it was impossible them not going up. Ragan says that the best argument is saying that both him and Matt do and say what they are going to do … for the good or bad  …but at least he knows what they are going to do … where as other people you just don't know.  Matt agrees..  Big Brother asks them if they have changed their batteries yet.  Matt and Ragan get up and Matt says if you already know the answer to that why are you asking you condescending fck!  Matt then says just kidding big brother you know I love you…
Share it YO!
Tweet