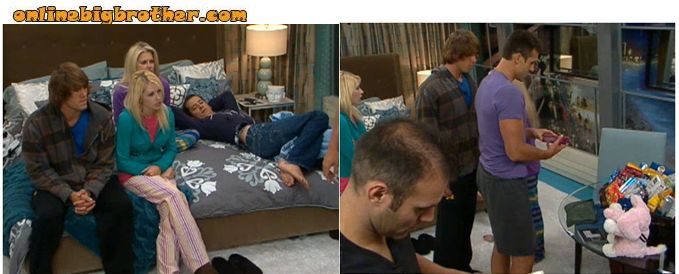 Watch all drama on FLASHBACK! FREE 3 Days TRIAL
12:50am Brendon gets his HOH room and asks who wants to see my HOH room. Ragan and Britney come up see Brendon's HOH room even though they had said they wouldn't. Enzo says that even the have nots are coming. Brendon got a photo of Rachel in his room. He also got a photo of his nieces, one of him swimming. Brendon's music cd is Weezer. Brendon reads his HOH room letter, it is from his sister and talks about how much his family and niece and misses him and supports him. Brendon gets choked up reading it. Kathy says AWWww.. when Brendon is finished reading the letter. He offers the stuff in his basket to anyone who wants it. Brendon says that he understand if people don't want to hang out because its late. Ragan, Britney and Lane leave the HOH room. Ragan heads down to the have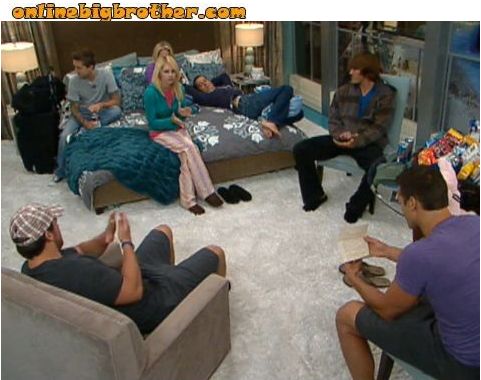 not room. Britney goes to the bathroom to brush her teeth. Lane follows Britney to ask if her if she's okay and she says yes. The other house guests stay to hanging out. Hayden is listening to the CD. Kathy is asking about Brendon's nieces, one is 15 years old and the other is 3 years old. Brendon explains that his brother isn't in the picture so he tries to be there for his nieces. Brendon says Rachel would kill Big Brother if she saw the photo Big Brother gave Brendon of them where they are in the bedroom together. Brendon says that Rachel would be pissed because she would complain that her hair wasn't done. Kathy says yeah … and laughs.
1am Lane is taking a shower. Britney is still there in the bathroom and tells Lane that she is worried that if she is against Matt she won't have the votes to stay. Lane tells Britney that it might make her feel better if she gets to wash his back. Britney asks Lane to just be honest with her if he knows she is going. Lane tells Britney to go to bed, get a good night sleep and that he will yell at her some more tomorrow. Britney says that she isn't in a bad mode, just concerned about things about whats happening behind the scenes. Lane asks with Nick? Britney says no. The feeds cut out.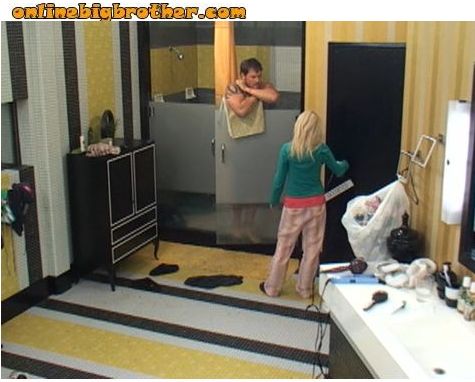 TRY the Live Feeds for FREE!!
Superpass – 3 Day FREE Trial
1:10am Up in the HOH room Brendon and Kathy talk about the picture he got of Rachel. Kathy tells him not to cry like Ronnie did last season. Brendon says that he is a man, then says that he will do it in the bathroom. Kathy gives Brendon a hug then goes to bed. Enzo and Hayden stay up in the HOH room and start talking game. They're talking about having to study for the possible HOH competition where they are quizzed on events in the house. Brendon offers Hayden and Enzo some of his beer. Brendon leaves to get a bottle opener. After he leaves Enzo laughs and says he's starting to like Brendon. Hayden says he's a good guy. They talk about how they don't think he's the saboteur. Hayden says that Matt is dead set on getting Brendon out next week. Enzo says that Brendon will protect them so he's leaning against going after Brendon. Brendon comes in and they stop talking. Enzo says he's never had this kind of beer. They congratulate Brendon on the win and Brendon says that he just didn't want Lane to win because he thinks Lane's the saboteur. Brendon explains why he thinks Lane is the saboteur. Brendon says that it is because Lane tells Britney things that Brendon has said and makes things up and tells Britney that Brendon had said it. Brendon says that Lane has floated through this game. Enzo nods his head. Enzo and Hayden ask Brendon if they think Lane should stay in the game. Brendon says that yes 100% he should stay. Brendon says that he thinks if Lane is the saboteur then he is BLANK up other peoples games too which helps them. Brendon says that he thinks that if Lane is the saboteur he wouldn't do anything to drastic to compromise his own game. They talk about how Lane is in a good spot to win. Hayden says Lane is on the other side and their side (Brendon, Enzo and Hayden) don't want to put him up. They say that they think getting rid of Kathy is a waste of an HoH and that they should keep her to last.

Brendon says that they (Hayden, Enzo and Brendon) are better then the other four mother BLANK because Lane, Brit, Ragan and Matt don't trust each other and are only working with each other because they have too. Brendon says that he is going to call them up one by one to watch them throw each other under the bus. Hayden says that he thinks its a good idea to keep the saboteur in the game. Brendon says that Matt would throw Ragan under the bus in a heart beat. Brendon says that Britney wouldn't throw Lane under the bus at first but with some prodding she would. Enzo asks who out of the other four scares Brendon the most. They talk about a final three situation, and say that it doesn't really matter they need to think two weeks at a time. Brendon considers bargaining with Britney. Hayden says he doesn't think Brendon can trust what she says. Brendon says no one knows about them. They may assume. Brendon says that if Hayden or Enzo wins POV use it as bargaining power. Brendon says they cant trust anyone who isn't in the HoH at the moment. Brendon starts talking about who would be best to nominate. Brendon says Matt vs Ragan and if one wins the POV, then they would backdoor Britney? He says that putting up Ragan and Britney scares him because Matt could win POV and pull Ragan down then Ragan and Matt are safe. The feeds cut out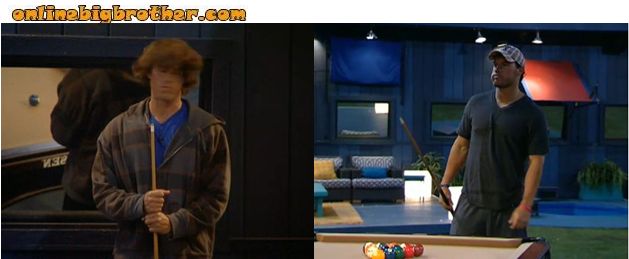 1:45am When the feeds come back Enzo, Hayden and Lane are playing pool. Enzo and Hayden tell Lane what they talked about upstairs in the HOH room. They tell Lane that Brendon is convinced that Lane is the saboteur. Lane says that he doesn't understand why he would be considered the saboteur. Enzo tells Lane to not tell anyone we told you because it can't get back to Brendon. Brendon joins them in the backyard. Kathy is out in the backyard as well. Hayden asks Kathy if she has ever tried nicotine patches. Kathy says no! Kathy asks the guys if she gives up cigarettes, what are they going to give up. Hayden tells her sex. Kathy says that they have all given up sex. Hayden, Enzo and Lane are surprised to hear Kathy talking about sex. They start complaining about their aching bodies after the HOH competition.
FLASHBACK – Don't miss a minute of all the action
Superpass – 3 Day FREE Trial
In the cabana room Lane and Matt are talking. Lane tells Matt what Enzo and Hayden told him about their conversation with Brendon. Lane says that Hayden and Enzo told him that Brendon's plan is to put up Matt and Ragan and maybe backdoor Britney. Lane also tells Matt that Brendon is convinced Lane is the saboteur. Lane tells Matt he would let Britney go at this point of the game. Matt says that he would let go of Ragan. Matt says it is hard because Britney and Ragan are good people and he wants to be able to keep them around as long as possible. Matt asks Lane what would be best for Lane in order of who he would want as the final six with the four brigade member. Matt asks Britney and Kathy, Ragan and Kathy or Britney and Ragan. Lane says that Britney and Kathy would be best, then Britney and Ragan would be his second best. Matt asks what if they could get Kathy up and out this week would Lane do it? Lane says yes. Matt says he knows Enzo doesn't trust Britney or Ragan but Ragan and Britney would help them the most. Matt says that Lane is really the only one he can talk to about this because he feels they are both in the same kind of position. Lane says that if he wins POV he would take Britney off, just like Matt would take Ragan off if he won. Matt asks Lane if he is the target this week. Lane tells Matt no, Ragan is the target. Matt is worried that the saboteur could be in the Brigade. Lane says that Britney is worried that she is going up this week. Lane says she isn't going up at nominations but there is a good possibility she could be back doored. Lane says that he doesn't think there is a saboteur. Lane says that if Britney is up and he wins POV he would take her off the block. They both says that they are ready for bed.
2:10am Brendon, Hayden, Enzo and Lane are all out in the backyard around the pool table. Kathy gets up from the couch and heads inside telling them good night. After she leaves Enzo says keep on floating Kathy. Brendon talks about how crazy it is that there were so many people in here in the beginning. Lane says that there were a BLANK load of people, and says that it felt like there were 25 people in here. Enzo says yeah, there are a lot less people, and then says that there are still 8 people left. Lane says it'll go by fast. Brendon brings up the fact that they are voting out all the hot chicks. Hayden says that it's going to be a sausage fest in here soon.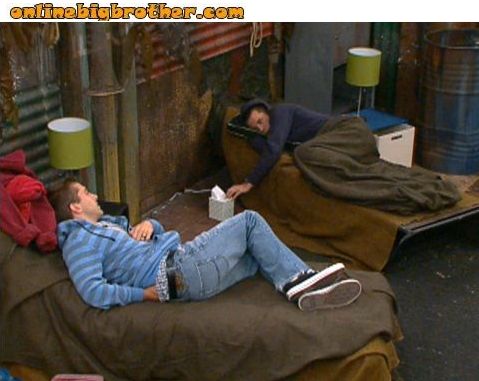 Meanwhile, in the have not room Ragan, Matt, Britney and Kathy are talking. Ragan says that he hopes Brendon gives a classy speech tomorrow. Britney tells him not to hold his breath. Matt tells Britney and Ragan that they are not going up and that he thinks he will be going up for sure. Matt wonders why Brendon isn't suspicious of Hayden and Enzo. Britney and Ragan think he isn't just because they are all Brendon has in this game. Britney tells Lane to tell her a bed time story. Lane asks Britney if she wants a sexual story and then says that it will give her really good dreams.
2:30am Out in the backyard, Enzo tells Lane that because Julie didn't ask him a question during the live show, it BLANK up his whole game up. Enzo says that he is cracking now, who am I to be here, how did I beat out 20,000 people to be here? Lane and Hayden tell Enzo that his wife would tell him to keep going. Enzo says that his wife hates negativity. Enzo says that he thinks his wife may not watch this week but if he wins POV she'll be back. Enzo says I'll be back, I always find a way. Enzo starts yelling in the backyard. Enzo and Brendon are now playing a game of pool. Brendon says that he can't wait for Rachel to see him win the HOH. They talk about how Rachel will get a video from the next person voted out. Brendon says it isn't going to be him. They talk about how it could be Ragan bringing the video to Rachel. Brendon says it would be nice to have a whole week to yourself in the jury house to decompress. Enzo says the whole Big Brother game looks so much easier on TV than it actually is in real life. Hayden says that he is heading to bed. Brendon asks Enzo why there was a vote change today. Brendon asks when the votes started to switch today, who was the driving force? Enzo says that it was the whole house, but he says he should watch out for Britney and Ragan. Enzo says that he thinks it may have been their plan all along to send Rachel home. Brendon asks again who was pushing to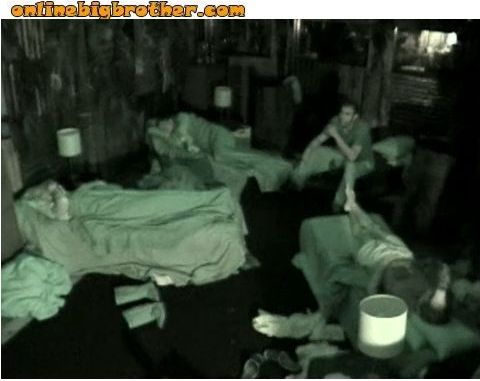 change the votes. Enzo tells Brendon that Britney and Ragan were the driving forces behind Rachel being sent home. Right then the feeds cut to the we will be right back screen. Enzo and Brendon finish up their game and head inside.
LIVE FEED Trial! Superpass
FREE for 3 Days!
2:50am Enzo heads into the have-not room where Matt, Ragan and Britney are talking. Enzo asks them if they feel a little bad about Brendon after hearing him read his letter. Enzo and Matt agree that Brendon has a BLANK up home life and they feel bad for him. Britney says that it very obvious that he cares for his niece a lot. Enzo wonders what Rachel is doing right now. Matt says that she is probably drinking and crying right now. They talk about how she is going to show up at the CBS Early Show, with her extensions all over the place, her boobs hanging out, and lots of crotch shots. Enzo says she'll be wearing a shirt skirt. Enzo asks if their goodbye messages were nice or mean, they all say theirs weren't so bad. Enzo says its a jury vote they have to think of now. Enzo talks about how things could have been different if they would have kept Rachel. They say that Lane would have won if Brendon wasn't here, they should have known it wouldn't be a quiz this week. Britney says that it is going to be a very hard week. Enzo talks about how weird now that they are down to tow bedrooms. Matt says that he thinks they will have a double eviction next week and they'll be left with the Final six. Matt says that was the week they did it in Season 10. Enzo wonders if Brendon has fans. They all agree they don't think he does.
3:15am Enzo says that he has to piss but that he doesn't want to go alone because of the saboteur. Hayden says that he will go with him. Hayden and Enzo are whispering in the bathroom. They talk about how they hope either Britney or Ragan goes home this week. Enzo says that Matt said that if he won POV he would take Ragan or Britney off the block. Hayden and Enzo worry that if he does that then they may have to part ways with Matt. They are worried about Matt's loyalties. Enzo and Hayden are concerned that if Matt took Britney or Ragan off the block, then Lane would go up and they says that they can't have that. Hayden and Enzo say that they might trust Brendon more than they trust Matt. They say that they haven't had a real Brigade meeting in awhile. They agree that they are all Brendon has, so he will be totally loyal to them. Hayden says that Matt is scared of Brendon. Enzo and Hayden both agree if one of them wins HOH, they won't put up Brendon. Enzo says that he doesn't understand Matt, …is he the saboteur? Enzo says that Matt is always in the have-not room with Britney and Ragan. They say that if they get rid of Britney, Lane is back with them one hundred percent. They talk about how if Lane or Matt win HoH, they will let them put up Brendon.
3:40am Brendon is now down in the backyard with Kathy. Brendon says that he asked everyone to vote him out and no one has ever done that. Kathy says that shows what kind of man he is. Kathy says that she thinks everyone thought it was going to be a quiz and that's why they wanted Rachel out. Kathy tells Brendon that she overheard the have-not room making fun of her. Kathy says that she is over the little man syndrome in there. Kathy says that she listened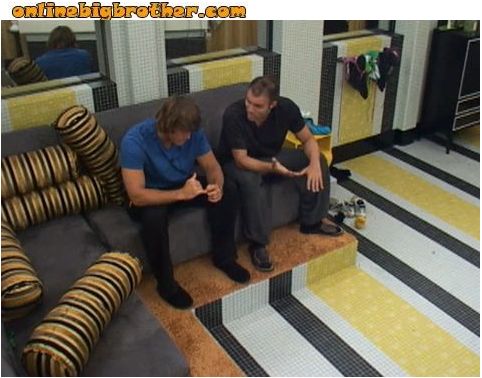 until she could listen any longer and then she went into the have-not and let them know she heard everything. Kathy says that they then started apologizing but that she wasn't buying it.
Enzo and Hayden continue to talk. Enzo says that when they get rid of Britney then Lane will come back to the Brigade. Hayden says that he thinks that Matt and Lane are going to be looking out for their own best interest and not the brigade. Enzo says that if Matt wins the POV and takes Ragan off the block then it's over with Matt. Enzo says that if will just be the Bra …not the Brigade anymore. Hayden says they will see where Matt's loyalties lie if he takes Ragan off the block. Hayden says that if that happens, Britney will go out this week and Hayden says the next week if he is HOH then he'd put up Matt vs. Ragan. Hayden says that Ragan would go home and Matt would know what's up, he'd get his head straight. Enzo says that he still wants the Brigade to be final 5 though with Kathy. Enzo says that the whole Brigade needs to sit down and work this out. Enzo says that Brendon is a big target and thinks by keeping him in the game it keeps the Brigade safe. Enzo says that even if we take out a Brigade member, we still love them. Enzo says that Matt and Lane are falling; they are in deep with Britney and Ragan. Enzo says yo they don't even look at us anymore, we got shunned! They both agree that Matt has got a sneaky side, and that Lane is an upfront guy. Hayden and Enzo head back to bed.
Watch all drama on FLASHBACK! FREE 3 Days TRIAL
4am All the house guests are now asleep…
8:20am The house guests are still sleeping…
9:15am They're all still fast asleep …