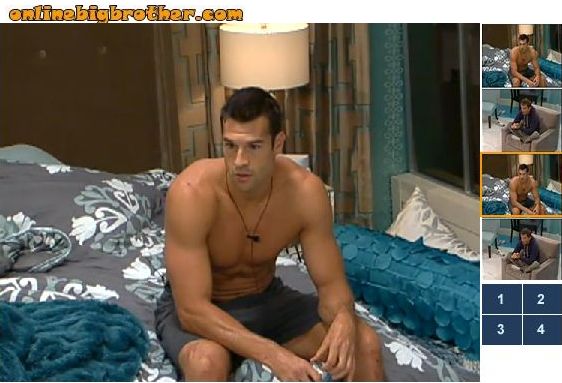 10:15am Ragan comes up to the HOH room to talk to Brendon.  Brendon says that first things first …he wants to apologize for making personal attacks.  Ragan say that he first wants to talk about how the wheels of their friendship fell off.  Ragan says that he was on the Brendon and Rachel band wagon for the beginning even when no one else was.  Ragan says that part of the deal that he made when he jumped off that one competition was that you and Rachel would not go up.  Ragan explains the other instances where Ragan had Rachel and Brendon's back.  Ragan says that they seed was planted when Andrew gave his speech attacking Brendon and Rachel and then right after you (Brendon) were campaigning for Andrew to stay.  Ragan says that he then knew that Andrew and Brendon had a deal and were working together.  Ragan says that Brendon should have talked to him to let him know, at least that way Ragan says he could have helped save Andrew if that was what Brendon wanted.  Ragan then talks about how Rachel went crazy after winning the HOH.  Ragan then brings up when he gave Rachel the $5000 and she started crying … Ragan says that was just straight up weird.  Brendon says no she wasn't crying because of that she was upset that Kristen might still get the POV.  Ragan says that he is pissed because it implicated him.  Brendon says that he shouldn't worry about that because he doesn't think anyone even thought about that…. Ragan says oh yes they did …because people came up to him talking to him after.  Ragan then goes into how this season is way different than any other season; it is all about relationships of two's and threes.  Ragan explains that his only friend in the house is Matt but that Matt is really close to Lane, Hayden and Enzo so that he knows that he is alone.  Ragan says that Lane and Britney are together.  And Brendon and Rachel have each other and because Ragan is so close to them that there was no reason for him to want them out.    Ragan defends Matt and tells Brendon that Matt is a straight up person and that when he saved Brendon and Rachel week three.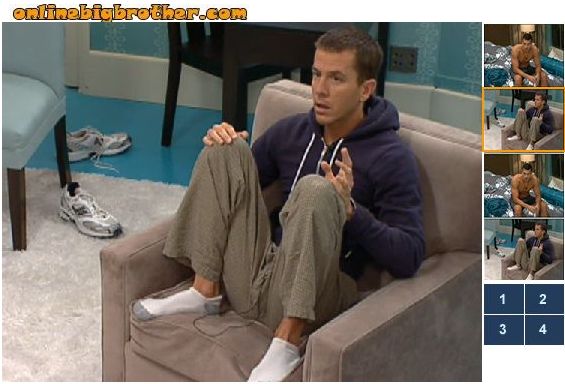 Ragan goes on again about the whole Andrew situation and how he was speculating that Brendon had a secret alliance with him and that they were just trying to hide it.  Ragan says that he doesn't have a problem with Brendon and Rachel hiding an alliance from the rest of the house but that Ragan felt like it was behind his back when he was on their side.  Ragan says that immediately when he was being bullied …he shut down.  Brendon says that he went off on them only as an attempt to save Rachel.  Ragan goes into how Brendon went off on him and Matt for thinking that they were ganging up on Rachel two on one.  Ragan says that was not the case at all and that Matt wasn't even saying anything.  Brendon says that he is sorry and that he was only trying to protect Rachel and says that he thought she was being attacked.  Ragan talks about how Rachel was maniacally laughing at him and that then later Ragan says that he talked to her and she denied it ever happened.  Brendon starts apologizing about his actions and what he has said.  Brendon says that he is in love with Rachel and that he was only doing it to save Rachel.  Brendon says that he is even going to bring up Britney and apologize to her for the stuff that happened after the POV particularly.  Brendon says that he is really sorry for the bullying because he knows how that feels and didn't want to bring up Ragan's old emotions about bullying.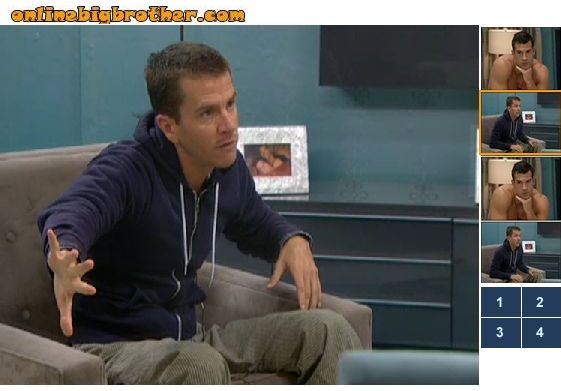 11am Ragan says okay now that we have talked past …lets talk future.  Ragan says that Brendon needs to think for each person if they win next week who would they put up.  Not what they say they will do but what you feel they will actually do.  Ragan says that Matt and him are separate people but that if they make a deal they are they ones that will keep it.  Brendon tells Ragan that Ragan's biggest hang up is getting too emotional but that helps Brendon feel more comfortable with him because then he knows when he is talking about his real emotions.  Ragan says that Brendon needs to start making real deals because next week he cant win HOH and will need to win POV.  Ragan tells Brendon that he wanted to talk to Brendon early and that he needs to listen to what other people say and think about what other will actually do.  Ragan says that he has never lied to Brendon especially this last week.  Ragan uses the HOH competition from last night as an analogy to how the game is and how you can either move forward or get tangles in the knots of the past.  Ragan says that he is completely open to making deals.  Ragan says that the last thing he wants is to have Britney or Matt to go home but I do have one other person in this game, but nobody else has my back in this game and puts us in a similar boat. Ragan says that if he goes and along with thinking about the future you have to remember who you leave in the game. Ragan says if he goes up against Britney and Matt …he (Ragan) will go home.  Ragan says that there was only one person last week saying why not get rid of Brendon.  Then Ragan says let's see how good of your read of people is and see if you can guess who it is.  Ragan says that just so you know this is not in my best interest to tell you this either. Brendon guesses Hayden or Kathy. Ragan says no it was Enzo.  Ragan and Brendon hug and Brendon tells him that he was glad they could talk things through.  Ragan and Brendon leave the HOH room…

Watch all drama on FLASHBACK! FREE 3 Days TRIAL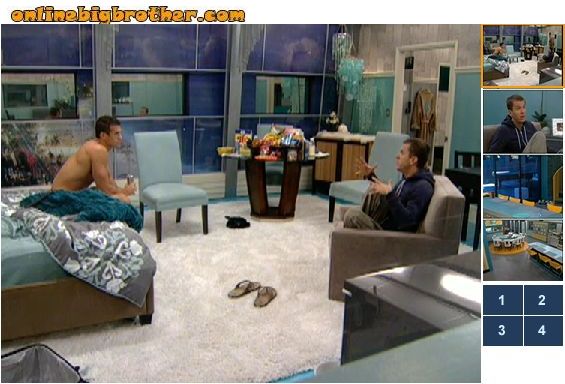 Share it YO!!
Tweet