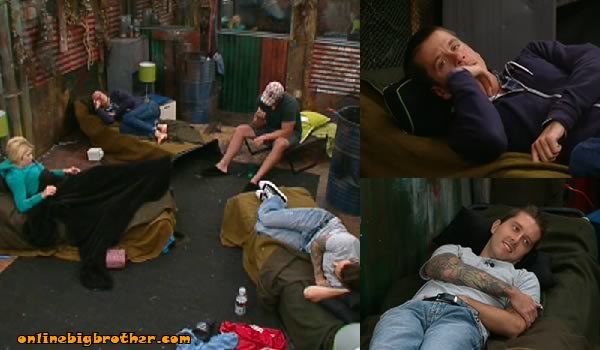 10:34Have nots Matt, Brit and Ragan Ragan saying that theres nothing they can do, it is what it is and now they have to plan beyond the nominations. Matt tells them if they get nominated they need to get Brendon to say something about Stacey and Matt will win the POV. Brit: "we'll take a casualty and he'll be a target next week"
Matt: "well that doesn't help us this week". Brit: "one of us will be a casualty and the other two have to fight there asses off" Lane walks in brit tells him they aren't sure if they should go up to see his HOH. Ragan: "We should go, Brendon won the HOH he played hard and its his turn to make a big move" lane mentions that Brendon requested a letter from rachel.
Matt: "Really because i was joking about that right after he won". Brit: "that just goes to shows you about his relationships outside the house if he's willing to take a letter from a person he just saw 4 hours ago over family" Ragan doesn't think they will do it becuase rachel learning about events outside the house… feeeds cut. Lane says if one of them win POV then he's going to get backdoored. matt: "don't you think hayden and enzo can talk him into putting up kathy" Lane: "not a chance he wants to take kathy to the end". Ragan leaves to the bathroom to talk to Hayden.
Brit: "this week we're the Persians and he's sparta" Lane: "no i'm spartan "Lane (joking): "I'm going to raise my kids like Spartans if you can't fight when your 5 i'm throwing you off a cliff.. wait no i won't do that" Lane: "all the Persian have is rugs and cats Spartans have honor and they win in the end" Brit: "No the Persians win in the end".."fine we're the Spartans" Lane says that the have nots voting is bullshit they should really step it up tell the have nots they can't use the toilet either use a bucket or diapers. Matt: "can you do that if your not have nots will they let me?" Brit starts talking about everyone that makes it tot he jury house is pretty much remembered in the game it's the first 4 players that are forgotten. Lane and MAtt both don't care about being remembered.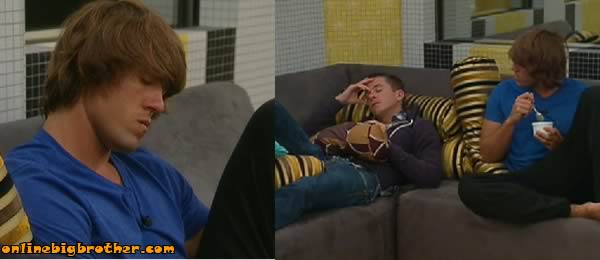 11:10pm Hayden and Ragan saying that they had said things about Rachel and Brendon that they are ashamed of. Ragan regrets some of his actions, He doesn't think he's said anything to B/R that he consider mean except for maybe calling Brendon a early man. Hayden understands why they acted the way they did, he points out that ragan and brit were bullied and the previous week B/R sent Kristen home. Ragan says he really cares for Matt and BRit and he won't throw them under the bus. He's sure B/R care about each other right now as much as he cares for B/M but he really doubts B/R will be talking after 3 years whereas he'll be friends with B/M forever. Hayden tells him he knows how tough it is being on the block with someone you care about. Ragan: "I hate being all emotional about it I always hated seeing people on other seasons cry". Hayden: "It's different watching it and living it.. you get emotionally connected.. I've felt like crying before". ragan says he usually cries once a week but he's not a public person about it he does it in his home on his bed…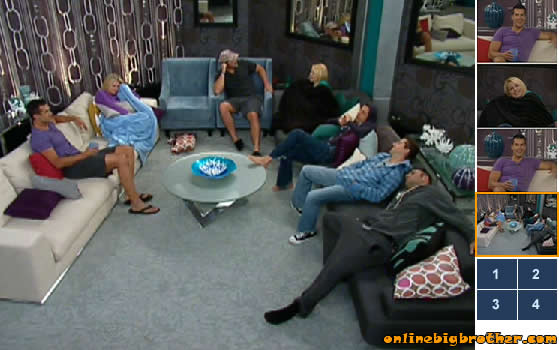 11:30pm the lights start to flicker on and off everyone is thinking it's the saboteur, production tells them to go to the living there is power problems. Hayden gets called into the DR everyone joking that he's the saboteur that the video will go on in the living room and it'll say live under it. Hayden isn't gone long, he comes back and they tell him they think he's the saboteur.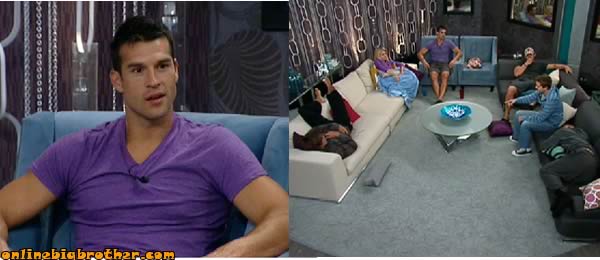 12:10pm Brendon is telling them he wants to open a science themed bar called "the lab". Matt explained this bar with touch screen tables were you can order and send message from them. Brendon: "Yeah those live feeds are burning it up tonight" Matt: "yeah showtime.. everyones cancelling their subscription". Enzo's joking around about how shitty he did in the HOH com, Enzo says that production was laughing about him.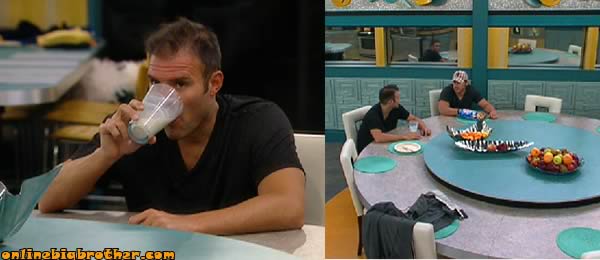 12:33pm Enzo and Lane Enzo is worried that production is going to give Brendon a letter from Rachel and the letter will tell him about the Brigade. Lane tells him they won't do it. Enzo says hayden thinks Brendon is going to put up Ragan and BRit but he thinks he might put up Matt because Matt took out Rachel…
Everyone trying to stay up so they can see Brendon's HOH room.