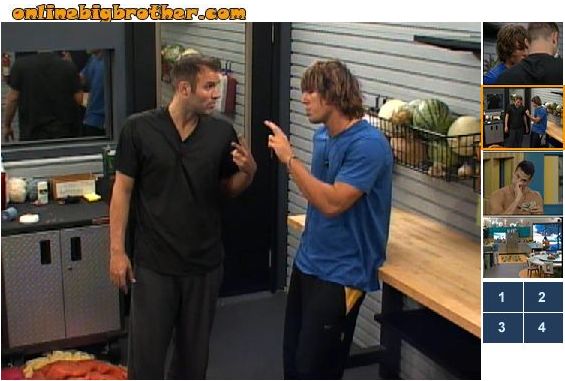 Watch everything that happens live!!
Superpass – 3 Day FREE Trial
11am Enzo and Hayden are talking in the storage room.  Enzo and Hayden are talking about how it has to be Britney and Ragan out this week and next week.  They says that they want to keep Brendon to the final six then Brendon can get rid of Matt. They say Ragan and Brit need to go before Brendon does. Hayden asks who has their back 100% they say Brendon because he has no one. Enzo says Lane is in deep with Britney. They say there best scenario is Brigade, Kathy and Brendon final six. Then Brigade final four. They plan to keep pushing Ragan and Britney to be nominated this week, and to leave Matts name out of it.  Hayden says if he wins HOH next week, he may have to put up Ragan and Matt. Enzo says if they win HOH they will go after Matt and Lanes side alliance and that he will tell them he respect there side alliance and that if Lane or Matt win HOH then by all means go after Brendon.  Enzo laughs and says that if Matt questions Hayden and Enzo about their side alliance with Brendon that they will tell him that he has one too …so don't be jealous just because our side alliance is better.  Enzo says that their side alliance is better because Brendon is a bigger target and so that he shouldn't be jealous.  They laugh.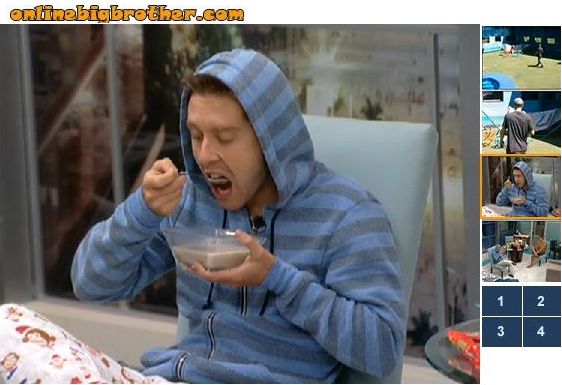 11:20am Matt is up in the HOH room talking to Brendon. Brendon tell Matt that they are the same in that they both keep their word. Matt asks Brendon who is his target. Brendon says that he doesn't necessarily have a target. Matt tells Brendon that if he does happen to tosses him up there on the block he is not per say going home. Brendon says that the stupid house vote is easily swayed by what the HOH wants. Matt asks you think so?! Brendon says yeah. Brendon saying him a Rachel talked about it, and Matt has a lot of blood on his hands. Matt asks so when you said it was personal … it wasn't?! Brendon says that it wasn't and that he is a guy and 30 seconds later he is over it. Brendon says that he can certainly sway the vote in which ever direction he wants. Matt says well either way what ever Brendon does it will be remember ….good or bad … and rest assured if I stay I will get HOH next week. Brendon says that when he decided he will let Matt know what's going on and who he is putting up …probably right after the diary room session. Brendon says that Matt is a man of his word and that he respects that.
FREE TRIAL Live Feeds! Try it free for 3 Days!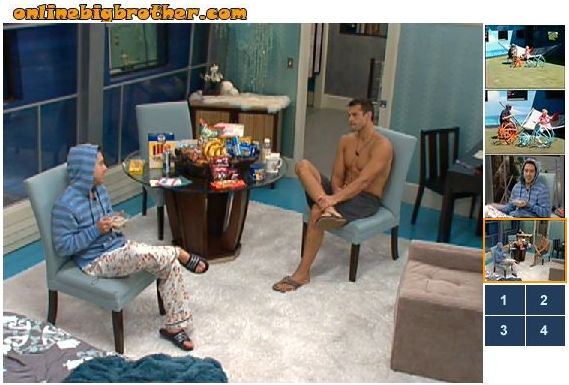 11:40am – 12pm Brendon talks to Kathy next. Brendon says that they don't even really need to talk because he has already told Kathy that she is not going up. Big Brother calls for an out door lock down. Brendon says that its an out door lock down because the have nots are getting something. Brendon says that who ever we decide goes home it will be somebody threatening. Brendon tells Kathy that he thinks she is a genuine and real person. Kathy and Brendon hug. Kathy thanks him. Brendon tells Kathy that he had a different opinion at the beginning but appreciates that Kathy was there for those that needed her. Brendon tells Kathy that she is welcome up in the HOH anytime.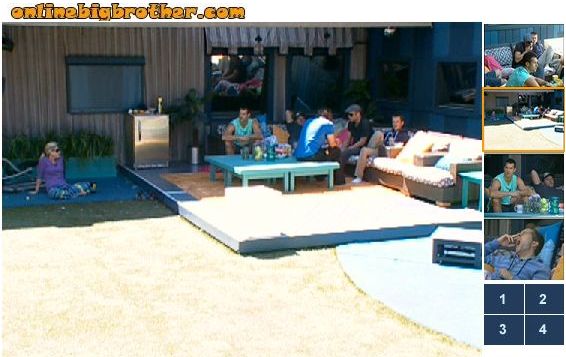 All the house guest head out to the backyard. They talk about what food the have nots will get.  They give out their suggestions of what they want.  Enzo says probably get dicks.  Matt asks if its gay if you eat a dick thats already cut off. They say no … and that especially if they get some BBQ sauce. Matt says well give us some dick! They start talking about the HOH competition from last night. Lane says that he pulled out a bunch of hay and a log cabin out of his BLANK. Ragan says Julie that's just another Friday night for me! They continue to guess what foods the have nots will get. Ragan talks about how he gets really BLANK up if he eats sushi and drinks. Ragan says that one night he went out with his this guy and in the middle of the night he got up and took out his p**** and urinated in the guys computer bag. Ragan tells another story about staying at someones house and going to the persons master bedroom opened the door and pulled out his p***** and started wizzing on the floor. He says that they woke up and told him this isnt the bathroom … he says that he left went out side and came back opened the door again and finished pissing. Ragan says that he didn't remember doing it at all.