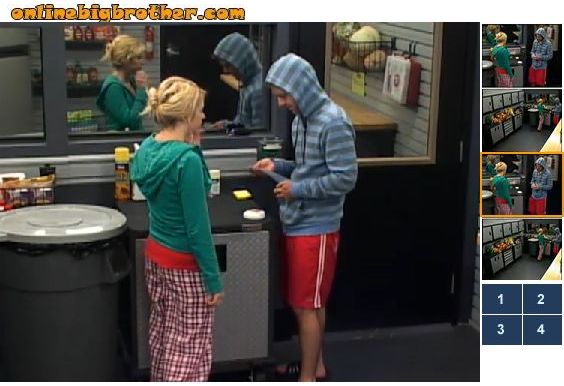 Live Feed TRIAL! Try it free for 3 Days!
12:55pm Matt and Britney are in the storage room talking. Matt says that he really thinks its going to be a double eviction tonight and that Brendon will lose the HOH competition. Britney says that she is nervous. Matt says that she shouldn't get nervous, get mad but don't get nervous. Britney is worried about what Brendon is going to do and say to her. Matt says don't worry about it, he'll probably just say that you're a spoiled brat or something. Britney says that if she had been there when Brendon said something about her brother …she wouldn't be in the house right now because she would have smashed a glass over his head. Britney says that she doesn't care if Brendon says things about her boyfriend Nick because he is his own person but that if Brendon says something about some like her brother that she feels protective of she would lose it. Matt says well don't worry about it …they will probably be gone in a one two punch. Britney says that would be awesome and that if that happened she would get drunk tonight.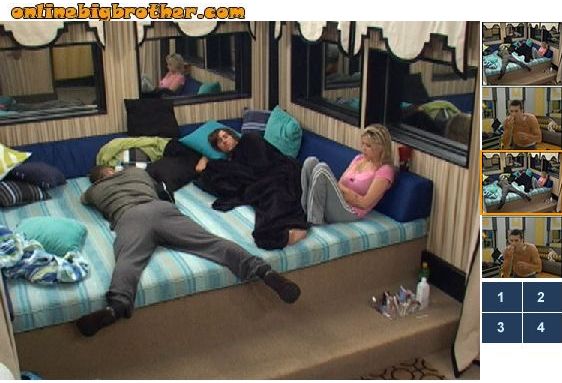 1:10pm In the cabana room Enzo, Hayden and Kathy are laying around.  Enzo says that he doesn't think there is a power but that either way what ever happens tonight there is going to be drama.  Enzo says regardless of who wins HOH and who goes home there is definitely going to be some drama.  Kathy says MMm HMmm..  Kathy leaves.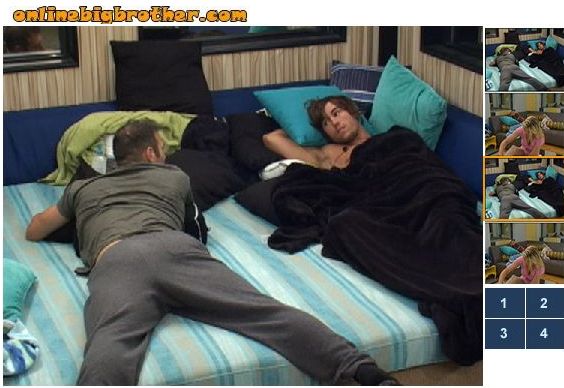 Watch all drama on FLASHBACK! FREE 3 Days TRIAL
Hayden and Enzo talk about if they win who they would put up.  Enzo says that they need to make some power moves.  Enzo says that they need to put Britney and Ragan up.  They agree that Brendon will self destruct.  Enzo says that they need to talk to the brigade members but that they need to start getting the strong players out.  Enzo says that they can't hide behind them.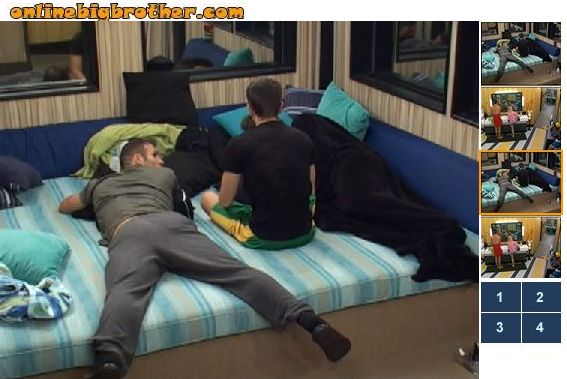 1:25pm Ragan comes into the cabana room and sits between Enzo and Hayden.  Ragan tell Hayden that he should immediately come up to Ragan and Britney tonight after Rachel gets evicted tonight so that Brendon doesn't have a chance to corner them and attack them.  Ragan says that if Brendon does get a chance to attack them then they will be frazzled for the HOH competition.  Ragan says that Brendon has attacked the smallest girl and the smallest guy that is also gay.  Ragan leaves.  Enzo asks why do we need to do anything.  Enzo says that they were egging him (Brendon) on ….why if you are scared of someone would you egg them on.  Enzo says that its better for us if Brendon does go after them.  Enzo says that we can do whatever the BLANK we want.  Hayden says yeah.  Lane comes in.  Hayden explains to Lane that they have to keep Brendon next week to keep another target in the house. Hadyen says that either Britney or Ragan need to go next week.  Hayden laughs and says that Lane and Britney are having an affair… Hayden says she follows you around like a puppy dog.  Enzo says that there is going to be mad drama today YO!  Enzo says that he hopes he doesn't get thrown under the bus …he wants to stay away from the drama.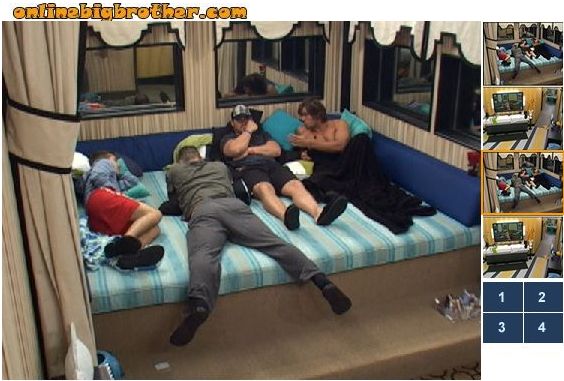 2pm Matt comes in and Enzo, Lane, and Hayden all laugh about the drama that's going to happen and how they're not apart of any of it.  Enzo keeps saying its going to be drama yo …its going to be crazy.  They joke that next week will be a triple eviction.  Matt says that he thinks it will just be a normal night and that everyone has been freaking out for nothing.  Matt says that no one will believe the saboteur after tonight if nothing happens tonight.  Enzo says that he wishes he could just tell Brendon that he is staying and Rachel is the one going home because he doesn't what Brendon to be snappin on him.  Lane asks Enzo is scared?  Enzo says that he's not BLANK scared he just doesn't want Brendon coming after him and Hayden.  Enzo says that if Brendon snaps on him he is going to snap on Ragan and Britney.  They start debating whether or not its better to blindside Brendon or to let him know hes staying.  Hayden thinks its better for the Brigade if Brendon wins HOH because then his targets would be Britney and Ragan …but if hes not then Britney or Ragan could win HOH and one of the Brigade might go up.   Matt doesn't think its necessarily better… he thinks its way better to blindside Brendon. Hayden leaves and says that he is going to shave his saboteur mustache. Enzo, Matt and Lane make fun of how Hayden can grow facial hair. They laugh calling him a little kitten. Matt leaves. Ezno and Lane are joking around saying their getting too deep … they're doing too good that they're loosing it … They are laughing and joking about how they are getting too deep and pretty soon they wont recognize each other in the hall any more. Enzo says that he wants to see his name come out of that box every week. Lane says that if he doesn't see his key come out his is telling everyone to sit back down and that they will keep spinning that box around till his key comes out. Lanes says that he doesn't care if they have to take nail polish and paint over someones elses name …they are not getting up till him name gets pulled out. Enzo says that he is getting his hands dirty after he wins HOH … Enzo and Lane talk about Britney. Enzo says that shes cute … but she aint got no BLANK. Lane says yeah she cute. Enzo says that Lane is getting too close. Enzo jokes that Britney better not be in the final two with Lane cuz he is voting for Britney. Lane and Enzo laugh….
Watch everything that happens tonight after the live show!!
Superpass – 3 Day FREE Trial