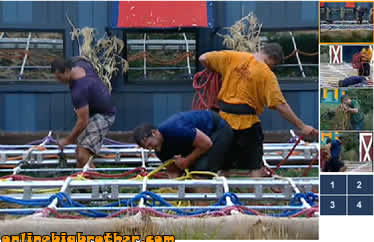 Enzo votes to Evict = Rachel
Lane Votes to Evict = Rachel
Hayden Votes to Evict = Rachel
Ragan Votes to Evict = Rachel
Britney Votes to Evict = Rachel (tequila vomit hundred dollar bills)
Kathy Votes to Evict = Rachel
Boy George is GONE THANK YOU BRIGADE!!!
Evicted HouseGuest: Rachel
Rachel walks out Doesn't say bye to anyone else but Brendon
Brendon: "You better be ready all of you" Matt: "What did he say"
Enzo walks up to Brendon tells him to stop talking
HOH: Brendon
Brendon in the lead LAne in second place
Brendon is going to win this one
Brendon wins HOH hurray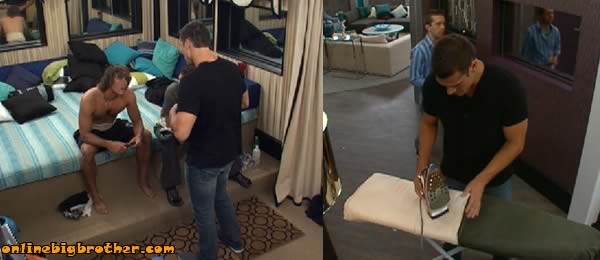 SEE what they CAN'T show you on TV! 3 Days FREE No Commitments
3:35pm Everyone is scurrying around trying to get ready for tonights live show. They are all thinking that it'll be double eviction because they have all been told to pack their bags. In the Cabana room Brendon, Enzo and HAyden are talking about the first comp beging a crap shoot but the second will be a endurance. Earlier Enzo had talked to B/R and he was heavily implying that the house is going to vote out Rachel but he's not sure what the BLANK the house is doing Rachel's mood has changed alot since yesterday she realizes that Production never gave her a power to stay. He tells them that he will not vote against the house he can't jeopardize his game. Brendon is running around the house eating Bananas he tells Rachel she should to so they can prevent muscle cramping during the competition.
3:45pm Ragan upstairs near the chess table studying like mad. Ragan now going through his strategies for tonight on how to deal with Brendon.
4:00pm Brigade members meet up for some quick game talk basically they want to keep Brendon for one week to take out either Ragan or Brit. Matt is telling them it's not a good idea because it'll out the brigade and they need more players in Jury before they can reveal their identity. Lane is nervous that if Brendon wins he'll put Lane up with Brit. Enzo tells him not to worry.
4:16pm Enzo is asking Matt what they should do yo. MAtt says they each need to do what they need to do the end result is all for the common good, "One Two Knock out punch tonight". Ragan in the background telling Lane whatever happens they'll all be better off when she goes.
Matt: "In 2 hours it'll be a whole new world …Thats nothing thats a nap"
4:22pm Enzo is whispering to Hayden: "Matty and Lane there going to put them up aren't they yo they better stick to the plan" Hayden tells him they'll do what they have to do. (The brigade is freaking out right now trying to make sure everyone is one the same page. Only matt is calm. I'm pretty sure there no double eviction )
4:27pm Cabana room Enzo tells Kathy she's going to be alright people will want to take her to the end, Enzo:"don't worry yo your safe"
4:39 Feeds Cut ceya later Boy George