This Big Brother Spoiler starts off with Britney winning the POV. Rachel and Brendon as the HOH power block are trying to decide what they will do if Britney uses the POV. Briteny is going to use it and she wants to try and get Brenchel to put up Kathy in hopes that she can safe Monet.
1:45pm The live feeds come back on…. Ezno saying he wanted to drop out second, "this was a brutal competition". Matt mentions that Big Brother 12 is a action packed season. Britney, Enzo and Monet are talking in the Have Not room, Monet is crying because she didn't win the Power of Veto and is most likely going to be evicted. Britney on the other hand is happy that she just won the POV, she knows she was the target this week. Britney says that she wants to work with Brendon and Rachel and then backdoor them next week. Britney says that Kathy is just floating and that she really wants to get rid of her but they need to split Brendon and Rachel up soon. Britney and Enzo start talking about how useless Kathy is and they want to get rid of her and save Monet. Enzo thinks if they might be able to get Kathy out this week. Britney talks about whether they would have the votes to keep Monet if they get Rachel to put up Kathy. Monet doesn't think they will have the votes. Britney says hopefully you stay and then next week we get revenge. She's optimistic about their future.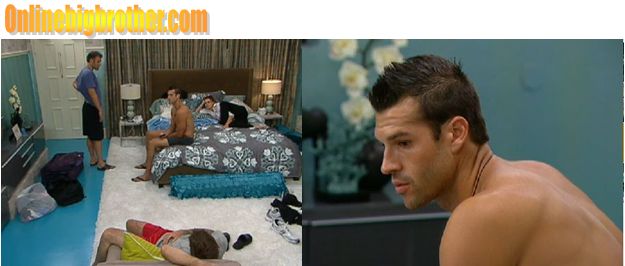 2pm – 2:20pm In the HOH, Brendon and Rachel. They are talking about who they will put up in Britney's place if/when… she uses the Power Of Veto. Rachel wonders if they should put up Matt and tell him hes safe, Brendon thinks that is a good idea. Rachel adds that even if he got mad there isn't much of a chance that Matt will win the Head of Household. They say that they couldn't put up Kathy because she would take it to personally and they will lose a vote later in the game. Brendon and Rachel wonder if they can make a deal with Britney to not use the POV if they say that they wont go after her. They say that they wouldn't go after her until it was absolutely necessary. Brendon asks Rachel if they could actually trust Britney though … They both don't think they could trust her. Brendon thinks britney is stupid enough to not use the power of Veto on herself. Rachel shakes her head doubts there is any chance. Enzo joins them up in the HOH. Enzo says this sucks dude. They all agree that Monet will go home this week. They talk about the competition. Enzo keeps saying 14 seconds… 14 seconds man… There was a difference of 14 seconds between the first and second place for the POV. Ragan joins them up in the HOH. Matt says that he knew she was close and was saying drop, drop, drop. Brendon says this is a shitty situation… but that they need to make sure that everyone is for getting Monet out this week for sure. Ragan says that you have to be careful with pawns this early in the game… because there are too many factors and variables that can change things you can't control. Ragan says you have to be careful putting up someone that is close to you because the pawn isn't looking at get Monet out …they are thinking of ways to weaken you (Brendon/ Rachel alliance). Ragan says you need to think about how if endurance Britney will do really well because she is so small. Matt says yeah …he said to Chelsia in the interview that he thought he wouldn't do well in endurance and she told him that the smaller people always do better. Ragan says that the pawn that you put up has to be someone that you are close with but not too close … and that you talk to them and tell them that you want to make a deal with them … Ragan says that you need to anticipate their move…. and their only move is to flip things…  You have to put up someone who you think they will go to …to try and campaign for votes.  You have to start thinking ahead.  And out of those people that you think they will go to who of them will keep their word…  Matt and Brendon agree.  Ragan says maybe sweeten the pot so that not only are they safe this week but they are safe next week too. Brendon says good for her for winning … but I still want her gone.
Share it YO!!
Tweet