9am – 9:10am Kathy and Britney are in the storage room talking. Britney tells Kathy that she doesn't want her to think that it was Rachel who had said that Kathy was saying things about Britney and Monet. Britney says it wasn't Rachel I just want you to know that. Kathy says okay, I know, ….I don't even want to know who it was that was saying things about me… I just know that someone is some really evil things about them to go do that. Kathy says that she isn't used to people being like that and that people have different morals. Kathy says it was a group decision about the have not competition. Britney says that she wasn't upset with Kathy about the competition. Britney says Rachel was as nice as she could be to us and kept her word. Britney says that someone else told her that Kathy was saying stuff about her. Kathy says she didn't say anything and that she knew nothing about what was said. Kathy tells Britney that someone is trying to throw her under the bus. Britney says that last night she was just really upset about everything and that she is PMS'ing and that she is sorry. Britney starts to cry and Kathy hugs her. Big Brother cuts the feeds back to the we will be right back screen…

Watch it happens as it happens!! Superpass 3 Day FREE Trial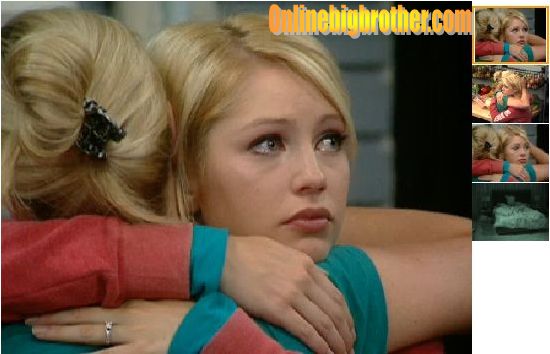 11am The feeds are still showing the TRIVIA screen…. The houseguests are playing the Power of Veto Competition…

12:20pm Still Trivia….

12:50pm TRIVIA.. Enzo, Lane, Brendon, Britney, Rachel and Monet are all playing for the Power of Veto! Ragan is Hosting the Competition. Sitting out are Andrew, Kristen, Hayden, Matt and Kathy.

1:30pm More TRIVIA…

SEE what they CAN'T show you on TV! 3 Day FREE Trial