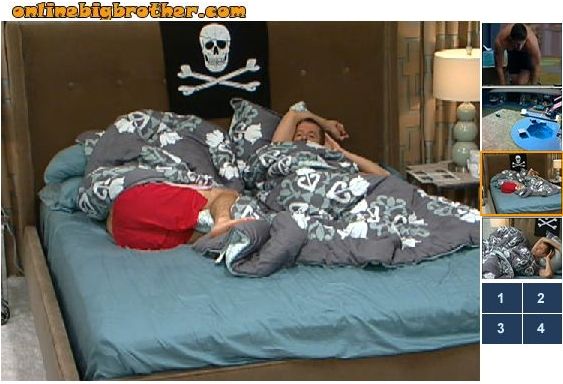 9am Big Brother wakes up the house guests. Enzo and Hayden are playing a game of pool. Britney is trying to sleep on the backyard couch. Rachel is on the elliptical and Brendon is running around the yard. Lane comes out and sits near the pool table to watch Enzo and Hayden. Lane plays the winner who is Enzo. Matt and Ragan are both trying to sleep in the HOH bed. Matt says that he wouldn't discount a double eviction, and says that he thinks they are setting up something. Matt says that he doesn't think Brendon has a chance to win HOH if it is any kind of trivia or fact based challenge. He adds if it's physical the only person that can beat him in a HOH competition Hayden maybe Lane if it's strength based. Ragan doesn't think it will be strength based.. is Matt says that Brendon can barely walk without tripping over his own feet. They laugh. Ragan is sure that Brendon will nominate Britney and Matt if he wins the HOH. Matt's sure of it, he's worried one of them is going home this week. Both go back to trying to sleep.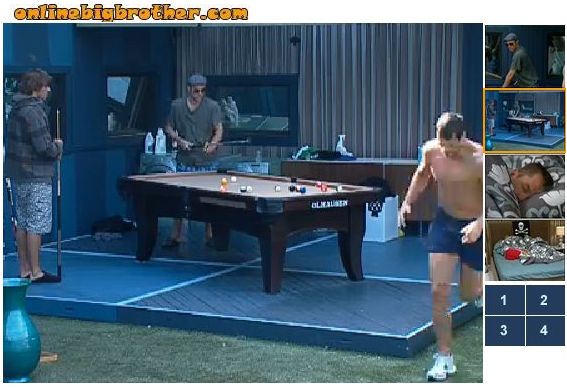 9:45am Matt and Ragan start to talk about Ragan says that he thinks Hayden likes him and is still mad about Kristen being voted out. Meanwhile out in the backyard Lane and Enzo are talking the pool games last night. Enzo says he won last night's game while drunk.  Ragan says that if the HOH competition is skill based Hayden will rock. Ragan says that he can see this power of veto being the how bad do you want the veto veto. Ragan asks Matt if he has inquired as to whether this week will be a double eviction. Matt says that he hasn't asked that. Ragan says that he will when he goes into the diary room.
Ragan tells Matt that he really want to spit some venom on Brendon and Rachel today.  Matt says that it is all about veto and HOH the week.  Ragan says that he just wants their reign of terror to come to an end.  Ragan says that once they cut the head off it is going to be a totally different story.  Ragan asks Matt if he thinks he will change his tune when Rachel leaves.  Matt says yeah but that he doesn't know if Brendon will start kissing ass or anything.   Ragan says that he thinks Brendon will just apologize and says that he was just trying to keep her in the house. Matt agrees.  Ragan says that the bad news is that if he does that… that is when I get my meanest because they went so out of their way yesterday and made things personal.  The whole bathroom thing was a set-up. Matt says that he doesn't give a crap if Rachel goes through the HOH room or his things… she won't find anything. They make fun of what Rachel is wearing today. Ragan says that he cannot wait until Matt sees the hammock fight from last night. Ragan says that he thinks they handled it right. Matt says from the pool table, he could tell what was happening.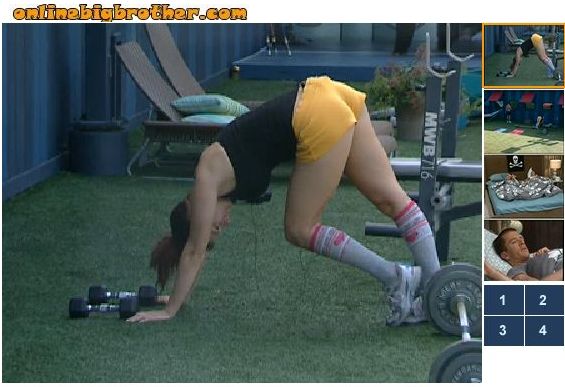 10am Big Brother calls an indoor lock down. Matt and Ragan watch Brendon on the spy cam Ragan says that he even walks funny. Matt says that Brendon is totally uncoordinated. Ragan says that he is going to share this with you, the first couple of week, I couldn't stand Britney. I wanted her out of this house. Now, I adore her. Matt says that she is great. Matt asks if he has told her that? Ragan says no, I don't want to hurt her feelings.  Matt says that she would probably laugh at that. Ragan says that his mind changed about her during the house meeting and how she responded to Rachel.  Ragan says that he knew there was more to her than meets the eye, she is a great ally. Matt says that she is so cool. Ragan says that he has respect for how she defends herself. Matt says that he doesn't want to get on her bad side though. Matt sees Britney making her way to the HOH. Matt laughs and says speak of the she devil. Britney enters the HOH room. She informs Ragan, Matt that they will be locked down all day and night.  Britney joins Ragan and Matt up in the HOH.  Ragan asks Britney if Brendon and Rachel are ignoring her? Britney says yeah. Ragan says that the big guy in the house attacks the smallest girl and the gay guy.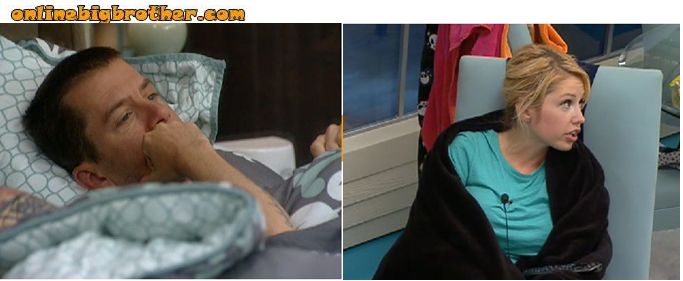 10:45am Matt tells Britney how he thinks someone has gone through his stuff. Matt says he came in and everything was all messed up. Matt says that Rachel came into his room and thinks she may have planted something in there. Britney says Rachel asked in the diary room if Big Brother was allowed to go through peoples things. So that is her whole point with the dollar that Big Brother can't go through personal things. Britney says she thinks Matt is probably right she probably came up here. Matt says that someone 100% went through his suitcase. Matt says nothing is sacred, he says he didn't tell anybody cause he didn't want to start anything. Britney wonders what she was looking for, Matt says anything, something I may have gotten. Matt says he is glad she did it on some levels, but his fear is she was planting something, so he was feverishly digging through his suitcase. Britney says its a good thing you told at least me and Ragan, in case a roll off duck tape shows up. Britney says she bets it was her though, she doesn't see Brendon coming up here and doing that. Britney says she wishes she would see him cooking bacon and that it would pop into his eyes and permanently disfigure him. Britney says it is so gross how Rachel is acting today. Britney talks about how Rachel said that he loved how Brendon was defending her honor. Britney says Rachel the most Brendon even said for you or about you was….asking us what did you say to her? Ragan says I wasn't unkind to her I even offered her my hand. Britney says you were way way more nice that you wanted to be. Britney says that Big Brother told Rachel to clean something. Britney says yeah maybe while your at it clean you face too. Britney says that Rachel gained weight, she doesn't get enough cardio because there aren't enough men to sleep with, just Brendon. They all laugh. Matt says that he wishes they had cast more desperate men. Matt says that Rachel is retarded, that chick has problems. They talk about how they know now that Annie was telling the truth about the fight she had with Rachel back in week one. Ragan says that if he were Rachel he would not want to stay in this house. Britney says I know who would she have. Britney says Brendon and Rachel totally think Rachel is staying. Ragan says that he would be embarrassed if anytime he enter a room everyone left. Britney says I know we created a game to avoid Brendon.