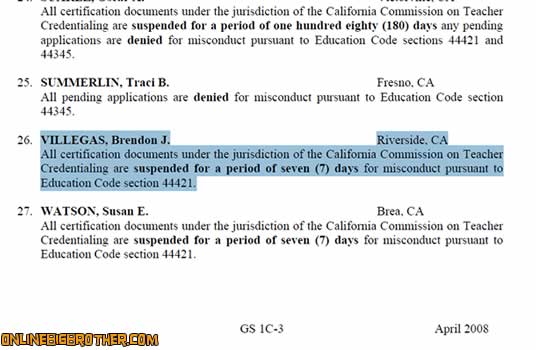 Big thanks to Uncle Cool for supplying us with this information about Brendon. You can check out the source yourself located here.

Please note we do not know why Brendon was suspended we can only assume it has something to do the California Public School board making him teach in a environment that favors small people with little feet.

VILLEGAS, Brendon J. Riverside, CA
All certification documents under the jurisdiction of the California Commission on Teacher
Credentialing are suspended for a period of seven (7) days for misconduct pursuant to
Education Code section 44421.
California Education Code Section 44421?
The Commission on Teacher Credentialing shall privately
admonish, publicly reprove, revoke or suspend for immoral or
unprofessional conduct, or for persistent defiance of, and refusal to
obey, the laws regulating the duties of persons serving in the
public school system, or for any cause that would have warranted the
denial of an application for a credential or the renewal thereof, or
for evident unfitness for service.

(for anyone participating in the Onlinebigbrother drinking game heres a preemptive DRINK!)