Try the Live Feeds for FREE! Superpass – 3 Day FREE Trial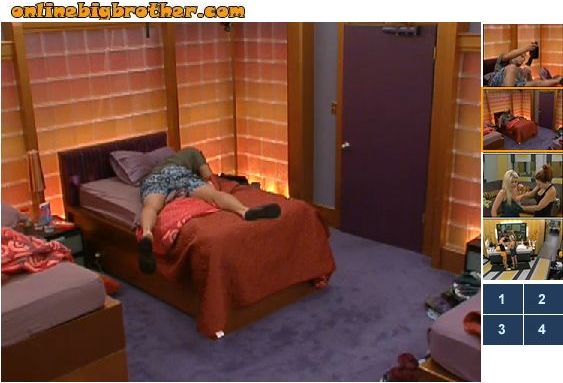 11:10am Enzo is restless he tries to take a nap on his bed but cant fall asleep so he goes up to the HOH room to listen to Matt's music. When Enzo goes into the HOH Matt tells him that the batteries are dead so he cant listen to music. Matt says they're going to be locked down all day all night. They talk about whether it will be a double eviction.
They say that if not, then maybe the HOH competition will be a skill thing. Matt says he is going to be blindsided because he thinks he is going to Jury, Kathy says she told Brendon last night that last night in the backyard was the icing on the cake. Enzo says he can't wait to see the look on his face. Kathy comes up to the HOH too and tells them that all Rachel wants to do is talk about Vagas. They all talk about how sick they are of Rachel's Vegas stories. Enzo says that Rachel makes him not want to go to Vegas. Enzo says he is going to sleep all day today. They talk about how they hope it will be a double eviction. Enzo says one, two, we are done with this BLANK. Matt says that he doesn't think it will be double eviction, based on the diary room sessions. Kathy says she told Brendon last night that his behavior cemented him leaving this week. They all laugh at how shocked Brendon will be Thursday night. Enzo says that if he doesn't win the POV, I will be like shut the BLANK UP, you are done… hit the ejection button. Enzo heads downstairs to sleep.

11:20am – 11:40am Enzo goes down to the bedroom and talks to Lane, and Ragan. Enzo grabs one of Kathy's coat hangers and reads the label to find out its from a cleaners in California. Enzo laughs and says that maybe Kathy is a mole and knows more than she admits about the series and studio City. Enzo laughs and says that maybe Kathy knows the secrets of studio city and uses hidden passages from the house to get there. Enzo wonders why Kathy is up in the HOH since she is not even on the block. Enzo says that he just want to go to bed, he doesn't what to do any game talk today. Enzo says Brendon, you are going home next week. They talk about what kind of challenge the HOH competition will be tomorrow. Lane and Enzo then start talking about dogs and what kind of dog Enzo should get.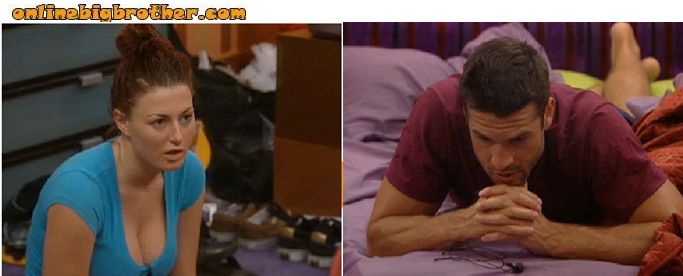 SEE what they CAN'T show you on TV! 3 Day FREE Trial
11:45am – 12:25pmBrendon and Rachel are in the bedroom alone studying for the HOH competition. They talk about what happened when and who was did what. Meanwhile, Matt, Ragan, and Britney are up in the HOH talking about how Matt doesn't want to do HOH pictures. Matt says that he doesn't want to take the regular picture of the cabana room. Matt says that they should just take a picture of everyone except Brendon and Rachel …it will be a picture of what the future will look like without them in two weeks. Ragan says that he just wants peace to come over their land. They start talking about whether or not it will be a double eviction.
Britney doesn't think that it will be. They talk about previous competitions from past seasons and try and speculate if the ones this season might be similar. Ragan is telling her she would be good at a comp like the one that was climbing through ropes. Ragan wonders if it is going to be a skill competition. Ragan says that the minute Big Brother said that they were told they wouldn't be let out to the backyard until the live show he figured it would be a double eviction. Ragan says that he thinks Big Brother switches competitions around so that it affects the story line. They all agree that it would be better for the show to keep Brendon around. Ragan says that Rachel reminds him of a girl that wears a tampon for a week. Britney says yeah. Matt says thats gross who would do that!? Ragan says someone that is cheep. Ragan says she would take it out and says oh there's more absorbency in that and stick it back in. Ragan says if he is in the jury house with Rachel, he will not speak to her and will and probably be mean to her. Britney says she that she will ignore her too. They think that Rachel will probably say it was just a game and want to hang out.
12:40pm Ragan starts making fun of Rachel. Ragan says that he doesn't believe anything about what Rachel says about her job. Ragan says that none of her clothes reflect her making a lot of money. Britney brings up the fact that Rachel said that she loves it when people buy $20,000 bottles and that they tip her $200. Britney says great so they tip you 1% thats great… Matt says oh yeah I didn't even think about that. Ragan talks about how Rachel was trying to get him and Britney to take a bath with her. Ragan says that he feels like making fun of Rachel has become his job. Britney says well we are getting paid. Ragan says that her bath water is so disgustingly gross. Ragan says that he just wants to point out that Britney is the only one that was waist deep in Rachels filthy bath water. Britney says that for the record she doubled up on bikini's and wore three maxi pads. Ragan and Britney say that if Brendon wins HOH they aren't coming up to see his HOH room. Then Britney says that if she wins she isn't letting Brendon come up to see hers. Britney asks Matt what he is going to type in his blog. Matt says that he doesn't know because he typed so much the last HOH. Then he says that he will probably just rag on people. Ragan asks if he saw the Rachel roach hair in the shower. Matt says oh is that what that was. Britney says cock-a-rochel! Britney says that Rachel gets worse and worse each day and that she doesn't understand how Rachel can look in the mirror every five minutes and give herself the stamp of approval. Ragan comments on how Brendon called him a cock roach and that he actually thought it was bad. Ragan says that he has been called why worse like DIE FAG! They laugh. They start making fun of Brendon. Ragan says that Brendon will get the opposite of laid after the show.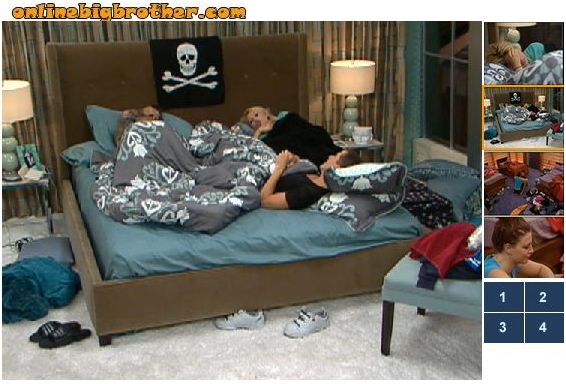 Watch everything you miss on Flashback! Superpass 3 Day FREE Trial!!