Try the LIVE FEEDS for FREE!
Superpass Trial!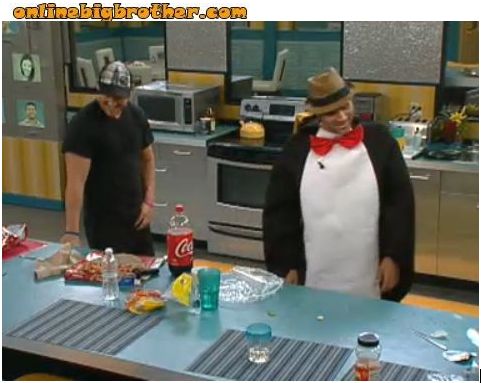 12am Enzo tells Hayden that they have to start winning HOHs. Enzo says that they need to fight for their BLANK lives.. Enzo says he is ready to win and that they have to start winning this Thursday. Enzo says if him, Lane or Hayden win then they are safe to the final four. Enzo says that he just wants to go to sleep, he says he is depressed. Lane comes out of the diary room and joins them. Enzo says that he can't believe Jessie was here today. That guy always finds a way back into the house! Hayden says that there will be the meow, meow next season. Lane says he felt sorrier for Jessie than Britney, because Britney has no interest in working out! Enzo and Lane talking about Ragan acting all depressed. Enzo says that he's such a BLANK. They talk about how Ragan didn't even have fun during the party and that they felt bad for the girls with Ragan just staring at them. Enzo says Ragan was ruining his good time. Enzo says that he doesn't care about the penguin suit, he's just upset he didn't win the POV. Enzo starts to jog in the kitchen in the penguin suit and then asks Lane if he looks weird. Lane laughs. Enzo tells Matt that the only two people that got bad things today were him and Brendon, the two people on the block, and now Brendon will take himself off. Enzo says that he wants to go into the hot tub, to relax. They head into the backyard. Matt and Lane decide to play a game of pool.
Britney, Brendon and Ragan are in the large lounger talking in the backyard about how hard this game is mentally. Britney says on that on day 13 she was thinking there was no way she would make it 80 days in the house, and then says that now look it's already day 51. Ragan says that he doesn't feel like a player in a game, I feel like a cog in a machine. Brendon says that he and Enzo joked that we are all pawns. Ragan says yup. Brendon says that he felt like that several times during the game. Enzo gets into the hot tub. Ragan tries on Enzo's penguin suit and starts dancing around in it. Brendon asks Britney about her siblings. Britney tells him about her sister who is 19, she's going to school to be a special education teacher. Brendon is impressed that her sister would go into that field.
Matt and Lane are talking quietly by the pool table. Matt worries that between him and Ragan, Britney would put him up. Lane says no. .. Britney likes you. Lane tells Matt that it has to be Ragan. Matt says that there's no one else to choose. Matt says that he needs to come back and win HOH this week. Hayden joins them at the pool table after taking a whiff of Brendon. Matt asks did you just smell Brendon?" Hayden says yeah. Hayden and Matt now get ready to play a game of pool.
Watch everything LIVE as it happens!!
Superpass – 3 Day FREE Trial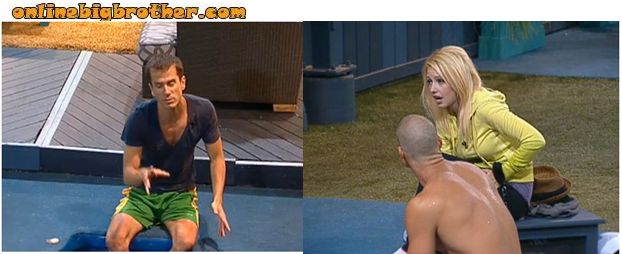 12:45am The bell rings for Brendon to jump back into his chum bath. Brendon does it really quickly, and then gets under the shower. Britney laughs that it doesn't get old. Britney reminds him to get his ears while he's under the shower. They hurry across the backyard to the hot tub. Ragan says he can't believe Brendon has 20 more to go. Brendon says he thinks it's not fair Britney has to go through it with him. Britney starts talking about Jessie saying that he was so mean to her. Britney says that she was giving it back to Jessie though! Britney says that she mentioned Jeff to Jessie. Britney told Jessie that Jeff was here and he was so nice, such a class act! Britney says that Jesse just ignored her. Britney is making everyone laugh by telling them about her time with Jessie. Ragan says that he is surprised that slop has gone on so long this season. Britney and Ragan talk about have-nots from previous seasons. Britney says that the worst anyone got it last year was Jordan getting it twice. Ragan says she had a week off in between though. Ragan says that he asked Jordan about that when she was there for the Veto. Ragan says that one of the girls today looked like a tranny. Enzo says that he thinks one of them was missing a tooth. Enzo says that he was not impressed with the girls today at the luau! Enzo says that they weren't even looking at them they were busy looking for a key.

1:15am Britney says that she called Jessie a douche at least seven times… Britney says that she wonders if she can say douche on TV. Britney talks about how she could see them on screen heading out into the backyard for the luau and that she was stuck with Jesse. Britney says that she was happy when she first saw Jessie pop out of Pandora's Box but that was before he was mean to her. Britney says that he was a straight up doucher the entire time. Britney says it wasn't about working out he was just trying to give her a hard time. Britney complains that all he did was talk about himself. Britney then impersonates Jessie by talking about his bodybuilding career. Britney says that he kept saying he could teach her to work out and she finally said fine, lets do you do yoga? Britney says she said lets do the position where you just sit there and don't talk. Britney shows them how it is and everyone laughs. Britney says that Jessie kept talking about things he won in weightlifting and so she asked him how many Big Brother competitions he won and she says that he just ignored her. Hayden says that he wonders if Jessie is really like that. Britney says that surely he cannot be that obnoxious. Hayden asks her if he seemed dumb. Britney says that Jessie said that he has a body of a world class body builder and a mind of a word class scholar and then Britney says that he was meaning to say a vast array but he said a vas array and she was like what's a vas array?? Brendon asks Britney if she wants to go pee now, before the next chum dunk. They head inside and Britney announces that they are going to take their first pee. Matt says he wants to see how this works and asks who is the pee-er? Britney says it's her. Brendon says he pees when he is in the outside shower! Britney goes into the bathroom and closes the door as Brendon stands right outside. Britney comes back out and says that was easy. Britney washes her hands and says to Brendon you are bald! They head back outside.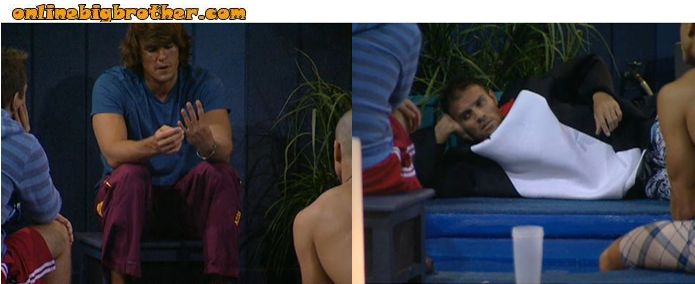 1:40am Enzo says what would make him happy would be to see some bum on like Sunset blvd. wearing his meow meow shirt that Big Brother took away! Big Brother rings the bell, it is time for Brendon's fifth dunk in the chum bath. Britney notices how much less chum there is in the tub than when he started. They head back to the hot tub. Brendon and Britney decide that are going to sleep in the backyard so that they are close to the chum tub. Hayden says that he is going inside to go to bed. Enzo tells him he'll be in there in a bit; he wants to take a shower first. Brendon and Britney are lying on the lounger in the backyard. Brendon offers her his eye mask but she declines. Brendon thanks her for doing this with him. Enzo and Matt are whispering around the hot tub. Matt says man this sucks dude, I don't want either of them out of here. Enzo tells him that the paranoia in this house BLANK with your head. Matt agrees and says especially with this few of people left. Matt says that thinks this is going to be the worst week. He says that the POV should have been Enzo's, there was nothing he could have done better. Matt says it is really hardcore punishment that Big Brother took Enzo's clothes and gave it to charity. Enzo yeah and I had some nice clothes in there! Matt says at least he did something nice for people. Matt tells Enzo that he thinks that Enzo will win the $25,000 America's vote. Matt mentions that Rachel said people like Enzo. Matt tells Enzo that this place will be so boring if he leaves this week. Enzo says this sucks. Matt says this sucks big time, it wasn't supposed to be like this. Matt is running down all the house guests that have been evicted in costumes. Matt says that the costume is a curse, lets see if you can break it. Matt hopes that their is something coming down the pike that could save him and Enzo. Matt says maybe America voted or something. Enzo says he isn't hoping for a miracle. Enzo asks Matt if he thinks Brendon has fans. Matt says he can't imagine he does but now he is almost like the underdog, so maybe he does now. Matt says it is like a Twilight Zone in here… Enzo says he doesn't care about being a have-not or being on the block, but does care about having to wear the penguin suit. Matt laughs that the penguin suit is what bothers him. Enzo says that he is going to take a quick as shower, get some underwear on and go to bed. Matt follows him inside. They both yell good night to Brendon and Britney and wake them up.
SEE what they CAN'T show you on TV! 3 Day FREE Trial
2:10am Brendon and Britney talk about Matt and how cocky he acts. Britney says that Matt came up to her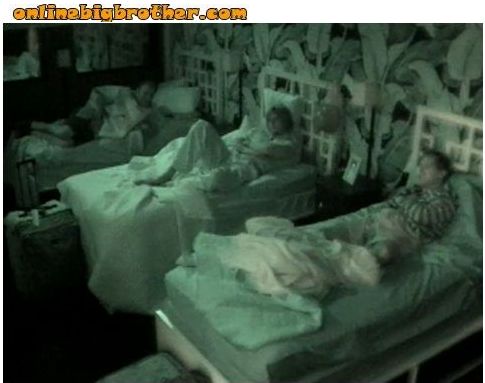 immediately after the competition, before the results of the competition were even announced, and told her that they need to talk. Britney says that today when they were told to pack their bags, she thought that after the POV she was going to have to immediately announce the replacement nominee and that they would have a live eviction. Britney says Matt came up to her before the competition and begged her not to put him. Britney says that she asked Matt what he was talking about?! Britney says that she thought it was weird. Brendon says whenever Matt would get like that I felt like some things going on in his head. Britney says that she doesn't know what's going on him with him, I won't say you weren't getting to me before nominations because you were getting in to my head. Britney says that she went to the diary room and I said, I literally don't know what to do.
2:30amBritney and Brendon are talking about nominating Matt and the invisible hand. Britney says that if she sends Matt home is it a good move for her? Britney says that Matt has a big target and might not put her up. Brendon asks does she want Matt or Ragan home. Matt numer one or Ragan number two. Brendon says he doesn't want Britney to go home. Brendon says if you put up Matt this week, I guarantee you won't go home next week. Britney says that she likes that option. The thing is if I send Matt home next week and you put up Lane and Ragan, it all comes down to veto. Britney says that if Ragan wins the veto that's just bad, bad, bad news. Brendon says that's bad for all of us, for us to both stay in this game, it's beneficial to both of us. Britney says that we're expendable. Brendon says that we are the targets, my problem is keeping Matt and Ragan in this game together. Brendon says that he feels Ragan is more of a straight shooter, but he's tied with Matt. Brendon says that he never knows what to think about Matt. Britney says that she thinks that at the end of the day, let's say the house wanted Matt out, this is the easiest shot, he has no power, he has no votes.
No chance to play for veto. If we didn't get him out now, would we ever? That's a legitimate question. Brendon says and there's the invisible hand. Britney says with the invisible hand, I definitely feel…pressure…not pressure, but to not focus on any one option in particular. Bren says that toward that direction, or away? Britney says away to consider everyone and every option. Brendon says interesting. Brendon says if you don't put up Hayden, he'll get rid of Ragan. Britney says that it all lies in the HOH I can't play. Britney and Brendon are talking about how Matt is always trying to stay in the middle, even getting Kathy out was part of that. Britney says that her and Brendon are in the same boat, they both feel expendable. There are groups in the house and her and Brendon are on the outs. Brendon says they can be with one group and help them get the other group out, that will benefit us. Brendon tells her that if she sends Matt home, she will have the support of the other guys in the house and they will get Ragan out.
2:45am Big Brother rings the bell again for Brendon's sixth bath in the chum. Brendon is in the hot tub now warming up. Britney complains that Matt was begging her to choose him for houseguest choice. Briteny says that she did and then he ended up with no punishments, she thinks that if she had chosen Ragan that he would have at least ended up with one of the punishments. They both think Matt must have taken one of the prizes. They say that Matt thinks that Hayden and Lane took all the prizes. Britney says that Hayden and Lane have no reason to lie to her about winning prizes, Lane told her he won the phone call. Brendon says Matt is cocky and arrogant. Britney says that it scares her that if Brendon does put up Ragan and a pawn, Ragan will bust his ass to win POV. Brendon says that Ragan is playing for Matt and Matt is playing for himself, so he really has 2 people playing for him. Brendon thinks Ragan will totally change once Matt goes. Britney says that she worries that if Matt did leave that Ragan would turn around and try to make deals with people and she would end up going. Brendon tells that isn't going to happen, the guys would go after Ragan not her. Britney says that Ragan knows everything! Brendon says that Ragan depends on Matt for everything and that he will be an emotional mess if Matt leaves. They talk about Rachel seeing Matt walk into the Jury House. Britney says she knows that Matt was the one who started the whole thing that got her and Monet put up on the block. They discuss other drama that Matt has stirred up in the house. Britney says that Matt has gotten her to do his dirty work. She says Matt has gotten away with murder in the house. Britney says that if anyone brings up week three Matt always says he was such an idiot that week. Britney says he would never just admit that he had made a deal with Brendon and Rachel and that's why he put up Andrew and Kathy. Brendon says that Matt must have been the saboteur and that is how he got the diamond veto.
Watch everything you miss on FLASHBACK! SUPERPASS – FREE 3 Days TRIAL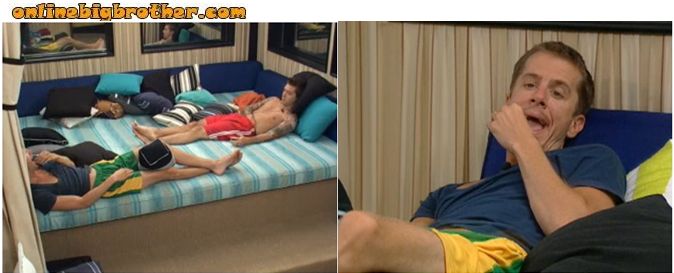 3:30am Matt and Ragan go into the cabana room to talk. Matt says that Britney told him after winning HOH that there was a 0% chance of him or Ragan going up in any capacity. They talk about the prizes. Ragan says that he thinks that Hayden won both of the big prizes. They both swear that neither of them won anything. Ragan and Matt talk about trying to convince Britney that Hayden and Enzo are a much bigger than the two of them are. Matt says that they both have to have one on one conversations with Britney as soon as she get unhooked from Brendon. Ragan says that if Brendon stays in the house then he will put him and Matt up against each other, but if Matt were to go then it would have to be Britney up against Ragan. Matt says that they just need to get to Britney. Ragan says Britney has to be smart about this, if she puts up Hayden then Enzo will be gone. Ragan says that he would like to see Hayden go but Enzo will be the one that goes. They talk about ways to convince Britney that it is in her best interest to nominate Hayden to go against Enzo.
3:45am Britney and Brendon decide to try to go to sleep …and just as they lay back the chum bell rings and Brendon has to take another chum bath. Britney tells Brendon that this was the punishment she thought wouldn't be that bad, she buzzed right away. Britney sees a dead bug in the hot tub. Brendon gets it out and says that it must have smelled the chum and died.
4:45am The bell rings again …and Britney and Brendon get up and he dunks in the chum bath again for the 8th time. Brendon tells Britney that he is sorry. Britney says that its okay. Britney tells him not to freeze to death. Brendon dries off she tells him that she was asleep on that one, she thought she was up in her HOH bed. They head back to the lounger and try to go back to sleep.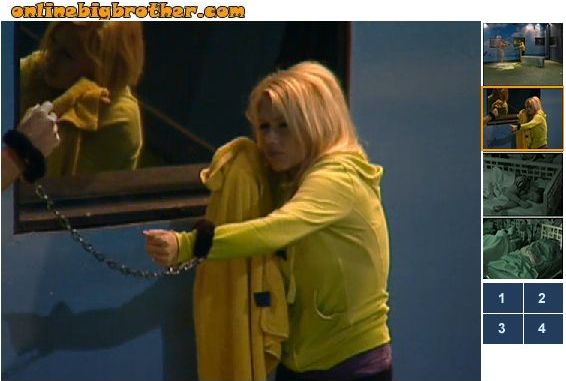 5:45am Big Brother rings the bell again right on time. This is Brendons 9th chum bath …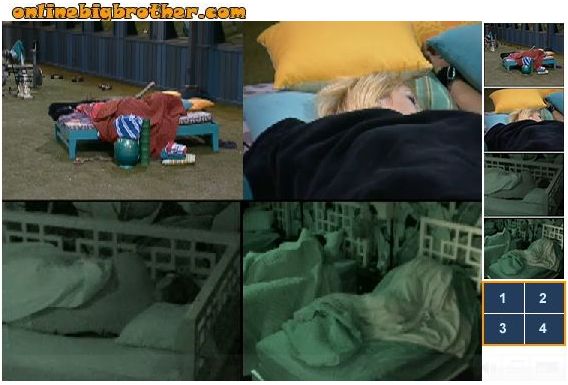 FREE TRIAL Live Feeds! Try it free for 3 Days!
6:45am, 7:45am, 8:45am Britney and Brendon get up for chum bath …10, 11, and 12!! Brendon says to Britney that he is sure people want to come and talk to her today, like in the morning or whatever. Britney says yeah, because they will have the POV ceremony tomorrow. Britney then says she needs to pee… then head inside. They grab more towels then head back out side. They then get called into the diary room…
9:35am All four cameras are on the house guests sleeping..