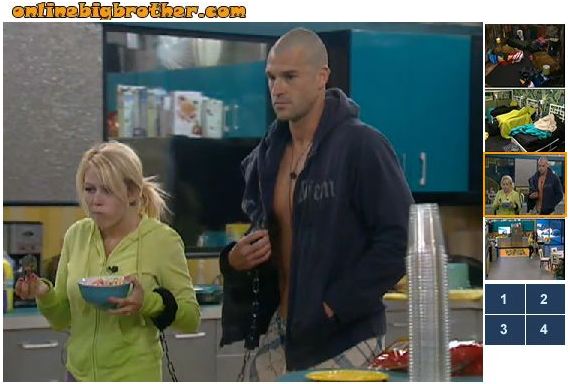 Watch everything LIVE as it happens!!
Superpass – 3 Day FREE Trial
10:10am – 10:35am Big Brother switches the live feeds to the "We will be right back" screen to wake up the house guests. The feeds come back at 10:20am. Brendon and Britney are awake and in the kitchen making breakfast. Brendon helps grab stuff for Britney, then says see its like having three arms. Lane comes into the kitchen and asks it they went to the bathroom last night. Britney says that she did. Brendon says that he just peed when he would take his out door shower. Lane laughs …and then says he's sorry that he doesn't mean to laugh. Lane says that sucks. They talk about how much time they have left. Lane wonders if they will let them end it early. Lane starts talking about how Ragan was so funny last night that he was making the people behind the walls laugh. Lane says that Ragan said for 5 points you show your peach for a minute and for 6 points to glue your nut sack to a door hinge. They all laugh. They talk about how Enzo was complaining about how a penguin can't fly or run fast. Brendon says that he is really glad that he didn't get the penguin suit instead of Enzo and have to change in and out of it to take his chum baths. Lane leaves to go get back in bed.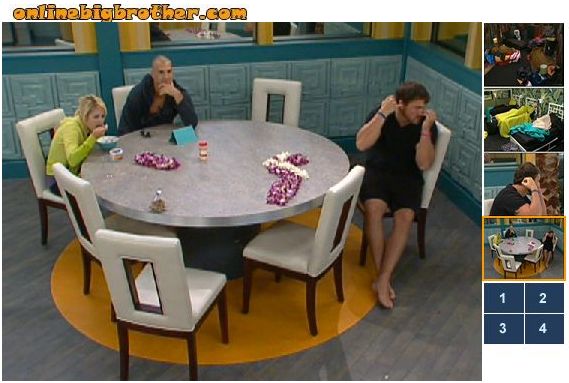 10:40am – 11:15am Brendon and Britney goes over to the kitchen to make slop. Britney says that she is really glad she is not a have not. Brendon talks about how he wouldn't be here unless he won the POV. He says that he could have taken the trip or something else but that he would be walking out the door with just a trip. Brendon asks her if she ran through every one asking them if they took the prizes. Britney says yeah …and they all said the same thing. Brendon says yeah. Brendon and Britney talk about how bad the house needs to be cleaned. Brendon asks Britney if she can imagine having to be cuffed to Nick all this time and going about all the things you have to do all day. Britney says Nick is funny and we don't do anything without having fun. Brendon says that he had a teacher that said that's the most important part of a relationship. Britney says she is too serious and that Nick isn't which is good.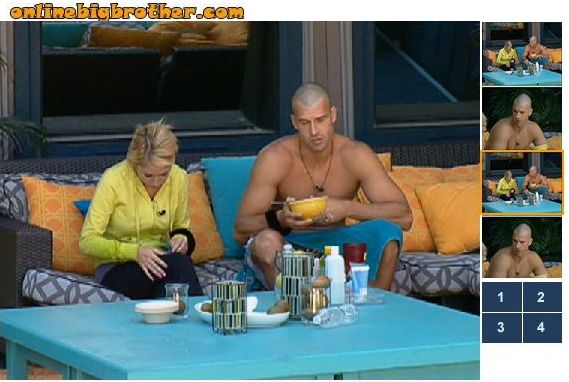 Brendon and Britney head outside to sit on the couches. Britney does her nails while Brendon eats. They talk about getting to go behind the walls and stuff. Britney says that maybe they can at the wrap party. At 10:45am Big Brother rings the bell for Brendon to take another chum bath. Britney and Brendon sit down on the backyard couch. They start talking about who they think took the prizes. Britney says that Lane admitted that he took the phone call and she says that he didn't have to say anything. Britney and Brendon then head up to the HOH room. Britney grabs her makeup and sits in the bed while Brendon eats his slop on the floor. Britney and Brendon talk about sports and then start talking about universities…

TRY the Live Feeds for FREE!!
Superpass – 3 Day FREE Trial