SEE what they CAN'T show you on TV! 3 Days FREE No Commitments
10:58am Brit in Hammock talking to her mom
She starts out talking about how embarssed she is about her perfomance in the first 2 competitions she hopes that it'll be like bb11 bradon, "no one remembers it". She hopes that her friends still watch the show and aren't use to the fact she's on big brother.
Brit: "Mom these people fart all the time it's so sick it's disgusting like no regard just farting all the time its gross"
Brit: "What else is gross the house is gross it's dirty so dirty and it's not all our fault, we have no mop they give us a handy broom"
Brit: "The counters, floors window seals are all nasty it's like a frat house"
Brit: "I hope america hates rachel because that means more people like me.. i ripped on rachel big time… rachel is so freaking nasty"
Brit: "I sat in a bath tub with her i'm a bio hazard"
Brit: "I'm going to get a new iphone4 when i get out or maybe get crazy with it and get a ipad"
Brit misses monet she really liked her and they had a lot of fun in the house. Brit wonders if MOnet contacted Nick.
Brit: "If rachel come back again i'm hitting the red button.. she is so horrible"
Brit starts to talk to her friend Monica.. "Ohh i'm so out of the loop"
Brit talking about how gross the other houseguests are, Brit: "Why do i look like crap all the time.. because I have no motivation.. I'm always like ohh this won't make it one the air and I bet it does and I look nasty".
Brendon in the backyard telling brit that he hopes she wins and get the letter from her family, Brendon hopes brit will keep her word and not put him up if she wins (yeah brendon she'll keep her word like you kept your word to matt) Brendon starts trying to guess what the HOH comp will be, he thinks Ragan is going to try hard but he won't win it becuase Ragan gets to Rattled. Brit tells him she's not going to bother trying to predict what the HOH comp is she's just going to study and get a good rest before. Brendon leaves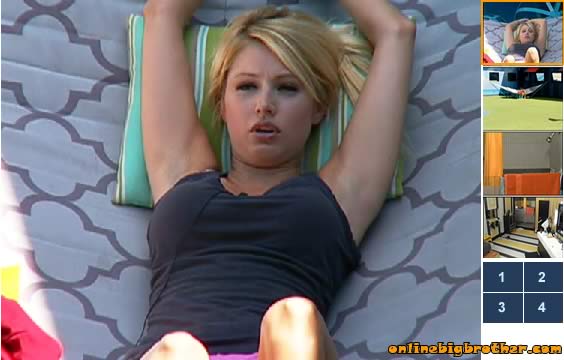 Brit: "all these sleezy co workers have made me good and being nice and disgusted all the same time.. Hey brendon we're good.. Yeah brendon you nominates and I hate you love nick… Yeah i'm going to keep my word kinda like you kept your word with matt (haha)"
Brit: "if I win HOH and I nominate Brendon Nick gets a shoutout in my speech"
She now talks to Nicholas
Brit: "what do I say to you beside I miss yo and love yo so freaking much.. you make this the hardest it sucks"
Brit: "I hope your not having too much fun and you forget about me.. i'm sure you want to kill Brendon what he said that day was horrible.. it hurts when people use you to exploit feelings out of me"
Brit: "I talk about you non stop yo uare THE NICK.. I thought your handicap was plus one and everyone in the house things it's crazy.. whatever your the best golfer to me..Aren't you pumped about the bowling all those nights of bowling paid off"
Brit: "I gotta this nasty ogre out of here and i hate him eve more for what he said about you"
Brit tells nick to not allow porter their dog on the furniture because they are getting new furniture in September and she doesn't want it wrecked. She goes on to give him all his orders for the next months, Check the fence for holes, paint the bathroom, get the renters insurance, tell your family hi…
11:40am Jumanji Room Brit is wondering why everyone is still sleeping, Lane says they were up until 6am last night. Brit tells him about her interactions with the ogre when she was on the hammock. Breit says that brendin asked her if he's safe next week, Breit:"Yeah brendon your safe". She adds that Brendon was asking her if she's been studying a lot with Lanbe, Brit told Brendon no she's not and she hasn't seen anyone else study. Lane says that Kathy's been saying she's giving Brit false informations. Brit: "really!.. I've been talking to her these last few days because she looks depressed". Lane says he's going into the pool, brit leaves to make some slop.
11:53am Ogre on a elliptical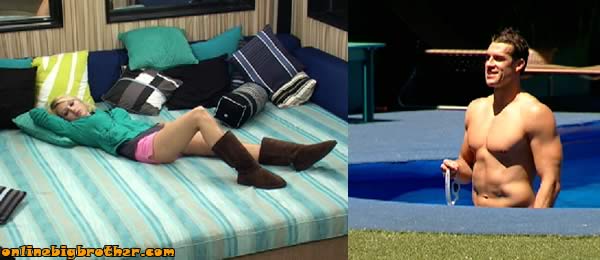 12:26pm Brit alone in the cabana, the ogre talking to Kahty outside saying that he's soo over the drama he just wants to play the game and if he goes home he goes home.
12:59pm Feeds on bubbles it's been awhile now
1:18pm Feeds back