1:20pm Backyard couch Enzo and hayden
back out sith a imaginary pweons
tp the HOH room
mimic your person
1:20pm Jumanji Lane, Matt and Ragan
Talking about playing "Big Brother Says", They are trying to figure out if it has any importance in the HOH, MAtt thinks it'll be for a luxury comp. Lane: "It did say play along it may help you". They are trying to figure out he order.
Ragan 12 jumping jacks 5 minutes of mimicking 2 minutes hug"
LAne: "Smile until your cheeks hurt"
Ragan: "think of a cheer being have nots… I can't eat this slop anymore this has been day 23"
Matt whispers if Brendon knows about their theory's of the sab.. Lane say he doesn't think so because he was talking to Brit about the sab earlier so I don't think so .
Ragan: "jumping jacks, go outside and yell at the moon, hot showers then making out, handsand, TP the HOH, national anthem, mimicking .
Matt:" After mimicking i think it's group hug"
Lane: "sizzling like bacon after the group hug then change the shirt happened before the sizzling"
lane we're talking about football and brendon said he knew a running back that did the option and ran down the field and the option. Lane: "we're like what are you talking about the option is when the QB hands it to the running back". they all call him a douche. They go over the second half of the "big Brother says" get on the floor and sizzle like bacon then pose in the mirror, do a have nots cheer, smile until your cheeks are sore then do a spin, 10 thousand dollars in the Storage room (which wasn't there)
Heres the complete list
1-12 Jumping jacks in kitchen
2- go outside and get on your hands and knees howl at moon
3- hot shower
4- make out with a imaginary friend
5- go outside and do a hand stand 5 mi
6 – TP HOH room
7 – pledge of allegiance
8- mimic one other house guest
9- exchange shirts
10- group hug for 2 minutes
11-get on the floor and sizzle like bacon
12-muscle pose in front of the mirrors
13- have nots cheer
14 – smile until your cheeks hurt
15- spin
16 – 10thousands in the Storage room
1:20pm Backyard the same type of conversation going on between Hayden, Enzo and Brit. None of them know it as well as Ragan and Matt though.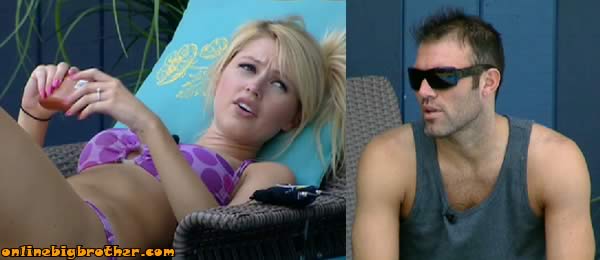 1:45pm Enzo and Brit talking about how Kathy is playing the game now and is trying to play each angle. Enzo says that Brendon is at his wits end becuase nobody hangs out in his HOH. Brit doesn't understand why he's upset all the guys are nice to him. Enzo says he feels sorry for Brendon.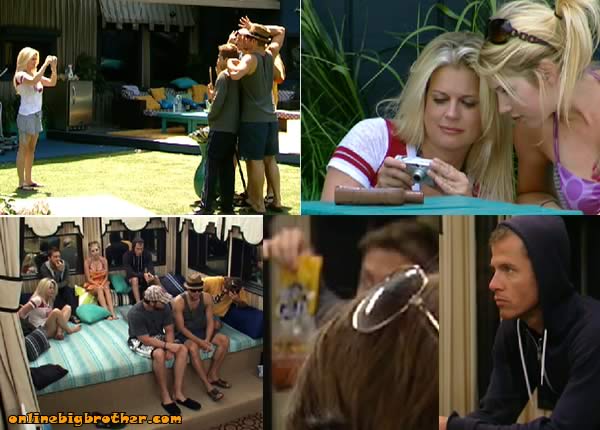 2:00pm HOH pics, During the group pic MAtt holds up a bag of pretzels, he's still planning on making Brendon a secret message tomorrow morning.
2:10pm Lane, Ragan and MAtt Still going over the Big BRother says order. (Who would like to see this become the new Brigade?)