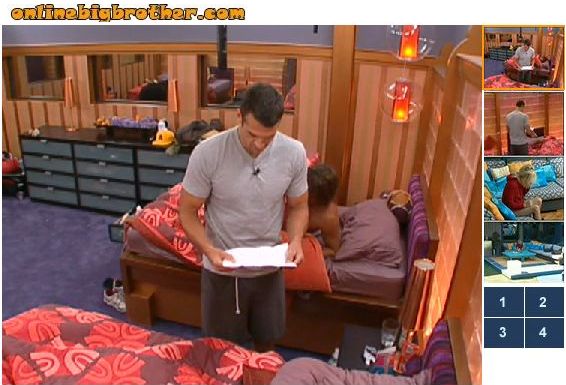 10am Big Brother wakes up the house guests … the feeds come back on at 10:20am

Watch everything LIVE as it happens!!
Superpass – 3 Day FREE Trial

10:20am Kathy is in the kitchen telling Brendon about that saboteur note that Enzo go under his pillow. Brendon hadn't heard about it ….and goes to the bedroom with Hayden to ask Enzo about it. In the bedroom Brendon looks at the note and asks him if he found it under his pillow. Brendon laughs and asks what does it says …are you gay? Enzo says yeah … Brendon looks at it and says that he took a hand writing analysis course and thinks that he will be able to pin point who wrote it. Enzo says oh yeah. Enzo says that there is someone in the house doing this. Hayden says that they will probably get a message from the saboteur later. Enzo says yeah and then in a saboteur voice says Enzo, did you like my letter? They talk about how it says Enzo I know your secret.





SEE what they CAN'T show you on TV! 3 Day FREE Trial
10:40am – 10:55amKathy is outside talking to Brendon on the couch. Kathy says that the note is just someone in the house messing around. Kathy says that it wasn't Big Brother because she cleaned in there and we were never on lock down so big brother didn't come in because they won't even come into the house to change a light bulb. Kathy says that it looks like a girls hand writing. Kathy says that it was definitely was someone in the house. Brendon tells Kathy that he doesn't think it's her. Kathy swears on her life and her kid, that it isn't. Kathy says that she is getting too old for this shit. Kathy says that the days of saying that there isn't really a saboteur are over. Kathy says that it is someone just messing around and its not funny …they are messing with someone's game that is innocent. Brendon says yeah. Brendon says all they need to do is catch the saboteur lying and spreading rumors and then just call him out and BOOM… we got em! Brendon says the saboteur in the house isn't really doing anything. Kathy said well they recorded the 14 messages. Brendon says he thinks Big Brother does that not the actual sab. Kathy says she doesn't know but it really upsets her to know that there is someone in the house is doing that. Kathy says that it really upsets her that someone is doing that kind of shit. Brendon says if its Britney or Ragan doing that kind of shit and then we catch them … I don't care if they're not the saboteur …we get them out …BOOM! Brendon says that then we can say its what the house wants. Brendon says the house decision is just like the Nazi way …It's not what I want, it's what the Fuhrer wants. Brendon heads inside for more coffee and then comes back out side.  Brendon and Kathy go around the yard and put up the window blinds… and Brendon says that they deserve a thank you. Kathy says that she never gets a thank you. Then Big Brother says Brendon, Kathy Thank You! Brendon and Kathy laugh. Brendon and Kathy go back to talking on the backyard couch. Brendon asks Kathy what she did before the police force. Kathy tells him that she was in the timber business. Kathy says that she owned it, and when she got sick they had a lot of theft. Kathy says that her employess thought she was going to die and took over and then she couldn't sue them. Kathy says that she knows who did it too and that it was one of her husbands best friends was one of them.. Big Brother cuts the feeds. When they come back, …Kathy says that one of the guys said in the deposition that he did it because he though she would die and never figure it out. Kathy says that is why she got into law enforcement …and that once she takes a case she would never give up…




Watch all drama on FLASHBACK! FREE 3 Days TRIAL