SEE what they CAN'T show you on TV! 3 Days FREE No Commitments
6:00pm Brit and LAne Brit: "Brendon has to go he's trying to get me, Ragan and himself into an alliance". Lane: "That guy has lost it". Brit explains everything that Brendon has been saying, He's talked to her twice already wanting them to form a 3 way alliance. BRendon told her that she is the first to go if the guys take out himself and Ragan. Brit laughs at what Brendon told her says she would never do an alliance with ragan an RBendon she can't trust them. Lane says Brendon is just a idiot don't listen to him, he mentions that both Ragan and Brendon hate her and they want to confuse her. (It'll be funny when Brit finds out she's been played this entire time). Brit adds that Brendon was telling her that this week is Double elimination and him and Ragan have a good chance to win it, it's there time to make a game changing move. Lane just shrugs it off says Brendon is the first to go in Double elimination and Ragan is the second. Brit says that she going to try for the comps but if it's just Lane her and HAyden then she'll throw it to them. She thinks she'll have a better chance at quiz comps so wants to be able to compete in those. Lane asks her if she will be pissed if she only gets 50 grand. Brit says she really needs the money so sure she would be pissed. lane well everyone needs the money. Brit wants to win the money but if she can't she wants to see a good person like Hayden or Lane win it (i'm 2 drinks away from being on Team Brendon with the condition that he dumps Rachel). Brit starts complaining how stupid she was for not grabbing all the prizes during the last POV. She really wanted to go to Hawaii, LAne tells her she still can but now has to pay for it. Lane brings up starting a bar called BB bar and GRill. Brit wants to do that as well but she has something else planned and doesn't want to talk about it. Brit starts talking about how much she loves New York and how she plans a trip to go visit the big apple once year. Lane calls New York Weak. They start talking about how much money they don't have. Lane and Brit both trying to make it look like they are poor.
6:15pm Taj The Penguin, The Ogre and the other guy There doing a bit of studying. Brendon tells them that Matt said his goodbye to Brendon earlier today, Brendon respects matt for that. HAyden wonders if they should tell MAtt there voting him out tomorrow. Enzo doesn't think they should. He thinks Matt already knows. Brendon tells them to eat a lot today and go to bed early so they are ready for the HOH, Enzo agrees he tells them he's going to shave tonight. HAyden brings up Ragan and how he has nobody in the house, hayden wants them to make sure Ragan doesn;t get the HOH. Brendon lets out a big groan "It all starts again tomorrow"… Enzo tells them that they were the ones that got Matty out and they didn't have to do shit. Hayden: "The blood is all on Brits hands"
6:53pm Cabana room MAtt and ragan Studying and going over previous seasons competitions.
7:05pm HOH Lane, Brit, The Penguin and some other guy with long hair They are all talking about how much they can't stand Brendon and his stupid stories. Hayden rolls his eyes: "Ok brendon we get it your going to cure cancer and you've perfected the California roll" Brit: "Yeah you did that all when you were a master sushi chef". Lane says before he just was annoyed by Brendon but now he can't stand being near him.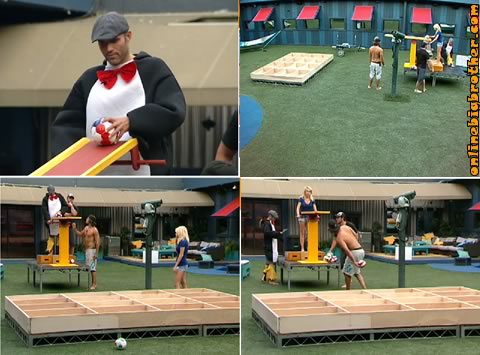 7:11pm Enzo, Hayden, lane and Brit outside practicing for a comp. Enzo thinks they should barricade the sliding door so Brendon and Ragan don't get a chance to practice. Hayden and LAne agree. They wonder if this is for the POV. HAyden thinks this is HOH and there is no Double elimination next week. Lane is really happy says this is a comp they can all win.


lanes Tip 4:34pm August 24th cam 1
Found this first on dog dave