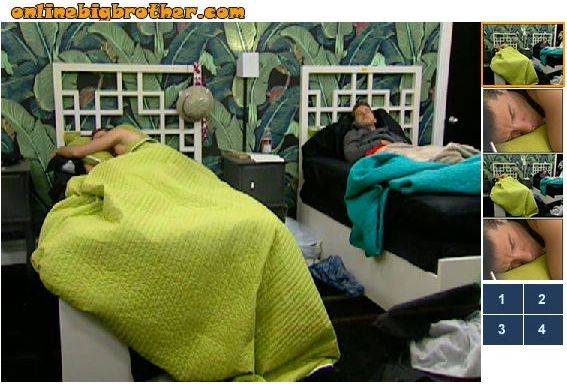 SEE what they CAN'T show you on TV! 3 Day FREE Trial
2:40pm Matt and Ragan are in the bedroom. Ragan says that he is sad ..so very sad. Matt says that he is sad too. Ragan says that people have no integrity in this game …that Britney wants to go to the finals with them …when she should have picked us because we helped her in the game. Ragan says at the very least it makes his decisions in the future a lot easier. Matt laughs and says yeah that's true. Ragan starts doing his zingbot robot voice. Matt says that he is going to do his entire speech in the zingbot voice. Ragan asks Matt if he is going to be blinded my Julies beauty. Matt says that maybe she will be blinded by his beauty. Ragan says that Matt will probably be excited up until he opens the door and hears the crowd screaming. Matt says that he is sad and just hates the known … Matt says that he just wants to know what his family thinks about his decisions in the game. Ragan asks Matt want decision did he make in the game that he thinks his family would not like. Matt lists off a number of things and says that it could be any number of things that his family would think were bad decisions. Matt says it's the leaving that sucks. Ragan say that he thinks Matt played a good game. Matt says that he tried to hard when he shouldn't have and not hard enough when he should have. Matt says that if he could just get a letter in the jury house he would be happy and that is all he cares about.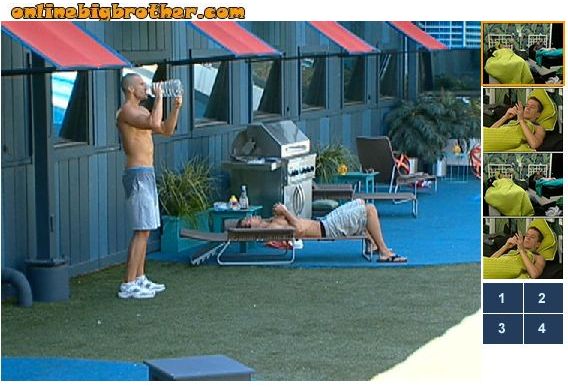 2:50pm Brendon and Hayden are in the backyard talking. Hayden says that it sucks that he gave his word to Britney that he wouldn't put her up. Brendon goes off saying that it doesn't matter that he has to just think week to week because giving your word and keeping it doesn't do BLANK. Brendon says that Britney didn't keep her word with him… Then Brendon says look at Rachel and I ….we kept our word and look were it got us. Brendon says that he would rather have someone that has been honest. Brendon says look at Matt he lied to everyone. Hayden says that he thinks Lane is on board with them too about getting out Britney. Brendon says that they need to hold off telling Lane about it because if they tell him too soon he could take it the wrong way and if Britney wins HOH next week it would be bad for us.
FREE Live Feed Trial!! Superpass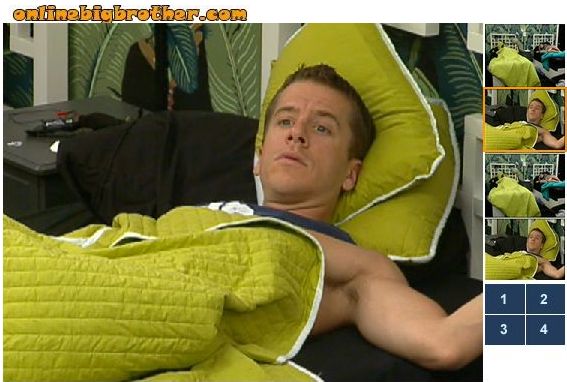 3pm – 3:25pm The cameras switch back to Matt and Ragan in the bedroom. Ragan is talking about how Rachel is the most unauthentic person to ever play Big Brother. Ragan then lists off other past big brother house guest that came into the house with outrageous personalities that America hated like Ronnie. Ragan says that he doesn't think there is anything that Matt did that America wouldn't like. Ragan says that he regrets getting into the fight with Brendon and Rachel and all the crying that he did last week. Matt says that he is sorry. Ragan says that it wasn't just that it was everything… missing his family …Rachel coming back …  Ragan asks Matt in his zingbot voice "Hey Matt how many 12 year old boys have you brought into your cave…. zing!" Matt laughs.  Matt says that he hopes he has a guitar in the jury house.  Matt says that he hope no one uses gremlin in his diary room messages.  Ragan says that in his he will says thanks Matt for turning on me …. look at where it got you …. Ragan continues with a long message laughing a long the way..  Matt laughs too.. Matt and Ragan are whispering in the bedroom. Ragan says that they way he looks at he just has to win… Matt says yeah that would be helpful… then laughs. Ragan says that he cant depend on anyone … but if someone helps him that he needs to be pleasantly surprised. Matt says that if Ragan wins HOH …he can tell everyone to BLANK off and do what he wants. Ragan comes into the kitchen and talks in his zingbot voice and asks Lane if it is difficult to walk with his vagina hanging out…. Ragan then says in the zingbot voice…"Hey Andrew was it hard to finger bang that chick on the plane while your other hand was holding a gun to her head ….zing!" Ragan says that he is the zingbot 4000 that says really inappropriate things about molestation and rape… zing! Ragan laughs and says that he is starting to sound like Brendon. Ragan leave the room. Brendon then comes into the kitchen and talks in the zingbot voice and asks Hayden why does your hair look like broccoli …zing! Enzo, Hayden and Brendon eat their broccoli at the kitchen table. Lane and Matt are there too. They talk about movies they like. Britney comes down from the HOH and they ask her about how her blogging went. Britney says that she doesn't feel like she organized her thoughts very well. Lane says that well its not like you're being graded on it or anything you are just saying what your thoughts are….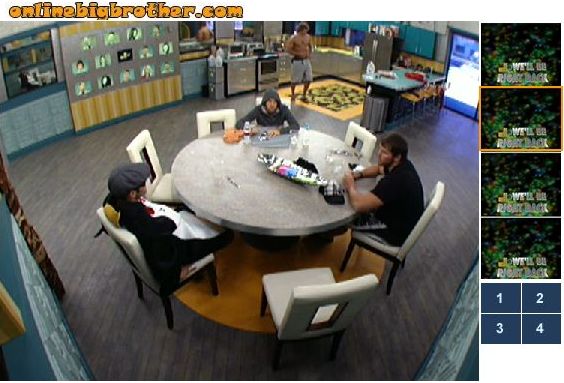 Watch everything LIVE as it happens!!
Superpass – 3 Day FREE Trial
3:47pm Backyard everyone talking about who has the best football mascot.
Sparky the Sundevil mascot and Brit Arkansas Hog
4:33pm HOH Brit and LAne Lane is talking about how weird Ragan has been lately, he says its like Ragan has just started to play the game now and is starting to be mean. Lane: "You don't just start playing the game this late in.. you gotta ease yourself into it". Brit agrees, she brings up how big of a downer Matt is being. Lane has noticed it to but he understands, he predicts they will all be like that if they knew they were going home. Lane has told Matt to not be shy and talk to him, just because things aren't looking good for Matt doesn't mean Matt can't hang with them. Lane: "it's not like he's a virus"
4:36pm Taj MAtt tells RBendon he has his vote if he can make it to final 2. Matt says he's enjoyed playing the game with Brendon and wishes Brendon the best of luck for the remainder of the season. Brendon tells Matt he's a great player and he's sure MAtt will be back for all stars.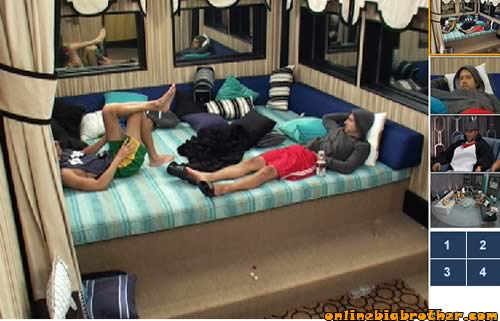 5:20pm Cabana Room Matt and Ragan There talking about double elimination, Ragan is wondering why they are not in lockdown already. He is really questioning if there is a double elimination this week. They start studying.. Over in the Taj you have BRendon and the 3 stooges studying. (I think i see enzo eating berries?)