SEE what they CAN'T show you on TV! 3 Days FREE No Commitments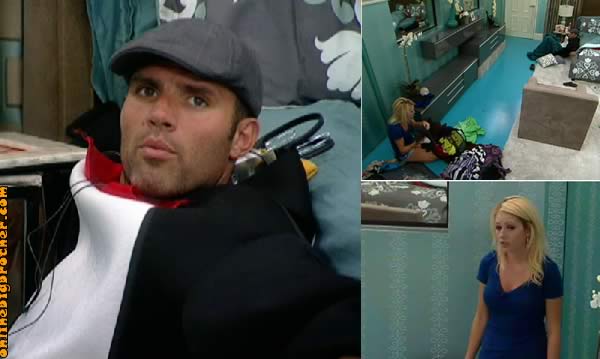 7:40pm HOH Lane, Brit, and enzo Brit is saying that she thinks
Lane tells Enzo that Brendon is trying to get Brit to be in an alliance with Ragan. Enzo is a bit worried that BRendon might vote against him. Lane tells him not to worry it's just stupid BLANK Brendon is saying. Lane: "Besides we have the votes to keep you".
Enzo: "look at MAtt he has no loyalty at all to go back on your friend like he did with Ragan"
Brit: "Brendon is trying to be nice to everyone"
Lane: "don't even talk to that douceher"
Enzo agrees, BLANK him I don't want to talk to him, enzo adds that his final four is the same as their final 4 he wants to get to that point then they can all fight it out. Lane says good, they should probably get Brendon out before Ragan. Lane leaves, Brit continues to pack her stuff. Enzo starts going on about how if he doesn't win the money he wants it to be someone who worked hard and was loyal to him. Brit does to she says "I want it to be one of yous three" (never heard her say that but she's sure sounding jersey when talking to brendon) . Enzo tells them he can't wait to play in the HOH he's going to win he knows it because the power shifts every week and it'll shift to him. They all engage in some more BRendon bashing nothing really new. Brit takes a pause to go on this ling explanation about why Matty going home this week is the best thing. she tells enzo that he was so right about Matt. Brit is still pissed about Matt not winning the POV and taking all the prizes (he didn't take any Hayden got most of them) she really wanted to get Brendon out. Enzo says that Matt was a sneaky guy he talked too much and now he gets sent home. Brit goes back to talking about Brendon how she doesn't believe a word he says. Enzo tells her he's been closer to BRendon but just to stay safe he doesn't give a BLANK about that guy anymore.
8:15pm Matt, LAne, Ragan, Hayden, and Brendon Practicing
8:27pm cabana Room Ragan and Lane Lane apologizing for saying something outside that hurt ragans feelings. Lane: "You know how I am i'm from Texas I speak before I think.. I don't want you to be upsets with be rags.. don't be a debra downer.. I'm just a jock I don't know what I say I have a jokes brain you give me balls and I don't think I do". Ragan says it's OK, tells him he's a little worried because the competition outside is at the bottom of his skill set. Lane doesn't think there is a need to worry he thinks that its the POV and the HOH will be a quiz. Ragan isn't sure because there needs to be 3 competitions for double eviction, theres no way they can set all that up in the little time they have. Ragan is sure they'll end on the 15th though so he doesn't know how they are going to do it because theres too many houseguests. Lane tells him the comp out side is a crapshoot they have no idea how it'll be tomorrow. Lane gets up to leave tells ragan he doesn't want him to be mad. Ragan says he's not and thanks Lane for talking to him.
8:45pm HOH Enzo and BRit they are looking at the HOH TV and talking about Matt. Brit winders why matt is outside practicing. Enzo says that matt thinks he's staying, Matt now has Brendons vote and Ragans vote and Enzo predicts that in the morning Matts going to try and get Brit's vote. Enzo: "I know whats going on with Matt I know whats going on with Brendon… Get outta her dodo's". Enzo brings up how stupid Brendon is for falling for a girl like Rachel and after knowing her for only 30days be willign to give her 500K". Brit: "no wonder his family doesn't like him… I really want him out right away"
9:12pm Everyone still practicing