SEE what they CAN'T show you on TV! 3 Days FREE No Commitments
11:00pm Backyard Brendon, Hayden, Enzo, Lane Lane brings up that Nick didn't look like he thought he would look different. Brendon says Nick looked nerdy. Lane says the picture made him look like a golfer, Hayden agrees. They start to talk about Nicks "beard", brit was telling them that Nick had a full beard. Brendon calls it a 5 o'clock shadow. Enzo still is talking about how close he came to winning HOH. Matt joins them and Him and Lane head to the couch. Lane wants to know what they are doing up in HOH. Matt says they're just talking about brit's family and brit is reading her letter. Lane tells Matt to bring his ducks for the Brigade meeting tonight. Matt isn't sure how they will pull it off because they don't have a HOH room and Needledick is lurking around. The rest of the guys join them on the couch They start talking about the saboteur. Matt says 4 weeks from yesterday is the finale, "its on a Wednesday" Brendon says no that would make it 28 days and they said we're in here for 80 days. Matt tells him they said "around" 80 days, brit told him September the 15th is finale day. Lane: "they are always telling us lies about shit in here". Matt says most of the later Big Brothers are 10 week seasons so then it must be September 15th. Matt starts to explain to them that the diamond power of veto was like a 1/2 coup d'etat with some extra stipulations, He explains if HAyden had won POV and taken Ragan off then Matt couldn't put Brendon, Ragan and Hayden up. Brendon says that at least now theres going to be no extra powers and the game will be fair.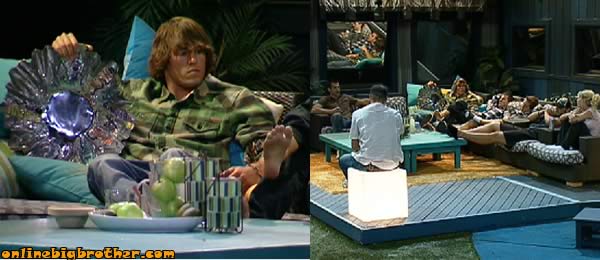 Ragan and Brit joins them, Hayden asks her if she's locked herself out of HOH already. She tells him she has, Hayden: "Doesn't that make you feel stupid.. I did it twice". They talk about Kahty being the saboteur, Matt jokes that she made a secret note to someone out of cigarettes. Matt brings up how great Enzo acted all week when everyone was bugging him about having the power. Matt would think enzo would get it. Matt was worried that there was another power in the house, the first week MAtt was scared to use the DPOV because he though Rachel was the saboteur and had a power that would override his DPOV. Enzo says Yo its this house it's making you paranoid you had a power and was sacred it was no good. They're talking about how lame the people that watch the live feeds are (HEY!) Matt says the feeds are boring he can't understand why people watch it. Matt: "Why would you watch total strangers". Brit: "uhhh you guys I watched the feeds all the time i have friends that DVR showtime"
12:10AM BRendon trying to bond with MAtt over punk music.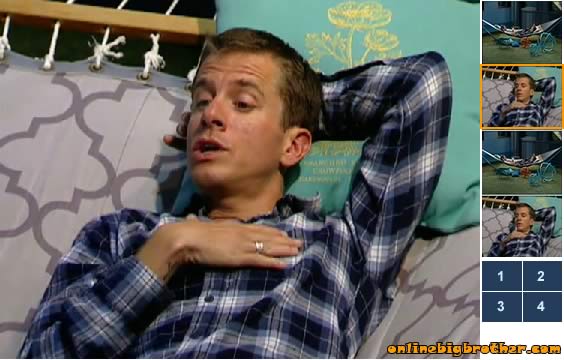 12:18AM Hammock Ragan and MAtt
Ragan: "everything happens for a reason this last week ahas been such a eye opener to me for so many reason"
Matt: "yeah me to"
Ragan: "both with me and my position and you and your position i'm completely shocked that people were so willing to turn their backs on you"
Matt: "Hayden is straight up he said i was going home because Hayden felt that he couldn't beat me in final 2 and I respect that…enzo who felt the same way gave a suspicious reason.."
Matt: "but your right it was a very telling week"
Matt: "it's imposable but i think if we can get me you lane and Hayden we would be in good shape.. its more possible if brit goes next week we might get lane."
Ragan: "I have to tell you now with you in the game i do feel protective of Britney"
Matt: "in what sense"
Ragan: "umm ……..i just do.. i have a lot of different things milling around ….. i feel very connected to her".
Matt: "oh absolutely like her on a friendship level but I think if.. "
Ragan: "I think we need to hold off and see.. especially because so much is going to happen from now until the next HOH"
Matt doesn't see them being able to make a deal with Hayden and Lane because hayden is too close to enzo and lane is too close to Brit. Ragan says if there is a double eviction then it will be on thursday otherwise there won't be one this season. Ragan says he's so glad brit got HOH, Matt is to he thinks it worked ot well
Matt and Ragan both agree that next week will be quiz followed by a Extended skill . Ragan says that this season is a awesome season becuase the power shifts every week. Ragan thinks that Matt is a popular player because they wantt o keep them int he game. Ragan thinks all of last week was set up by production, they knew who was going to win HOH, they knew how the house was going to vote…
12:34pm camera changes to Hayden talking to himself he's saying that Brit is going to put up The sasquatch and enzo then he needs to won POV and take down Enzo.. sasquatch goes home and Brit has to pull a person up which will leave 2 people pissed off at Brit.