12:35am In the bathroom, Hayden tells Enzo what he was thinking about how the best case scenario is that Britney nominates Brendon and Enzo and then Hayden wins POV to pull of Enzo which would force Britney to make another enemy by putting someone else up. Brendon comes in and says that those three (Himself, Enzo, and Hayden) don't throw each other under the bus he says if two of them get nominated then the third wins veto pulls one off and Ragan or Matt would have to go up. Brendon says that he will tell Britney that Matt and Ragan wanted her up. Brendon says that he will threaten her with that fact that he can influence three votes (Rachel, himself, and Kathy ) in the jury. Brendon then says that they are being cocky mother BLANK. Brendon says that the best case is for Brendon to throw the POV to either Enzo or Matt which ever isn't on the block so they can pull one down. Brendon turns his back to Enzo and Enzo makes a face at him behind his back. Lane joins them in the bathroom. Hayden tells Brendon that Ragan wants him and Lane to be on a team for the have nots competition and take a dive because they haven't been have-nots yet.
1am Brendon, Matt, Lane Hayden and Enzo are all out at the pool table in the backyard. Ragan and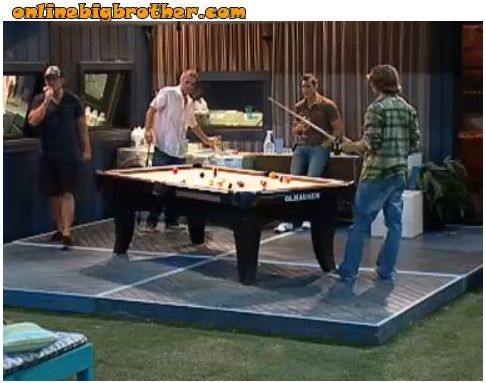 Britney are laying on the hammock together. Ragan keeps saying he can't believe it, it is insane! Over by the pool table, Enzo is rapping and making fun of Brendon right in front of him using the Brigade code. Enzo raps and says it's GB for the ND on BB! (Which means its goodbye for Brendon on Big Brother.) Brendon starts repeating ND and makes up his own raps. Brendon then asks what it means and Enzo says Neutral Dick. All of the Brigade members laugh at him. Brendon says that he thought it stood for no doubt. The Brigade members are laughing at Brendon and he doesn't know it. Enzo tells them that he plays pool way better when he's drunk. They talk about Matt pulling out the DPOV. They making fun of the way Matt pulled it out and it came apart. Lane says that he was like dude put away your bar of soap you cut and your string. They all said it looked like one of those necklaces you make at camp. Matt says Julie can I use this macaroni necklace to save myself. They all laugh.
Britney and Ragan are wonder why Brendon is always hanging out with everyone. They think that could change when he goes up on the block. Britney says the faces she was making during the live show were so mellow dramatic. Britney tells Ragan about the little dance she did on the way out of the diary room when she voted for Kathy to leave. Ragan thinks his expression when he cast his vote for Kathy to leave is probably priceless. They both can't believe they are still talking about all this seven hours later, but they can't get over it! Britney is so glad that she won HOH. Britney and Ragan are going over things they should study for upcoming competitions. They go over the saboteur's messages and actions in the house. Matt comes over and joins them on the hammock. Britney jokes that the pageant picture is going to cost her mother a Christmas gift. Then Britney says that she is done with her.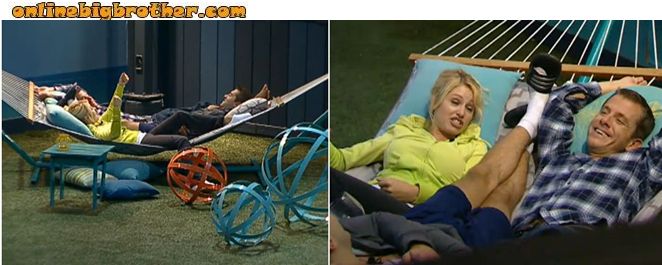 TRY the Live Feeds for FREE!!
Superpass – 3 Day FREE Trial
Lane and Enzo talk about how many viewers big brother has… Enzo says that he thinks there are eight million. Lane says no that there are more like 18 million or even more and thats not counting Canada or Antarctica. They then make fun of Brendon and talk about how he doesn't even know he is ND. They start making fun of his tight pants. Enzo and Lane talk about how they need to request Brigade shirts tonight so they can get them in time. Lane says that we need to get black shirts because its hardcore. Enzo says that he will be pissed if Brendon throws him under the bus. Enzo says that he will be fighting for the POV. Lane says everyone is! Enzo says that if Hayden wins POV he will take Enzo off. Lane tells him he might not even use it. They think if the Brigade wins HOH next week they should expose themselves. They start talking about Matt. Enzo is suspicious of Matt. Enzo says that he wants to ask Matt straight up, if it were between Enzo and Ragan, who would he vote out? Enzo says that he think its me and this dodo (Brendon) going up on the block. Enzo is worried that Brendon would win POV and they wonder who Britney would then put up. Enzo says that he is going to be fighting for his life! Enzo says again that Hayden said he would use the POV to pull him off the block. Lane tells Enzo that they have to win this POV and the next two HOH's. Brendon joins them on the couch. Enzo tells Hayden once he comes to the East Coast to visit him, he'll never want to leave, he tells him he may need to cut his hair a bit though. Enzo says that he can't wait to show Hayden the women. Enoz tells Hayden he may need to come and pull women off him, he isn't about to cheat on wifey…
Britney, Matt and Ragan are still talking. Britney asks them why Kathy always feels the need to talk about her morals and integrity. Ragan says that he cried on the toilet before evictions. Britney says it all makes sense now. Ragan makes fun of Matt about him saying if it doesn't look like I'm trying to stay…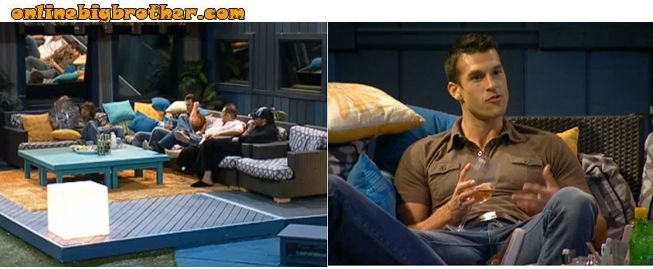 1:30am Brendon, Enzo and Hayden are on the backyard couch talking. Brendon tells Enzo and Hayden about Vegas. Brendon says that Rachel has hook ups in Vegas and he wants the guys to come party there with him and Rachel. Enzo says that his wifey told him to be the meow meow, she said people will like the meow meow! They all laugh. Brendon says that out of the four of them, Enzo is the smartest. Enzo says he married a hot girl with money! But I don't care about the money! Enzo says what a crazy experience this is, who would have thought I'd find friends in here. Enzo says that they still have six weeks left. They start talking about their diary room session and the feeds cut out. Enzo says that he hopes the saboteur left him another note. Enzo says that Kathy should have left him one last note before she was shunned. Brendon tells the guys that every time he BLANK , a little pee has to come out after….. long pause.. Enzo says he should do an accent or something. Brendon says it again but in an Irish accent that after he BLANK a little pee comes out after. Enzo says OHHhhhh! Enzo and Hayden start cracking up. Hayden, Lane and Enzo are making fun of Brendon and he doesn't get that they are laughing at him, and not with him. Hayden and Lane head inside.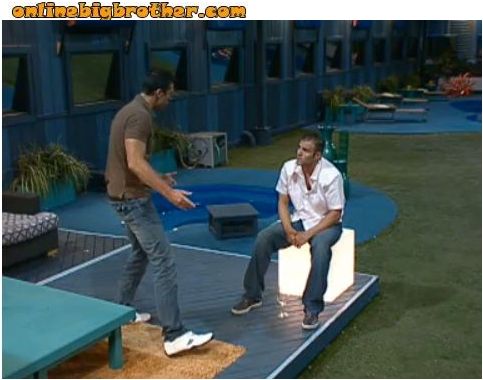 Lane says he can't even fake laugh anymore with Brendon. Hayden asks Lane what Britney is planning on doing and asks if its Enzo and Brendon going up? Lane tells him that Britney says she doesn't trust Enzo so judging off that…he also says Britney can't wait to hear what Brendon has to say. Lane says it's Enzo and Brendon that Britney wants to put up. Lane tells Hayden that Britney would put up Matt before she put up Hayden if the POV was used. Lane also tell Hayden that Britney would put up Ragan before he would put up Hayden. She wants Lane, Hayden and herself to be the final three. Lane says that they could get her out though! Matt comes into the jumanji and joins them. Hayden tells him he was wondering why Matt was acting so nonchalant last week when he was on the block. Britney joins them. Britney says that she wishes they could sneak upstairs and do an episode of Just the Tip. Britney tells that Brendon is outside by himself and that Enzo is in the bathroom.
2am Britney, Hayden, Matt, Lane and Ragan leave the bedroom to go up to the HOH room for another episode of Just the Tip. Ragan says that on the show, to add to Julie Chen's question, that he was baited repeatedly with homophobic comments, and that Big Brother sometimes doesn't want to show it …the feeds cut out. Ragan says that last week was a horrible week when Brendon won HOH, and that it was like Big Brother's version of 9/11.
FREE TRIAL Live Feeds! Try it free for 3 Days!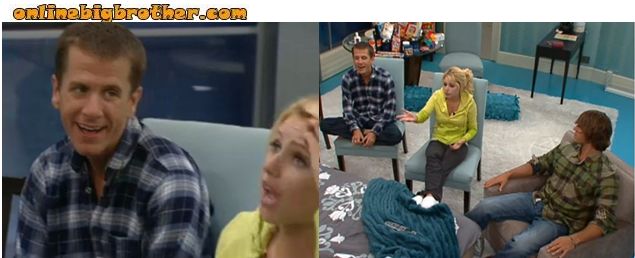 &nbsp
Enzo and Brendon are talking. Enzo says that this is the best thing to happen this week, Britney winning, because she'll be on the block next week. Brendon tells Enzo that they (Himself, Enoz, and Hayden) should pull Lane into their alliance slowly. Enzo says he needs to be put on the block, he says he has been losing POV and HOHs left and right, it is what it is. Brendon tells Enzo that what he sees as his weakness losing competitions is actually his strength now. Brendon says that they should let them think he is weak. Brendon says they are gunning for him and he knows it, he thinks Enzo has a chance in this game and he needs to take it. Enzo says that there is no back dooring the meow meow. Enzo says that Britney is lucky he didn't win HOH this week. Brendon says that he thinks Ragan and Matt are sucking Britney's dick right now because she is HOH. Brendon says that they are going to have to turn on each other. Brendon says that he is going to tell Britney that Matt and Ragan were pushing for her to go up last week. Enzo says he should have put up Britney last week! Enzo says that he should have talked to Brendon more last week and maybe Britney would have gone up. Enzo says that he thinks Lane was the saboteur and his reign is over now. Enzo says that he thinks Lane and Hayden are the life long friends. Enzo says that he needs to stay with Hayden because whoever Hayden votes for Lane will vote for. Enzo says as long as Britney or Ragan don't win Big Brother he will be happy! Enzo says that he is dead set on winning HOH next week and Britney is going up.
Brendon says he would throw the HOH to Enzo next week because he deserves a letter. Enzo says he hopes that Britney puts him on the block because it will wake him up in this game and get him to fight. Brendon is trying to convince Enzo to talk to Britney tomorrow and try to get her to not put him up. Enzo says she has already decided who she's putting up and there is nothing he can say to change that. Brendon tells Enzo that Enzo has a very good chance to make it far in this game. Enzo says that he is not falling BLANK to anyone in this house. Enzo says he likes some people in this house but he doesn't care about Brit or Ragan at all. Enzo says if he survives this week he'll get Britney and Ragan. Brendon says that Lane was the saboteur. Enzo telling Brendon that Lane isn't the saboteur, and that he thinks it is Kathy. Brendon still thinks it is Lane but Lane argues against Lane being the saboteur. Brendon says it could only be him (Enzo) or Lane as the saboteur. Enzo says you got to remember that America is voting for who they want to be the saboteur, and they wouldn't vote for someone they do like to be the saboteur. Hayden and Lane both come out and join them in the backyard. Enzo tells them that if Britney puts him up this week it will bring about a fury in him, he looks forward to that, if he makes it past this week he'll be cutting to heads off. They head inside.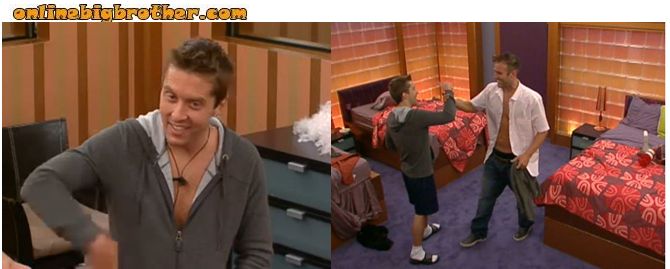 &nbsp
2:25am Matt comes down from the HOH and goes through the kitchen to the bedrooms. Matt goes into the Taj bedroom and tells Enzo if they decide to do a meeting or a diary room session to wake him up. Matt apologizes again for the last week. Matt tells him that he would keep Enzo over Ragan. Brigade all the way. Enzo says that it was BLANK today. Matt tells him it was the opposite of BLANK up, it was perfect today! Enzo tells him that he thinks he is going on the block with that needle dick. Matt tells him not to worry. Enzo tells Matt that next week he is winning HOH and getting rid of Britney. Enzo tells Matt he didn't know what the BLANK to think, Matt wasn't hanging out with them. Matt tells him don't worry, BG all the way! Enzo calls Britney a BLANK inbred albino. Matt says goodnight and leaves.
TRY the Live Feeds for FREE!!
Superpass – 3 Day FREE Trial
2:40am Matt, Ragan, Hayden and Lane talk about scaring Britney on the HOH spy screen. They go over to the living room and start goofing around in front of the camera. Britney comes out and the guys laugh. Britney then goes back into HOH. Matt holds Britney's pageant picture up to the HOH spy screen camera and Britney comes out of the HOH screaming! Lane, Ragan and Matt go into the jumanji room. Ragan says that he cried on the toilet. Ragan says that after the last two weeks, for Matt to whip out the diamond veto, just took his breath away. Lane says this week is going to be game changing, he thinks all the saboteur's messages have lead up to something after all. Lane tells them that Brendon will not win the POV, there is no way he is winning it, even if it's cloning sheep. Lane says that there is no way anyone would take Brendon off the block. They all agree they earned they stipend today! They talk about how the only thing they have to worry about is Brendon winning POV. Ragan says he hopes Lane wins the POV this week. Ragan says but we can't count chickens till they hatch. Ragan tells Hayden, Matt and Lane that they need to develop some strategies when playing the competitions like they did in the All-Star season. Ragan says that he can't believe we are all sitting here together. Ragan says that it's awesome and that he thinks this is the best night yet in the Big Brother house. Lane jokes with Matt that he's an BLANK for what happened today. Matt says that its all in good love. Ragan says so we're officially day 49 now, and that they have been away for 58 days now. They start talking about when Big Brother came and kidnapped them before the show. Ragan says that he can't wait to watch this last episode. Ragan says that he does feel bad for Kathy, and in a way he doesn't. They say they feel bad about her being blindsided. Ragan says that this season has been such a roller-coaster.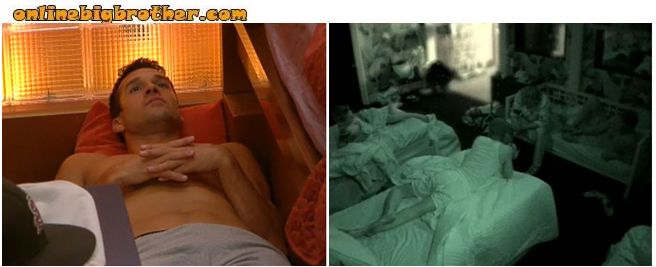 3:20am Hayden comes into the Taj bedroom and turns on the light and starts talking to Enzo. Brendon tells him to turn the lights off, and the three of them talk for a minute. Hayden turns off the lights and gets into bed. Enzo says that there are no more powers, he thinks Big Brother is done with the powers this season. Enzo says that he thinks there are lifelong friends in the house though. They talk about what a crazy day it was today and how its going to get crazier. Enzo says it feels good to almost win something that was so hard. Enzo says that Britney can't be HOH next week. Enzo says he isn't scared. Hayden says that he wanted Enzo to win so bad. Enzo says he was so close, and that he should have just answered true.
Watch everything LIVE as it happens!!
Superpass – 3 Day FREE Trial
3:35am All the house guests are asleep.
7am Everyone is still alseep…
8:35am Still sleeping…