9:15am The Big Brother cameramen are want the house guests to wake up. They're zooming in on the flamingos at the bottom of the HOH stairs while all the house guests are still sleeping.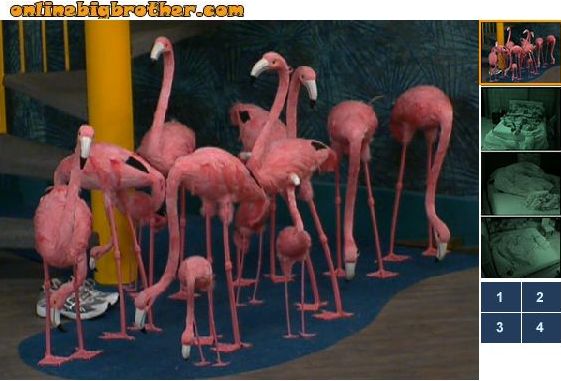 10:50am In the bedroom Ragan Lane, and Britney talk about the possibility of there being a double eviction. Britney and Lane joke around about how much time they will have left in the house until the end of the season. Hayden says that he woke up to Enzo singing that Footloose.  Enzo says that its nice that they got up late today.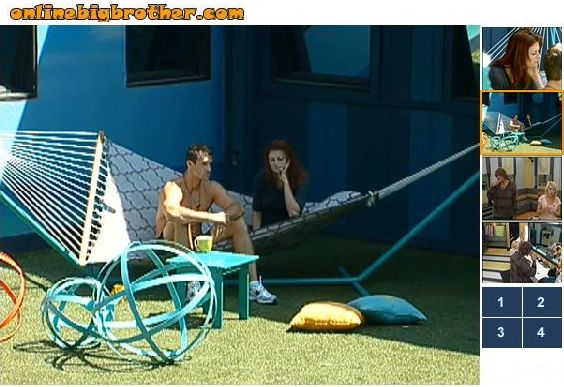 11am – 11:25am Rachel and Brendon are talking out in the backyard in the hammock. Brendon would rather have pictures of him and Rachel, and a letter from her. She laughs the day I leave you will also get a letter from me. Rachel says that if Matt wins this whole thing she will throw a coffee cup at him. Rachel now saying she wishes she could go back to Vegas and not to jury house. Brendon says that won't happen because we would be in the jury house and that's two votes right there that he wouldn't get. Brendon says that we BLANK kept our word and now he comes after us. Brendon asks what if Matt and Ragan are up on the block would Britney use the POV on one of them. Rachel says I dunno. Rachel says that Britney, Matt, Lane, and Ragan have control of everything. Brendon calls Britney a BLANK. …why do you like her? Rachel says because I like her personality. Brendon says why she is a BLANK! Brendon says that Lane is being controlled by the punanny! Rachel asks what kind of drama will be in the house if I leave? Brendon says yeah who would want to watch Ragan … a gay guy on his period. Rachel says yeah and hes not even a hot gay guy. Rachel makes fun of Ragan and how he talks and saying that he will not talk to her for three days. Brendon asks why don't they just make a competition about swimming… I'd like to see the other guys do that! Rachel asks how would they do that …have a pool in the backyard. Brendon says I really wish we didn't play the way we did and keep our word. Brendon says that Matt is a little troll, all he does is run around stirring BLANKup. Rachel says yeah and Matt and Ragan aren't even hot …and all they do is go around and touch each other like little boys. Rachel makes fun of Matt and his band saying that he isn't even that cool …that he has tattoos and wears those stupid pajamas. Brendon says all Matt did too was marry a groupie. Brendon and Rachel talk about the POV competition. They talk about how the others have said that they have had it easy… Rachel says easy …we have had to work our BLANK off since day one. Brendon says that he is pissed at Matt for breaking up them when they are in love. Brendon says that Matt should go suck his own dick. Rachel mocks Matt for being 5 feet tall.  Rachel says that the only person they would want win would be Enzo.   Rachel tells Brendon that once she is gone he will have to will HOH next week and if he doesnt he will have to win POV …and that it will be every week fighting to stay in the house because they will all be trying to get you out.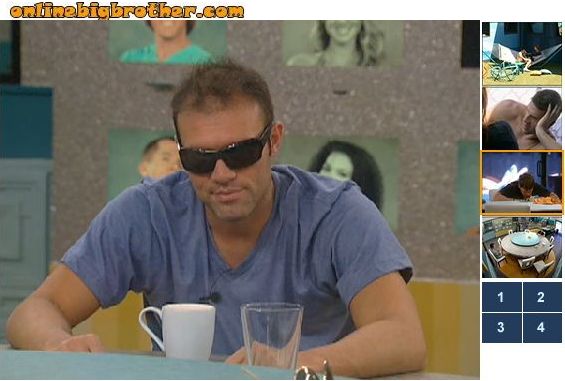 11:30am ?In the kitchen Enzo, Britney, Lane, Ragan are talking. Hayden and Britney leave the room. Enzo says that Brendon and Rachel are already out there talking game. Enzo says that it doesn't even matter soon Rachel will be out and then Brendon the next week…. one two punch …you know what I mean?! Ragan says that he just knows when he should not talk to someone because she doesn't think rationally. Ragan says that he wants a non-drama day. Lane says that he wants drama it makes the day by go faster. Enzo says that he thinks later that Rachel will drink, get mad and cause some BLANK.