SEE what they CAN'T show you on TV! 3 Days FREE No Commitments
11:34pm Backyard Hayden, Brit and Brendon
Brendon telling HAyden how he ran a 5 minute mile once. "I was moving so fast it was cool". Brendon now talking about running barefoot during a 5km run, "I was running with my ex and all her family and I bet all of them HAHAHA"
Hayden is amazed that Brendon was running on assphalt with bare feet. Brendon leaves, Hayden starts asking Brit what Nick would be doing in a Sunday. She goes over the typically Sunday. He asks about her Family, she says her parents go to church in the morning then just rest all day then they go to church in the evening. Ragan joins them outside.
Conversation moves to musical instruments
11:47pm Rachel and KAthy SILENCE After about 10 minutes MAtt comes into the kitchen and starts talking to Kathy. Rachel just sits there making noise with her spoon and bowl. Rachel keeps baning her spoon against her bowl trying to get a response from Matt and Kathy. They just sit there in silence, Matt looks like death and Rachels face is covered in zits and melting from her botox running out. Kathy leaves.
Matt: " you feel any better Rach? "
Rachel: "no"
Matt:"Sorry kido"
Rachel: "Kidoo nice.."
MAtt: "Cmon"
Rachel: "even if I had beat Kathy i sill would have to fight you all"
Rachel: "why do people want me gone there playing at a personal level and attacking me"
Matt: "who is attacking you ?"
Rachel: "Kathy won't apologize to me and ragan won't talk to me"
Matt: "Why do you even want the apology when it's no sincere"
Rachel: "what did I do to deserve it from day one everyone has been coming after me"
Rachel: "Is it because i'm feisty and have a attitude?"
Matt: "It doesn't help"
Rachel: "everyone wants me to go home because they dislike me at a personnel level.. the reason I've been like this because I have been fighting every day"
Rachel: "That POV was unfair for me because it was 5 against 2 "
rachel: "I offered brit 5 grand and she won't use it"
Matt:" that sab thing kinda screwed you because if she uses it everyone will think she the sab"
Rachel: "It's so unfair I couldn't even play for HOH and the chances of me winning that POV were so slim"
Matt:"I'm going to be in that same situation next week"
Rachel: "no it'll be Brendon that goes up"
Matt: "Whoever stays out of you and Brendon will figure out taht this game is not being played on a personal level you are playing it that way"
Rachel:"Ragan doesn't even talk to me still"
Matt: "The way you have been behaving yirks people"
Matt starts to try and explain to Rachel how the game is played and how they need to assimilate themselves into the house and stop acting the way they are. He tells her that Brendon is starting to last night and he thinks he' starting to feel welcomed again. Matt explains that how she treated people didn't help her position and her being in a power couple with Brendon sealed their fate. HE thinks that once they are broken up the survivor will see the house dynamic change again and will have to re-assimilate into the house.
Rachel: "I can't wait until you come to my town and you can see how personal it will get"
Matt: "you saying this in a spiteful ways"
Rachel: "I won't answer that.. I know who I am and I have friends in the real world I have a life I don't need these people"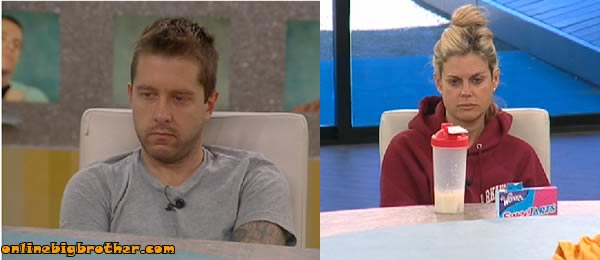 12:15pm Rachel, Crocodile Tears in the Taj room
Share it YO!!
Tweet