12:30am Up in the HOH room Britney and Ragan are talking about Rachel and Brendon.  Ragan asks Britney if she was scared when she took a bath with Rachel that she might contract something. Britney says before she got into the bathtub with Rachel she took a wine cork and placed it strategically.. wore two maxi pads. and doubled up on bikinis. Ragan says that he worries that Rachel is the saboteur and received some power. Britney asks why did our Pandora's box suck so bad? Matt got a dollar? That's stupid! They talk about the great feeling they get after the POV ceremony when they know that they are 100% safe and people have to accept that nothing is going to change. They worry about the drama Brendon and Rachel will cause. Ragan says that he thinks Britney is really going to get it bad this week, after the POV meeting. Britney says that she is crazy, but he is a huge doucher. Ragan is called to diary room ending the bashing session.  As Ragan and Britney head downstairs they make fun of Rachel's laugh.

SEE what they CAN'T show you on TV! 3 Day FREE Trial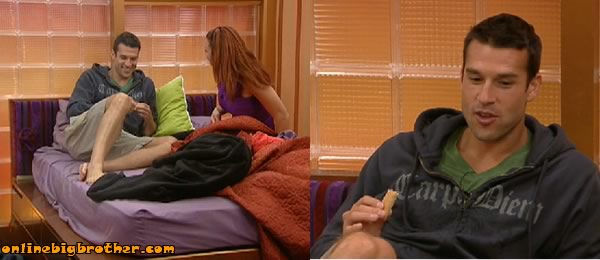 Lane, Matt, Britney and Hayden are out in the backyard by the pool table. Britney asks Lane why Enzo is hanging out with Rachel and Brendon at the hammock. No one answers her question. The feeds cut out for over 5 minutes.  When they come back Brendon is in the bedroom waiting for Rachel to return form the bathroom. Rachel comes into the bedroom and pinches her thighs to see how much fat she is and then counts the zits on her face. Rachel tells Brendon that she has 12 zits. (Gross) Rachel says that she trusts Enzo 100%. Brendon says that he doesn't trust anyone.  Rachel asks are you sure that you want me to give Hayden and Enzo a competitive edge, because the knowledge I have is…  Rachel says that she sounds like Yoda! Brendon laughs.  Rachel tells Brendon not to her laugh at her, that she won 2 HOHs.  The person he trusts is Rachel, and she won't be here. Rachel says that she wants Brendon to be in the Final 2 and that the $500,000 is better than banging. Rachel says they can bang for the rest of their lives. Brendon looks at the camera and says Uhhh.. Mom and Dad are you watching this… Rachel says UMMmm.. make love after we're married. They are eating chocolate. (I'm sure stuffing her fave with chocolate will help her zip problem.)  Rachel says that if Hayden can pull Lane away from Britney, then you are cool.  Rachel says that Brendon can't trust her but Britney is going to play this game for Britney so you have to make her a deal she can't refuse.  Rachel and Brendon continue to talk about the game and how Enzo and Hayden are great alliances.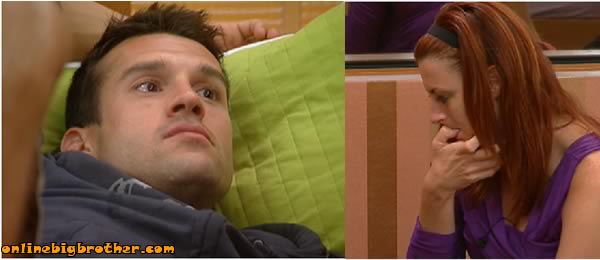 1am Big Brother tells the house guests that they are on an indoor lockdown. Rachel and Brendon start pleading to the cameras to keep them because they are so entertaining.  Rachel starts chewing off her nails then spitting them on the floor. Brendon complains that Matt got lucky because the two competitions he won were unfair and designed for little people with little feet. Rachel says that she believes she is leaving because they are scared of her and they can't beat her. The conversation changes to talking about the saboteur. Rachel wonders if it could be Matt or Lane.  Rachel says that it isn't Ragan. Brendon and Rachel discuss who it would be best to get out first.  They talk about how they need to get Matt and Ragan out first.  They talk about how they should align with Enzo.  Rachel climbs on top of Brendon and starts giving him a massage.  Rachel asks Brendon do you want me to move to LA? Then win $50,000 or more!  Brendon is moaning from the massage.  Rachel is now quizzing Brendon on before or after style questions for the HOH competitions.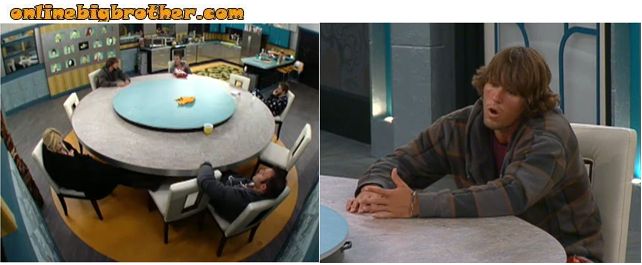 1:35am Rachel and Brendon turn off the lights and get in to bed. Rachel keeps trying to talk game with Brendon but he is too drunk and tired to listen.  Rachel takes off her shirt and is only in her bra and gets under the covers. Brendon and Rachel are curled up together and are now making out. They are really going at it under the covers. Then Rachel says no that's not a good idea. In the kitchen Britney, Matt, Hayden, Enzo and Ragan are talking about their colleges. Ragan starts making fun of Rachel's evil laugh from earlier. Ragan says that he is glad that the rest of them can't look bad for the rest of the season. Ragan says that Rachel took the cake.  The feeds cut out to the we will be right back screen.  Britney, Matt, Hayden, Enzo  and Ragan talk about how Rachel would be versus Janelle. Ragan says that Janelle's strategy worked because Janelle was being Janelle. Ragan says that she doesn't work because Rachel is Rachel trying to be Janelle.   The Brigade stays in the kitchen. Britney and Raga head to the bedroom. Ragan and Britney start placing bets on how many times Rachel will cry tomorrow?  Britney says three times.  Ragan says two times. How many apologies will be administrated by Brendon and Rachel?  Britney says one. Ragan says two.  How many fights will occur tomorrow?   Britney says one. Ragan says one also.  How many times will Brendon chime in on a conversation Rachel is having with someone else.  Ragan and Britney both say infinity.

Try the Live Feeds For FREE!!! Superpass 3 Day FREE Trial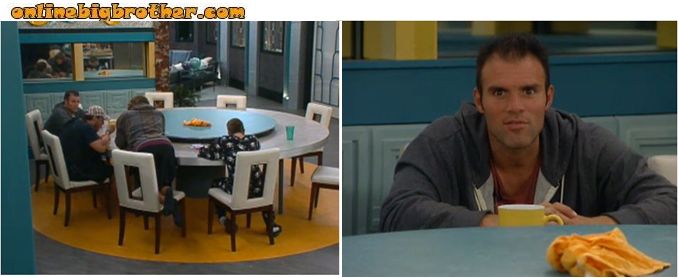 2:20am – 2:40am Meanwhile, in the kitchen Enzo is telling the brigade the advice Rachel gave him. Enzo says that Rachel wants to give us her powers.  Matt laughs.  Enzo says that Rachel kept telling him that he has to make it to the final 4 to have a chance. And he says, yeah I will… two words bri gade!  They talk about having the votes no matter who wins HOH and that no matter who wins they still have the votes. Then they say that the saboteur could change things. Enzo asks if he finds out that one of them is the saboteur, then he will hunt them down and kill them!  The brigade is worried that Big Brother will tell the saboteur in on the fact that there is a four person alliance and that the saboteur will tell the house. Hayden says that if the saboteur is one of the brigade members that he wouldn't sabotage the brigade by his own will. Hayden says that he is worried that the saboteur has to go by America's vote and that will mess them up.  Enzo says that if they don't make the final four, it's a travesty.  Enzo says that no matter who wins HOH next week, the Brigade is golden.  They talk about who they need to get out and discuss getting out Ragan, Kathy, and Britney.  Enzo says that he would rather shun them before they have a chance to shun us. Hayden says dude, after Thursday, that's 5 down!  Enzo says that the best case scenario is that Kathy is the saboteur. Matt says that is the best case but I don't think it's her. If America had anything to do with it, it wouldn't be her.  Enzo asks if it is Ragan?   Matt says that he doesn't think it's Ragan.   Enzo says and Britney's too chicken shit to do it, and that he thinks a major option is that it's Big Brother fucking with us. Matt says that all the saboteur videos have been lies and that Big Brother is just trying to make the house go crazy. They are now quizzing themselves on before and after questions for up coming competitions.  Enzo and Matt say that the Brigade needs to start remembering trivia for competitions. Matt asks Enzo when Rachel will impart her powers onto him?  Enzo says that every night we'll practice.  They decide its time for bed and go to get ready.  Lane and Hayden go to Bed and Enzo goes to the bathroom.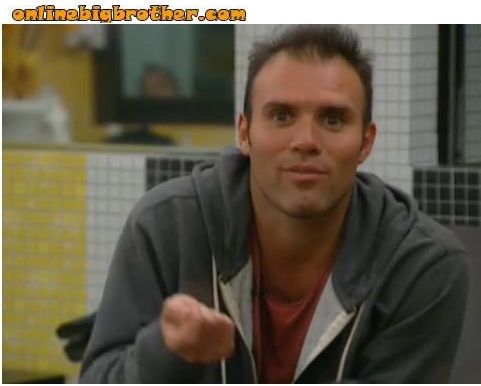 2:45am – 4am Enzo and Matt are still talking about the reasons why Kathy could be the saboteur. Enzo says that it has to be her …she is always creeping …she goes to bed early ….she's alone in the have-not room.   Enzo then starts to wonder if there is a saboteur at all.  Matt agrees he has been thinking that as well. Enzo says that he thinks the saboteur could be in the house to make the Brigade members fuck with each other.  Enzo says that he could give 2 shits about being the saboteur, and says that he started a Brigade.  Enzo says whoever the saboteur turns out to be, they aren't getting his vote, Matt says they won't get his either.  Enzo says that the Brigade has given Rachel life twice in this game. Enzo says it is a beautiful thing having Brendon and Rachel approach him and try to help him with his game! Matt tells Enzo that he over heard Britney and Lane talking by the pool. Matt says that Britney was telling Lane that there is no way there is a secret alliance in the house, all the alliances have been found out, and that it can't be pulled off. Matt and Enzo say that their secret Brigade alliance has never been done before. They laugh. They talk about the Brigade alliance making history.  Matt says that there are so many crazy assholes in this house.  Matt says next season everyone is going to looking out for a secret alliance and they started it, there will never be another Brigade!  Matt says that he thinks Britney is dangerous after watching her win POVs. Enzo says that he is frustrated that he keeps losing to her.  Enzo says he can taste the HOH this week. Enzo then says that he really misses wife today.  Enzo says it was nice to see Jeff and Jordan today because they know what they are going through being in the house. Enzo says that Jordan came up and said meow, meow to him.  Enzo says that he can't believe Jeff and Jordan know about the meow, meow!  Enzo says that he thinks one of the Brigade members will get the $25,000 Americas vote. Enzo says that he thinks Lane is a big contender for sure if he is in there.  Enzo says that they should go hide and catch the saboteur in the act.  Matt says that Britney told him about a past Big Brother season where one of the house guests hid in a large pot in the living room for hours waiting to eavesdrop on other house guests. Enzo laughs and says that he's got to watch that season.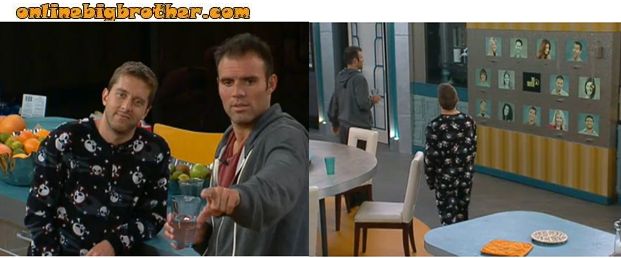 Superpass 3 Day FREE Trial
Enzo and Matt look at the memory wall. Matt says that he can't wait till all the faces are black and white.  Matt says that Ragan is so emotional, after Kristen walked out the door he told Matt he couldn't watch Kristen's picture turn black and white. They talk about how they can't wait till the only color faces belong to the Brigade members, he says he wants a picture of that for his Facebook page.  Matt says that he thinks they will get another video from the saboteur tomorrow.  They talk about how they think Rachel and Brendon have overstayed their welcome in the Big Brother house.  Enzo says that having them in the house has helped the Brigade stay undetected.  Enzo says that Britney is a big target for him. Matt aggress and says that she is devious.   Enzo says that she has already taken two POV's from him and that he is tired of it!  Matt heads up to the HOH room and Enzo goes to his bedroom. Matt lays on the HOH room floor and does sit-ups and watches the HOH spy screen to try and catch the saboteur in the act …. and then eventually goes to bed…

4am All the house guests are asleep….

8:50am The house guests are still sleeping..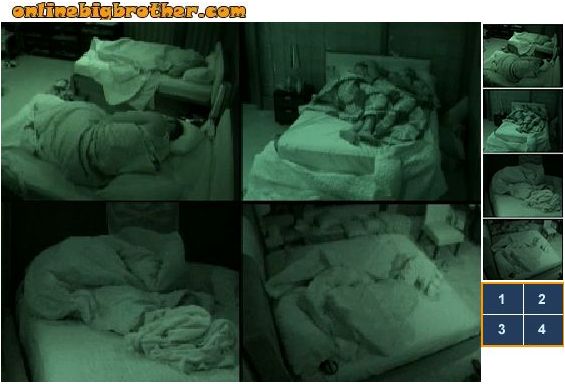 9:40am Big Brother is letting the house guests sleep in this morning … They're still sleeping.