POV Holder:
?
Next POV
March 29th
POV Used
?
POV Ceremony
?
HOH Winner
Bobby
Next HOH
April 1st
Nominations:
? and ?
Have Nots
?
POV Players
?
If you are outside Canada and want to watch the FREE Big Brother Canada Live feeds sign up for a VPN service here https://www.hidemyass.com/vpn/r16399/. It's safe to use, easy to set up, and cheap. Need to know more check out this post explaining how to set it up.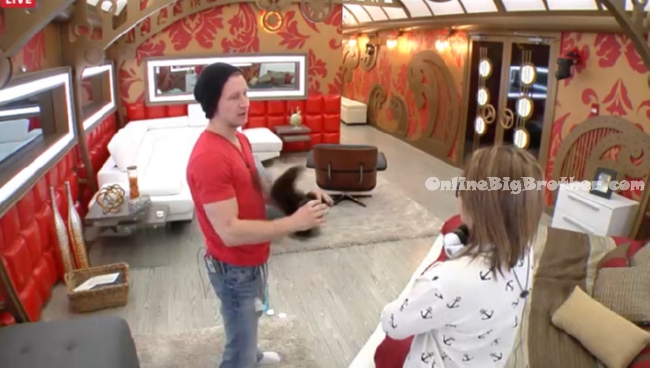 3pm All the house guests are sitting around the living room chatting. Willow heads up to the HOH room to listen to the music. Bobby joins and tells her the plan to put up Godfrey and a pawn. Maybe Johnny or Kevin. Willow says you could just do the first two people to drop out. Bobby says yeah that's what Zach and I talked about. I just don't want blood on my hands. Willow brings up how Graig gets paranoid and was questioning if Zach was with us. Zach reassured him. Bobby says that's why I don't want to tell Graig stuff. Big Brother calls Willow to the diary room. Willow. I'm either in trouble or they love me!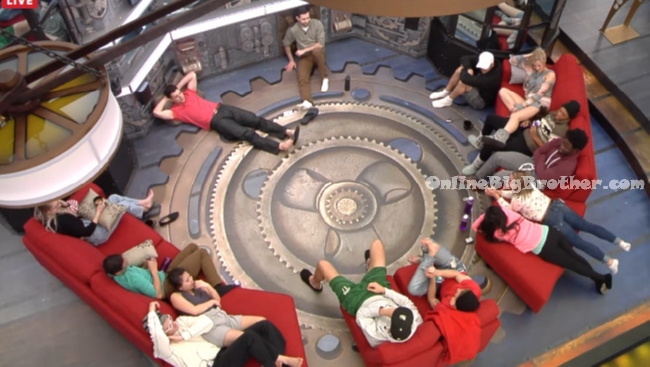 3:15pm – 3:40pm The house guests start taking turns telling their worst date stories. Kevin tells a story about being tied up and being submissive like from the movie "Fifty Shades of Grey". He says part way in he ran to the bathroom with his hands tied and threw up, then grabbed mouthwash and went back at it to finish the job. Godfrey says his worst date was a rock climbing date with the no ropes and the girls dad. Bruno's best day was his wedding day. They continue telling their best and worst dates in the video below.


The house guests hear Big Brother testing the Have/Havenot Comp in the backyard and realize that it has to do with water.

3:55pm In the pantry – Zach and Kevin are talking. Zach says he thinks he's (Bobby) going to put up God. Bruno enters and the conversation ends. Kevin leaves. Zach and Bruno comment on how they're good and leave the room.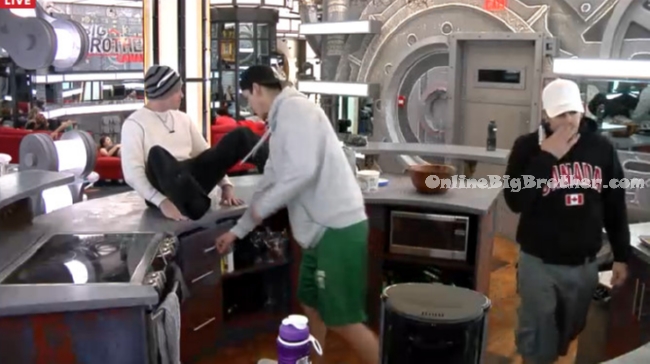 4pm – 4:40pm In the kitchen – Graig tells Godfrey he won't vote him out. I never will. We have to keep the numbers or they'll nerd us out. Right out of this game. Bruno and Bobby join them and they chat about random things.
All the house guests are waiting around for the Havenot competition to start. Willow, Cindy and Godfrey keep falling asleep and being woken up by big brother.
5pm Kevin tossing toilet paper gets one caught on the ledge and one on the chandelier. Adter trying to get them back big brother tells him to stop that!
THIS IS WHY THEY CAN'T HAVE NICE THINGS @bigbspoilers #bbcan3 pic.twitter.com/tmd2n8k9kt

— Dawg (@DawgsBigBrother) March 26, 2015
5:25pm Bruno and Graig agree they're both playing a strong game. We just need to stay tight. Graig says Willow in tight with us too. Bruno says he's praying he doesn't get on slop. Graig says I hope you don't too bro. Bruno says the funny thing is no one knows who Bobby's with. We have to get all six (The Chop Shop = Ash, Bobby, Bruno, Graig, Zach, Willow) of us together to talk. The end their conversation and head into the HOH room.
5:30pm – 6pm Pilar and Ash decide to take a bubble bath together. Zach and Kevin play hoops with a pot and toilet paper.

In the kitchen – Quick conversation between Zach and Willow. Zach says that if one of them wins the veto then Johnny goes on the block. They talk about cutting Graig from the chop shop alliance when the time is right. Zach says then we can pick up JP.
6:20pm – 6:30pm In the pantry – Kevin and Jordan talk. Kevin says "I thought of a symbol. The Sheyld was weak! Good ideas but it failed. We're The Fortress!" Kevin throws up is arms in front of his face. Any time you need to duck your eyes behind. We're in the same fort. How you doing buddy? Jordan says I'm doing good. Kevin says Any time you vote to evict. But game wise we're good just relax. Jordan asks what do you think he's going to do? Kevin says Godfrey and a pawn. After Kevin leaves the pantry, Jordan comments he has no idea! No idea! It's all about (new port)????, none of that! He doesn't need to know. Good to keep Kevin in his back pocket for now. He's smarter than he's letting on.
@alsopeterbrown @AlecBeall KEVIN says "The Sheyld was weak! We're the fortress!" @bigbspoilers #bbcan3 pic.twitter.com/k65wxLI6Qh

— Dawg (@DawgsBigBrother) March 26, 2015
6:30pm – 7:15pm In the bedroom – Ash, Pilar, Cindy and Kevin are chatting. Kevin asks Cindy who she likes in the house. Cindy says Zach and Bobby. But not Zach when he has a baby face. The cameras switch to Graig, Zach and Bobby talking in the HOH room about his nominations. They head down to the pantry and do some more chopping and fist bumping.
4:15pm Big Brother announces "House guests, just to let you know we are going to be have a competition shortly" (Have/HaveNot Competition) All the house guests start jumping and screaming out of the room. Big Brother blocks the feeds.
8:30pm No feeds no leaks Have nots still underway
9:05pm No feeds no leaks Have nots still underway
9:50pm No feeds no leaks Have nots still underway
Stay connected and interact with other Big Brother Fans on our Facebook page.
And Follow: @BigBspoilers and @Dawgsbigbrother on Twitter for the most up to date spoilers.