POV Holder:
Jon
Next POV
April 12th
POV Used
Yes
POV Ceremony
April 14th
HOH Winner:
Jon
Next HOH:
April 17th
Original Nominations:
Sabrina & Rachelle
Current Nominations:
ADEL & Arlie
Have Nots
Neda, Arlie, Rachelle and Heather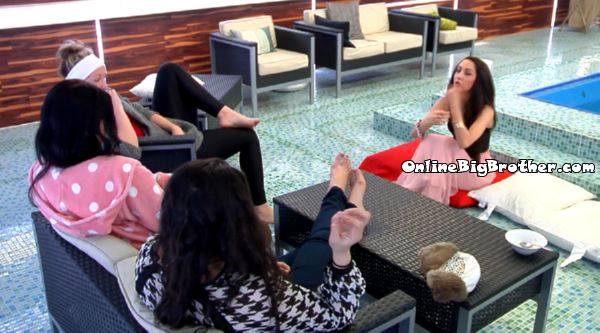 9:03pm Poolside Gremlins and Allison
Sabrina wonders if Jon/Neda's plan was to send Adel home. Allison doesn't think so.
Allison says the final 4 that they made were JON/Neda/Adel and Heather. She thinks that Neda and Heather plan to take Jon out and get to final 2.
Rachelle asks if Jon and Neda are wanting to keep Arlie.
Allison – "If they do I'm f*** dumbfounded.. I'm not making the move I thought I was"
Sabrina agrees.
Neda comes by says they "read her lips wrong" (During 3 hours of feeds being cut a lot happened)
Rachelle says her brother is deaf so she reads lips she was able to understand the conversation Neda/Heather.. were having.
Neda says it was mean what Rachelle said in front of group of people.
Sabrina asks why are Heather and JOn are so pissed.
Rachelle asks her if she said something about final 2 with Heather
Neda no the majority of it was how good the food was.
Rachelle asks them why they were so concerned about the volume of their voice
Neda says they were talking about Arlie
Rachelle says she knew what they were saying, She knows they were talking about how pissed Sabrina is off the block. Rachelle leaves.
Sabrina points out that Rachelle learnt to read lips when she was a kid.
Neda says she would not be out here talking to Sabrina and Rachelle if what she was saying wasn't true.
Sabrina says Neda lied to them about throwing out the condiments. "It's very clear you guys can lie to our faces"
Neda leaves..
9:10pm HOH Heather and Jon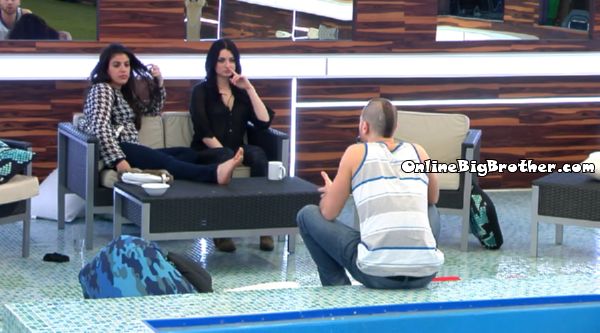 6:22pm Allison and Sabrina Poolside
Sabrina tells him everything Rachelle read off their lips is a HUGE advantage to Arlie.
Rachelle joins them says that neda is scared Sh1tless.
Arlie says he wants to get revenge.
Sabrina says she is worried he's going to rea laing with Jon
Alrie I want to kick the dh1t out of JON 'HE"S TRYING TO BACKDOOR ME FROM A GAME I'VE LOVED SINCE I WAS A KID"
He says if they keep him in the game he will kill the other side hje's confident ALlison will go with him.
Arlie says Jon, Neda heather 100% "I want them so bad"
Sabrina says if Arlie stabs them in teh back again.
Arlie swears up and down he will not do that.
Arlie – "You have to talk to Allison and tell her you gotta do this I understand your reservation here but I will be the target"
Sabrina says they are going to use this to our advantage.
Heather joins them and Arlie leaves
Rachelle asks her if she wants to tell them anything about what was said. They tell her Rachelle can read lips. Heather says it doesn't bother her.
Sabrian then why were you so pissed
Rachelle says they all looked scared and they said "Oh don't worry the volume was off"
Heather says they talk about how shocked they were the veto was used. Heather adds they talked about Arlie and how he backstabbed his past alliance and they hope nobody is falling for his schemes now.
Heather – "That was pretty much it we talked about silly little things.. the only game talk was about Arlie"
Rachelle asks them why they were pissed when all they were talking about was Arlie.
Heather tells them if Arlie stays in the game they are all f*** because he'll win the game.
Heather says it doesn't bother her 100% that RAcehlle can read lips.
Heather – "Just be smart with your decisions"
Sabrina says It's smart for them to keep Arlie and best for Heather if they keep Adel. Heather says he will backstab them without a second thought. Sabrina says Arlie isn't going with them after they try to backdoor him. Sabrina tells her if Adel win HOH she is going up 100%.
Heather says Arlie has to go home.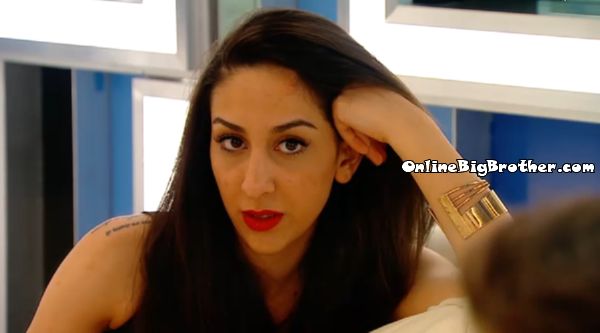 6:22pm Neda, Adel and Jon
Neda – "I'm so over this twist business"
Neda – "That f***g veto.. what was your reaction.. rho was like you can read lips"
Jon asks if Allison really wants to work with Arlie.
Neda – "the whole thing in this game was she's had zero power.."
Neda explains how Allison teaming up with the Gremlins and Arlie she has power, She planned this all.
Jon – We're so F*** "
Neda "F** this veto"
Neda – "Oh My God.. This is going to go down as the stupidest move"
Neda – "F** these twists how to you prepare for them"
Jon says she didn't have to do anything Big Brother just handed her the Veto.
Jon – "OHH man if Shaban,stays he's going to be the most Epic guy in the house"
Neda – "He's going to win."
Jon – "Arlie is going to drop them like a sack of potatoes"
Neda says they have to keep reiterating to the gremlins that they would rather stick with them than Heather.
Neda – "Oh my god I hate Allison so much with a passion"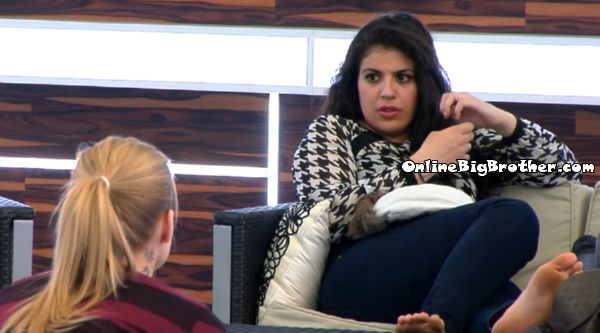 9:56pm Gremlins and Heather
Heather tells them Arlie is going to target them if he's left in the game. Sabrina says that doesn't make sense because they would have saved him. Sabrina thinks Arlie will try and break up the paris, Neda/JOn and Neda/Heather.
Sabrina – "Look Heather everyone knows you are a pair"
Heather – "he will go after one of us and one of you"
(Video coming)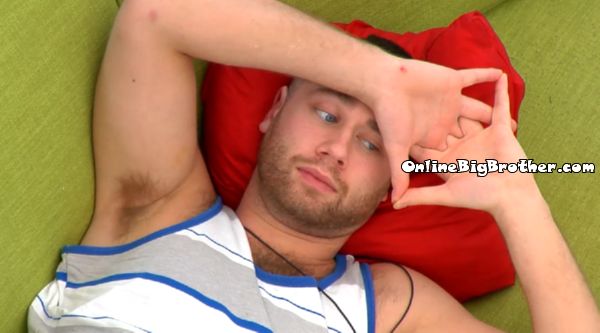 Chilling…
[polldaddy poll=7968822]
[polldaddy poll=7964297]