9:39pm Kitchen Lane, Boy George, Enzo Rachel has just finished telling them how much she loves sangria back at home in Vas Vegas she drinks them every day. Lane asks her if she's a mixer at work. Rachel "Uhhhmm NO i'm not a mixologist" Enzo: "OHH you're not a mixologist".. She explains that in the summer its so "effin" hot that all they do is have BBQ's and drink sangria. Lane starts reading the baby food packaging and says to Enzo "only feed to child that are use to chewing solid food and are accompanied by a adult"…"Well enzo you shouldn't be eating that.. you haven't eaten much solid food lately".. Enzo and Rachel laugh. Rachel goes on about how much it sucks they have to stay inside tonight, she wonders how long they'll be inside. Enzo "whenever that concert is over" (there was a concert close to the big brother house and the houseguests could hear the music) Rachel says no wonder we get so fat in here we can never work out. Rachel wonders if the fans are watching right now and if Big Brother Posts Results on the feeds. Enzo thinks the Blogs posts the results. Lane brings up the TV show and the live show he thinks that the results are known on the shows. Rachel says only the HOH and eviction is on Thursday all the other competitions are known much sooner on the life feeds.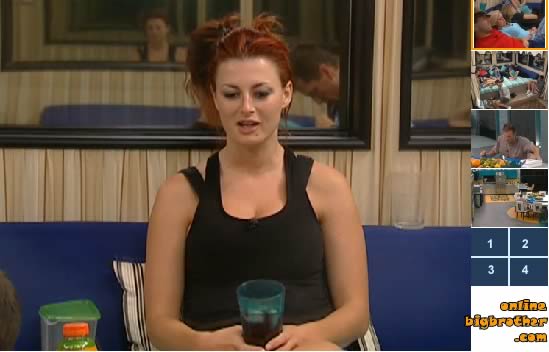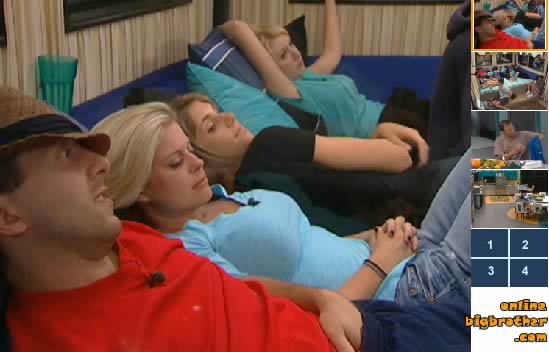 9:40pm Cabana Room Conversation is on drinking at at what age you started to drink. They all ask kathy if she has any stories about drunk people. Rachel walks in and show them her sangria, she says she diluted it a lot with sprite because she's hoping to work out later. Matt says he'll take the Vegas bet that she'll not work out tonight and will probably drink more of that sangria. Boy George giggles says he's probably right. They ask her about any thing weird that people bet on in Vegas she goes on and on about it.. talk moves to drinking games where she explains flip cup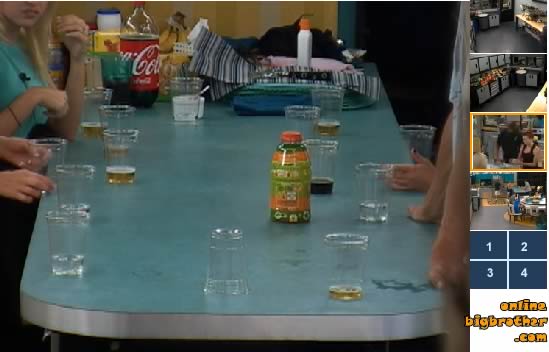 10:00pm FLIPCUP everyone waiting for matt to come out of DR so they can play flipup.. most of the talk revolves around drinking.. rachel doing a good chunk of the talking.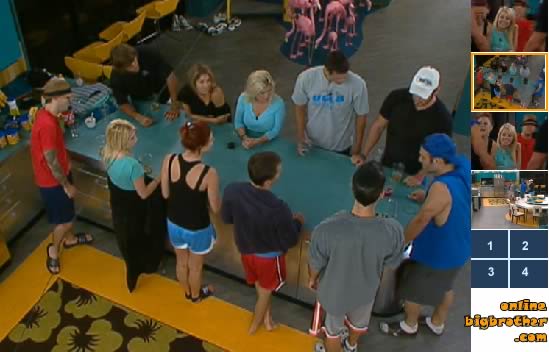 10:21pm Flip cup