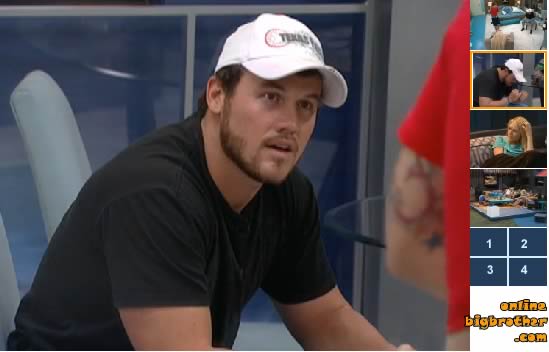 8:00pm HOH Lane and matt Same thing between these 2 Lane can't believe they didn't win, Lane hates those type of competitions, Matt is shocked this happened this wasn't Matt's plan… Lane says they have to win HOH next week but thats not a problem because 'they' can win HOH it's just these POV's that causes them problems.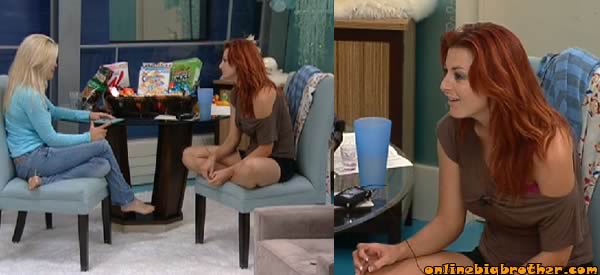 8:13pm Rachel says she doesn't want to speak for Brendon because "obviously" they 2 different people and they'll do 2 different things but she thinks Kathy should go talk to Brendon and tell him how much you want to play the game. Rachel says that Kathy has her vote she has nothing to worry about, Rachel reminds Kathy "you know we're 2 different people and some times we'll not see eye to eye" she wants Kathy to talk to Brendon tonight. Kathy appreciate Rachel's vote but she is still very worried because many people in the house are torn because of their friendship with Andrew. Rachel is shocked that people like Andrew, "He's so mean to me".. She leaves to use the washroom on return we learn she's been constipated for 3 days.. she can't understand why becuase she's eating real food for a entire week and a half… Rachel asks if she knows how Enzo and Lane are going to vote. Kathy says no, they are torn as is Hayden and Kristen. Rachel is surprised she didn't think Hayden and Kristen were close with Andrew. Kathy goes on about how she needs to be in the house she's got big reasons that she cannot say but their very important (Yeah like early retirement). Rachel makes it really clear to kathy that she won't vote for Andrew to stay because he's never been nice to her, she's never spoken to each other. rachel leaves and Brendon comes up to talk to kathy. Kathy tells him she really wants to be in this game and fight to win.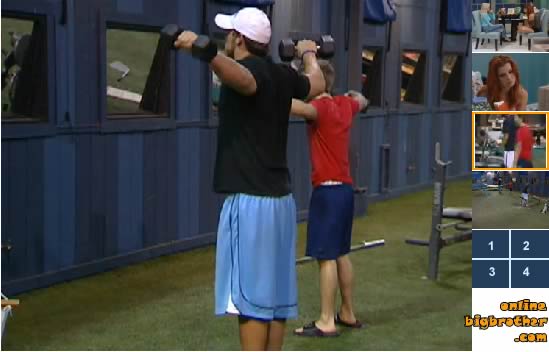 8:36pm Backyard Lane and Matt working out, Enzo's running, Hayden on the bench. Matt's giving them the run down of his conversation with Kathy and Andrew… he pretty much gives them a accurate account of each conversation. Matt says as long as Kathy goes it's not the end of the world but if 'they' (b/BG) win HOH it'll be the end of the world. Hayden asks whats ragan thinking.. Matt: "As far as putting up last I heard Kathy… He mentioned keeping kathy this week then putting her up next". Matt says he still needs to talk to ragan about it though. Matt says that Ragan is a smart player but he's very emotional, he asks hayden who Kristen is putting up. Hayden says Brendon and Brit. Matt says that brit told him she's putting up b/BG. Lane asks him if Kristen has an alliance with Brendon/Rachel and Hayden is now saying, she'll put them up next week, that there is no alliance between them..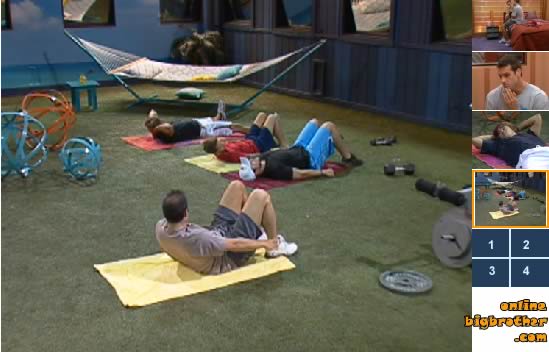 8:59pm The Brigade In Training Matt mentions to Lane how to get Ragan to be on their side they all need to go and let Ragan talk to them for 2 hours, he'll love you. Lane's going to do it asap. Matt recommends he just agree with what Ragan says. Lane says he'll tell him a story about someone at home that he misses.

Onlinebigbrother.com is around because of your donation every year the site costs us to host the images and run the servers needed to handle the traffic. If you like the site then please consider donating to keep the madness going. Thanks!
Share it YO!!
Tweet