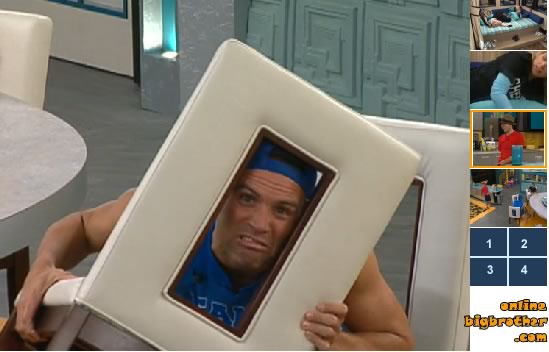 12am In the kitchen, Enzo Matt and Lane are strategizing. They talk about what to do, and with who, while they point at the photos on the memory wall. Enzo looks at Brendon photo and calls him Bill Gates with muscles. Matt says, well, he's gone next week. Enzo starts laughing while he tells Matt about how Kathy is campaigning for votes. Enzo laughs and says that Kathy was saying I save lives everyday.. I save lives! Matt says that he feels bad for everyone who is left and has to go back and watch …. (The live feeds cut to the we will be right back screen). Enzo says that Bok Choy tastes like ass, what the BLANK is that, Bok chow, I don't even know where that's from. Why couldn't they come up with a baked potato? That's American! Enzo says that the Bok Choy like a bootleg piece of lettuce, and that he would be happy if he had a salad. Enzo says that he is starting to get into penalty mode, man, and still has four more days! They talk about Kathy cornering people for their votes. Enzo says that Ragan has cotton in his ears so that he is able to sleep. Matt asks what? Cock in his ears! Enzo says well, that too. They all laugh. Enzo asks where's the Pepsi in this motha BLANK? …only Coke? …Sprite? ..what the BLANK!!! Enzo and Hayden tell the story about how about 5 min before the house meeting last week Hayden was taking a crap. Enzo then opened the door while Hayden was taking a crap and was shirtless and told Hayden YO BLANK is about to go down!! Hayden says that jokingly told Enzo to come on in so Enzo went into the bathroom with him and closed the door to talk while Hayden was in mid crap. They all laugh.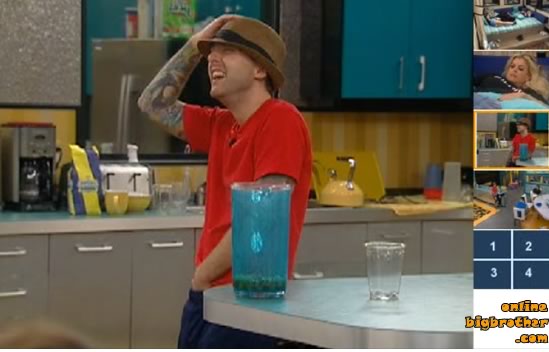 Enzo laughs and jokes that they (The Brigade) all talk big talk and then when they get the power they make a power move and put up Kathy. Enzo talks about Kathy campaigning for votes and says that people getting desperate in here! Enzo picks up one of the dining room chairs and holds it up like a frame around his face and says this is the Brigade now! ..we BLANK up this week. They are all laughing at Enzo. Enzo says what if one of them get HOH this week? Matt says that America is looking them like what the BLANK. Enzo starts talking about the POV competition, saying that if came down to 2-2, if both of them would have folded, it's getting tight now. Matt says that it is getting down to the wire. Enzo says that it is going to be 3 girls in a row going home! I think Kathy is on her way out. Matt agrees. Enzo gestures to the cameras and then tries to peek through the mirrors at the crew.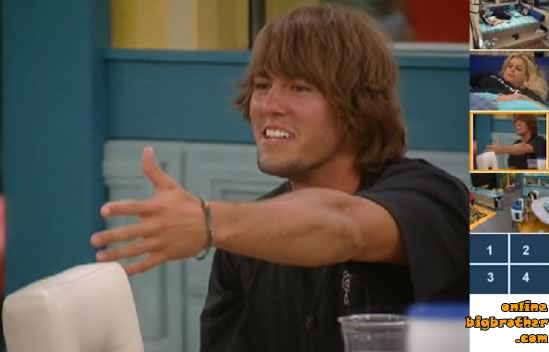 SEE what they CAN'T show you on TV! 3 Day FREE Trial
In the lounge room, Brittney, Kathy, and Rachel, are talking about the votes. Rachel tells them that Hayden and Kristen having a showmance. Britney still isn't sure. Kathy says that she doesn't know anything about that, let's get back to the votes. Brendon comes in to say goodnight and then leaves. Rachel tells them that she doesn't control Brendon's vote. Brittney says she doesn't control anyone's vote either. Britney says she doesn't feel close to any in this house anymore game wise. Kathy says she doesn't either. Rachel and Britney tell Kathy that she has their vote. Kathy thanks them for their votes. Rachel tells Kathy that she and Brendon don't see eye to eye on this vote. She says Brendon is smart and he does what wants to do. Rachel says that she supports him and will never go against him and she really loves him but they might not always make the same decisions. They talk about how Matt says it is up to the house who they vote for and he is not going to tell anyone how to vote. Kathy says she should not be punished for voting against the house last week. Rachel says just prove you want to be here but you don't have to say anything bad against Andrew. Kathy says that she has told people she wants to be here. Brittney says that there are still a lot of days left and things change every hour. Kathy asks if anyone asks her if she has any votes can she tell them she has theirs.
Britney says that she would rather you just say you have a vote but not give names. They talk about how good of a competitor Andrew is in the game. Rachel says the competitions always come down to Andrew and Brendon. Rachel once again says that she does not control Brendon's vote. But Rachel says that her goal is to do what is best for her and Brendon. Kathy says that she is not going to dog Andrew and throw him under the bus to be in the house because she would rather just leave then stay in the house that way. Kathy says that she needs to be here for personal reasons and mainly for medical reasons. Kathy says that she needs to be here even if its only to the jury house. The longer she can stay the better it will be for her. Rachel says that no one wants to make this decision this week.
1am – 1:50am Up in the HOH room Matt and Enzo are talking. They talk about who has the balls to put up Brendon and Rachel. Matt says they can't let them win HOH next week. Enzo say that having them in the game keeps the target off of the Brigade, because Brendon and Rachel are everyone's target. Matt says that they are all going at some point. Matt says that he thinks Hayden is in danger. Enzo asks do you think Ragan will put him up? Enzo says BLANK, we let this one slip away! Matt says yeah, we have got to protect him. Enzo tells Matt how important it is for The Brigade to win the POVs, that they have been winning the HOHs but they also need to win the POV's. Enzo is still mad that he lost the other POV by 14 seconds. Enzo says that Brendon and Rachel have played in every POV. Matt says that he wonders if America likes Brendon and Rachel. Enzo says that he thinks America probably likes Brendon but not Rachel. They say Brendon is a good guy but he is unstoppable. Enzo says that he doesn't think half the people in this house have balls. Enzo wonders what Kristen will do because she talks a lot of game but he doesn't know if she'll have the follow through. Enzo says that he wants to see if Andrew has the balls to do what he has to do to win. Matt says that he thinks Andrew will back door him, under the bus. Enzo says he should have beat Britney at the stock exchange POV. Enzo says that ten people are left in house after next Thursday; we have got to get to 8. Enzo says that he doesn't trust Ragan, if we get down to 8, that's half the house. They talk about how they think Kristen and Hayden are the friends, that it's weird. Matt asks Enzo if he heard about the birth marks. Enzo says he'd have to pick those two since he doesn't have any other clues. Matt asks if Andrew and Kathy are in an alliance? Matt says that they are sending Kathy home? ..what a power move? Enzo says what a bust!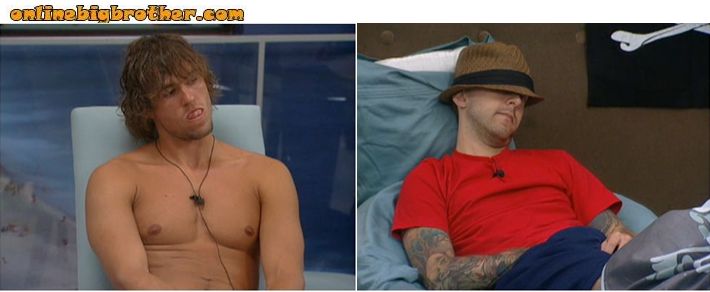 FREE Live Feeds! Superpass 3 Day FREE Trial
2am – 2:30am Hayden comes up to the HOH room. Enzo says that they should have got dirty this week. Matt says it was a blunder. Enzo asks who do we get rid of this week? ..Dopey Deputy? Hayden says that if they keep the Deputy, she's not going to win a competition. They all laugh. Matt says that things may not be as bad as they seem. Matt says that all Rachel and Brendon want is a vacation, a summer romance. They don't care about the money. Matt says if they put up Andrew with any of our side alliances…. Then they are in the jury house. Matt says that is when we target Brendon and Rachel. When one goes, the other will be like a chicken with it's head cut off. What are they going to do? Matt says they have to get 5 votes to win. Matt asks how can we get someone on the block next week that isnt them? Matt says that they need to split Brendon and Rachel up so that only one is pissed in the jury house. Enzo tells Matt that if he has the chance he would pick Matt to go to the Final 2 with, and that he trusts him more than anyone in the house. Enzo says that they gave Rachel life, now she's getting them back. Matt says we will get her. Enzo says that he thinks Ragan is a big threat in the game. Matt says that if Enzo is HOH and wants to put up Ragan, then one of the Brigade will have to go up too so that the others don't get suspicious… Enzo says that will throw them for a loop!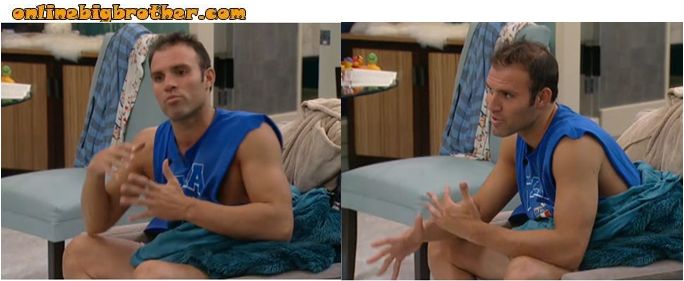 2:30am All the houseguests are asleep…
7:10am All the houseguests are still asleep…
Onlinebigbrother.com is around because of your donations. Every year the site costs us to host the images and run the 3 servers needed to handle the traffic. If you like the site then please consider donating to keep the madness going. Thanks!
Share it YO!!
Tweet