POV Holder:
Jon
Next POV
April 12th
POV Used
?
POV Ceremony
April 14th
HOH Winner:
Jon
Next HOH:
April 17th
Original Nominations:
Sabrina & Rachelle
Current Nominations:
?
Have Nots
Neda, Arlie, Rachelle and Heather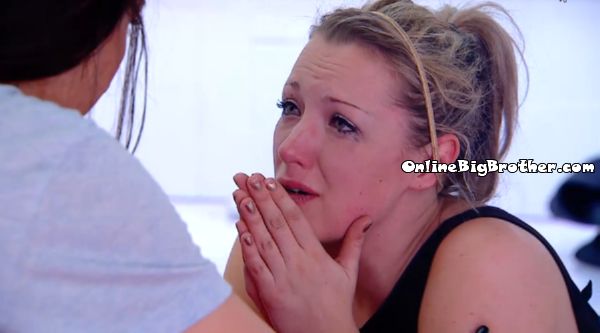 12:10AM Allison, Heather and Neda
Allison tells Neda not to trust Jon he will stab her in the back. Allison says she really liked them and she never talked anything against them. She doesn't think she deserves this, she knows she's the last person in their alliance.
Heather – 'You're scaring me legitimately scaring me"
Allison tells them to please not trust Jon, Allison keeps repeating "Don't trust Jon.. Don't trust Jon"
Heather starts to cry, Neda may also be wiping away tears.
Allison looks at Neda- "Jon thinks he has you fooled"
Allison looks at Heather – "Arlie thinks he has you fooled"
Heather – "I don't want you to go"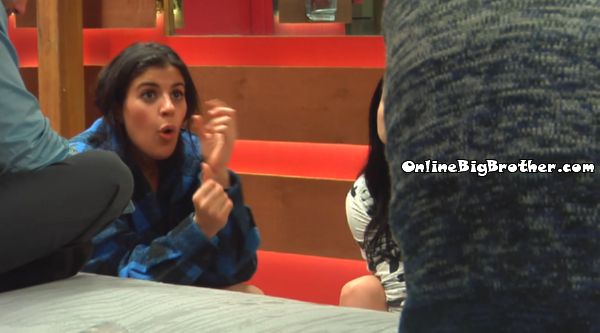 12:20AM Hot tub Arlie and Rachelle
(Gremlins offer everything Jon and arlie accept, They have a "Final 4" )
Sabrina says this coming HOH her and Rachelle will "Cut our bodies into three" Sabrain "You can literally throw it and get us to do your dirty work for you"
Sabrina asks if they want the gremlins to put up Heather and Adel,
Jon "you even Even Ned Balls"
Arlie – "We're not counting ned balls out"
Jon – "No tat all"
Sabrina wants them to agree to not put up a gremlin if they win HOH. Jon won't agree to this says how about they all get together and as a group decide who to nominate. Rachelle agrees to this.
Jon reminds them he's go the Veto so if he doesn't use it one of them is going home. Sabrina wants to know who they are going to backdoor. Jon and Arlie tell them it's Allison.
Sabrina says if they throw the HOH to them next week Jon/Arlie will not be nominated, "You have to trust us so that you'll throw it.. and we'll put up Jon and Heather"
Jon Leaves, Adel tells them that there is no way a gremlin is going home tomorrow Allison goes up. He says this is just preliminary talks they will solidify it tomorrow.
Sabrina – "So we're not going home this week"
Arlie – "Nope 100%.. feels nice eh"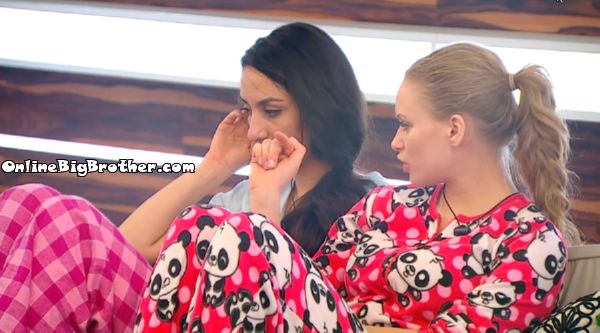 12:33AM Poolside Neda and Heather
Talking about how heart broken Allison is. Allison going help theirs and the guys game.
Neda – "I would like to do anything to f*** over the guys game" Neda thinks that Arlie went up to Allison and told her she is being backdoored. Neda says Arlie is getting jury votes, he's getting to people before they can.
They agree Arlie is the biggest threat in the game right now is Arlie.
Heather – F**** that.. there is no f** chance we've come into this game played through the entire thing by the skin of our teeth and brought down because of Arlie,.. There's no F*** chance that we're going home before him"
Heather – "He's leaving this house and that's the bottom f*** line"

12:55AM
(Jon, Neda and Heather talking 1/2 way through Arlie joins them)
Arlie mentions how the Gremlins are talking like crazy offering up everything they can. Arlie says he tried to get away but Sabrian would just keep talking.
Jon "She's puking game"
They agree the worst thing about Sabrina staying this week is she's going to think she's masterminded some plan and it kept her in the game.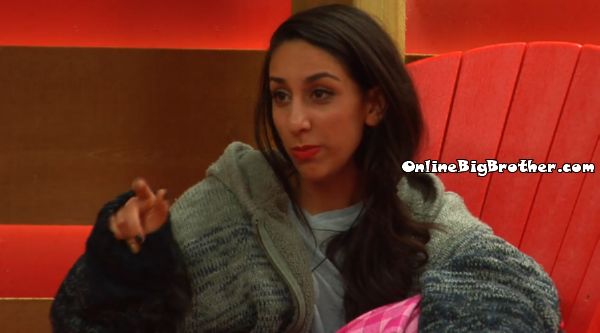 1:19AM Hot Tub Heather and Neda
They agree that the sloppies seconds is not the tightest crew anymore.
They agree they should get rid of ALlison, Arlie followed by the Gremlins. Heather thinks once Arlie is gone adel and Jon will be closer to them. Heather points out Allison leaving is great for them because they are not involved. It will be a jury vote for them.
Neda says they have to turn Jon onto Arlie, "We need Jon out sooner than we thought"
The girls are very confident on their position in the game.
Neda – "Jon is tripping his sh!t right now"
Heather – "He knows we're running it"
Neda says as soon as Allison is gone they are going to try and put Heather and her against each other.
Neda – "This is the point when the sl**py s*conds turn on each other.. At this point the alliance is done now.. as much as I would have liked it to be final 6 it's not realistic."
Heather – "We needed the sloppies to get us to where we needed to go"
Neda says the sloppies were needed to get out Andrew, Sarah and Kenny.
Heather says they need to turn Jon and Arlie against each other.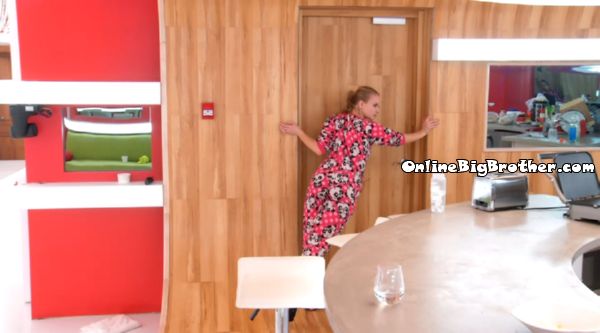 1:34am Storage room Neda and Jon
(Heather listening outside)
Jon says if Neda keeps Allison it's going to mess up his game for real. Gremlins catch Heather in the act of listening in. Sabrina scrambles into the storage room tells tells heather was listening int, "Swear to god on my head"
(Allison is sleeping in his bed)
1:49AM Jon tells them he's taking Rachelle off the block and putting Allison in her place.
Jon says theres no point in him using the veto if they aren't 100% sure Allison will go home.
Heather – "How close are you to Arlie"
Jon – "as close as I need to be"
Neda – How close are you to Adel
Jon – "As close as I need to be"
Jon asks them if they've been thinking about Arlie going up, He knows Alison will vote him out. JOn says he doesn't see anyone as a physical threat except for Arlie, Jon boasts that he can win every physical competition. once Arlie goes.
Jon doesn't think Arlie would put him up this week. Jon tells them they have enough votes to get Arlie out. Neda, Heather and a Gremlin would vote him out.
Jon says he can go tell Allison people in their alliance is trying to get her backdoored. Jon will say if he can keep her safe will she vote their way.
Neda doesn't think it's the best idea so soon to take out Arlie.
Heather says Adel would not be onboard with that, "Our Alliance would combust"
Jon – "It would be everyone against Adel"
Heather doesn't want that she wants everyone against the gremlins.
Jon doesn't want to go back into the HOH bed because Allison is sleeping there. "She's either going to wake up and talk to me or give me a r*b n t*g."
Neda says she's leaning towards getting Arlie out.
Heather says she's the same.
Jon agrees they plan to go talk to Allison tonight and secure her vote.
They all swear to a final 3. Jon calls this the move in the game. Heather "HUGE Game move"
The plan is to backdoor Arlie..

(Video coming)
2:32AM HOH Allison, Neda and Heather
They try to wake her up but can't. They finally get her up and she stumbles to the bathroom where she collapses.
They decide top drag Allison into the main bedroom and talk to her about their change of plans in the morning.
3:00AM
Feeds on Hush hush ..

3:20AM HOH Jon, Neda and Heather
Talking about their plans to backdoor Arlie this week.
[polldaddy poll=7964297]