POV Holder:
?
Next POV
?
POV Used
?
POV Ceremony
?
HOH Winner:
Andrew
Next HOH:
March 13
Original Nominations:
Paul & Neda
Current Nominations:
Last Evicted Houseguest
Anick
Have Nots
Rachelle, Neda, Heather and Sarah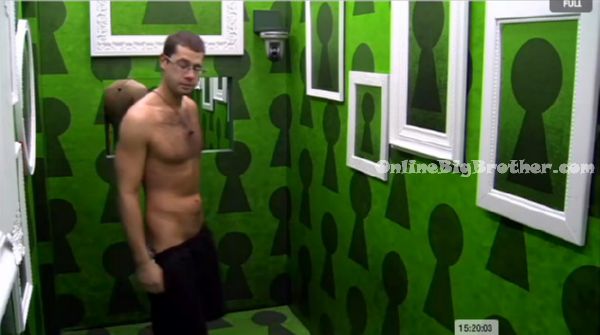 7:40am Arlie wakes up and heads downstairs. He heads into the storage room with his shorts falling half-way down, he then heads to the diary room. When he comes out of the diary room his pants are still falling off. Arlie heads over to the chandelier by the living room couches and starts counting the jewel strings on the lights. He counts 178. He comments on how he might be off but that's okay if its off by 2-5 so that if they have to guess then he won't look like a sniper. He then counts the other one and then starts counting off all the items he's counted in the house. Arlie comments on how Andrew is so intelligent but then asks how intelligent could he be if he tells everyone how intelligent he is.. Arlie says "It's so much easier for me to play the idiot, than I thought it would be!"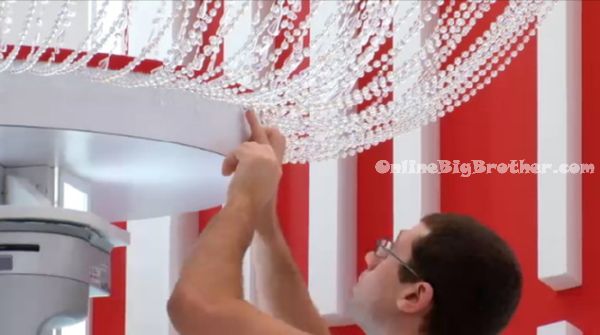 Arlie walking around with his shorts half down:

Arlie counting things in the Big Brother Canada house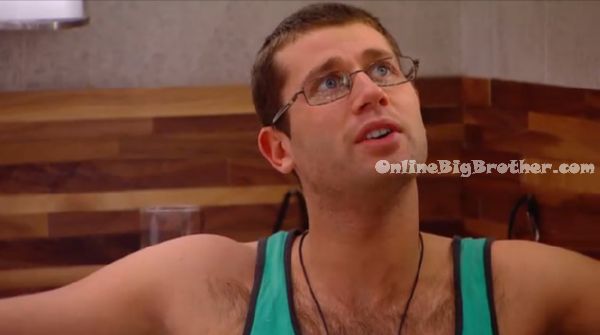 8:35am – 8:45am Paul joins Arlie in the bathroom. Arlie asks Paul for a favour – Arlie asks if its possible to not hang out with Paul so much any more because it's almost like game suicide for him to be seen with him. Paul says its okay and that he understands. Paul says that he respects Arlie for talking to him about it rather than just ignoring him. Paul tells Arlie that this just might be his saving grace with Paul later in the game. Arlie says I would really appreciate it if you didn't tell Adel or Kyle about this conversation because they are just really really hot right now. Paul says he won't and that he isn't even talking game right now.
9:30am – 10:10am Big Brother wakes up the other house guests. Heather complains that she feels like her face is puffy. Ika tells her that she doesn't look like it. All of the house guests are waking up and getting ready for the day. Arlie starts shaving in the kitchen sink.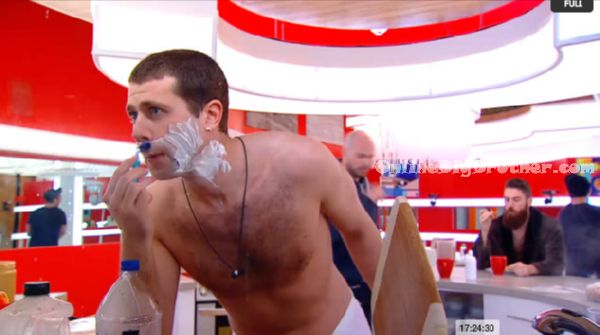 10:25am – 10:45am Paul, Adel and Kyle workout and talk game in the backyard. Andrew & Kenny walk through the backyard to the hot tub room. Kyle says he hates how comfortable they (Andrew & Kenny) are in the house. Adel says that if I win HOH I am going to rip my shirt off like the hulk! Paul says I am looking forward to the POV, it is going to be epic. Go out with a bang! Paul says my biggest targets are Kenny and Andrew. Kyle and Adel agree. Adel says Sabrina too but she isn't a threat. Paul tells Adel that Sabrina is a wicked virus if you want something to get through the house just tell her. Same with Sarah.


10:50am – 11:05am In the kitchen – Kenny, Rachelle, Andrew and Sarah discuss what they think the Power of Veto competition will be like. They think it will be one where they have to swing back and forth matching up things from the movie they watched last night. Andrew, Kenny, Racelle and Sarah talk about using the POV to take Paul off the block. Andrew says I hope he doesn't think we are saving him. They talk about not letting him know to shock the s**t out of him. Meanwhile Jon and Arlie talk game on the chairs outside the HOH room.
Check out the NEW OBB Forum https://forum.onlinebigbrother.com/
Stay connected and interact with other Big Brother Fans on our Facebook page.
And Follow: @BigBspoilers and @Dawgsbigbrother on Twitter for the most up to date spoilers.