POV Holder:
?
Next POV
?
POV Used
?
POV Ceremony
?
HOH Winner:
Andrew
Next HOH:
March 13
Original Nominations:
Paul & Neda
Current Nominations:
Last Evicted Houseguest
Anick
Have Nots
Rachelle, Neda, Heather and Sarah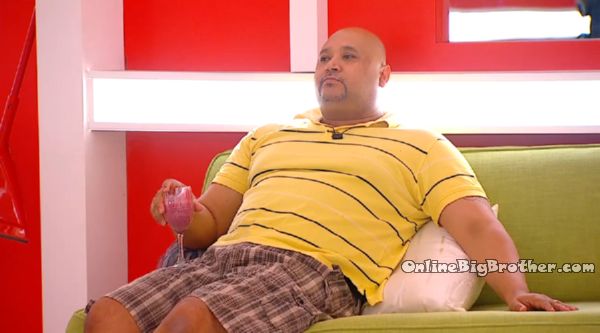 6:10pm Paul and Sabrina Kitchen
Paul – I'm so glad the feeds were not live today … thats a good thing.. thats a good thing
Sabrina – I know thank god
Sabrina says Adel's mean he called her a cow when they were sitting down he said "once a cow always a cow.. he called me a cow"
Paul – I feel so bad for the way things went today.. I fell like crap
Sabrina – it didn't have to go down that way
Paul – If I could erase this day I would but unfortunately that's life
Sabrina tells Paul she knows he said "The only people I trust are Sabrina and Sarah because they're wrapped around my finger.. they run in here and tell me everything"
Paul denies saying that. She says she's heard Paul say a lot of things. Paul says she is a nice girl and he had pledged his allegiance to her.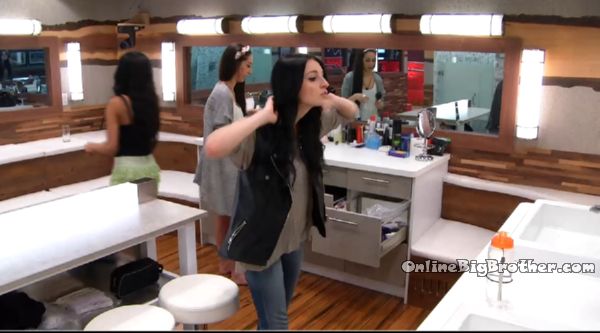 6:26pm Rachelle, IKA and Neda Bathroom
They are talking about how muych they don't like the girls from the last season. IKA says she would have hated Topaz and Jillian. Neda thinks Talla was a floater and would get annoying (Vote out Neda).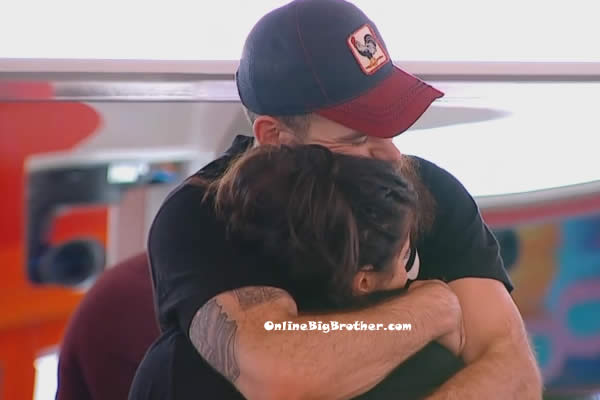 6:31pm Kitchen Sabrina, Kenny, Andrew
Sabrina tells Kenny about Paul working for votes. She says Paul is telling her she's really smart and she has a good heart. Paul told Sabrina he was always trying to protect her from "him" (I think I heard Andrew)
Sabrina adds that paul told her his only two friends in the house are her and Sarah.
Kenny – 'than why did he call her out in front of everyone'
Sabrina – 'I was like Really your friend called me a cow and you lied about me to everybody'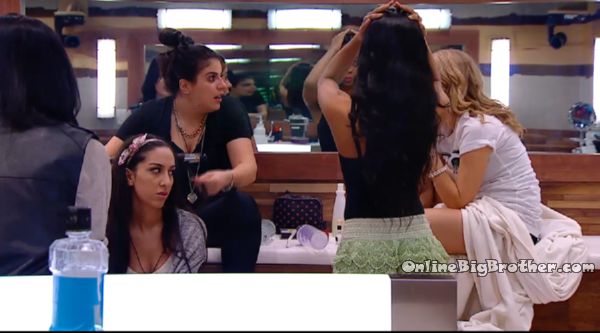 6:42pm IKA, Heather, Rachelle and NEda
Going over all the mean things Paul has said. "He said really horrible thing.."
IKA – "he strikes too low"
Neda – "Below the belt"
IKA – 'The POV speech that was uncalled for '
Sabrina – A Lot of things were unnecessary'
Heather – "HE brought up my mom'
IKA – He said your mom had cancer
Heather – Paul said my mom had cancer.. She did.
Sabrina – He brought that up
Heather – I told him that in confidence
Sabrina he spoke about my grandfather..
IKA – He really thinks he's going home he has no idea what is going on with Kyle.. he's really scared.
Heather – He's trying to turn the girls against each other
Sabrina – He's stupid he doesn't know how to play this game.
The girls start talking about them being in such a good position. Heather tells them once the "3 guys" are gone they have the majority of the votes.
The Girls start going over their alliance, counting votes and generally getting excited. The video below highlights their confidence. Rachelle is pretty quiet throughout the conversation.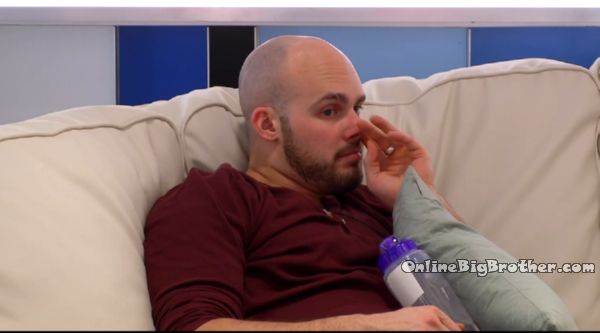 7:02pm HOH Andrew, Sabrina, Arlie, Rachelle, Sarah
Briefly talk about today and how Paul went crazy today. Sounds like there was yelling about bl*wjobs
Andrew: "Big Brother said important shit today.. we gotta remember the spirit of the game.. It's a game it's a game a game"
IKA – 'not to attack someone's character"
Andrew: "I least we get a reward later"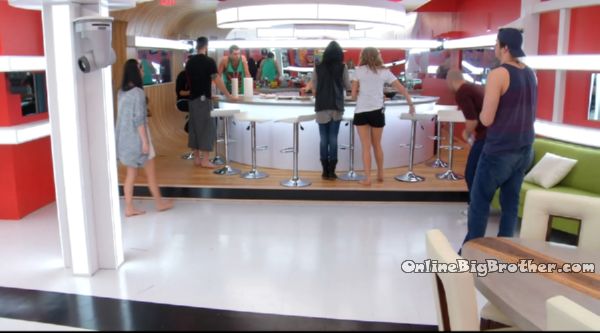 7:15pm Production tells everyone to head downstairs and go to the kitchen. They wonder what it is. Someone asks "Is this the ring" Once they get to the kitchen they are told to be quiet.
Production "As you know there is a screen tonight.. Andrew. Neda, Kenny, Arlie, Paul, Jon and Sarrah, will be going out for the screening.. " Feeds cut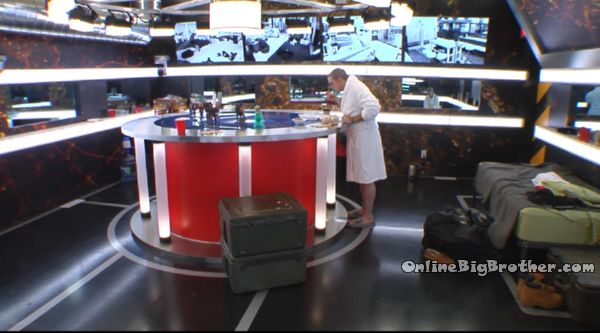 8:12pm Feeds come back on Cam 5 showing the war room. Through the feed screens you can kinda see what is happening on the other 4 cams.
Scott points out that the girls are really tight except for Sarah and Neda.
Scott: "IKA is starting to put a few more clothes on"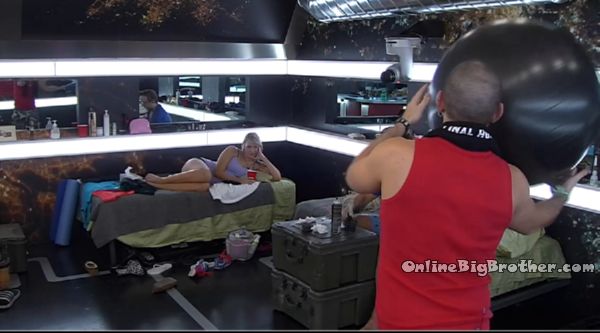 10:04pm War Room
Nate: "Are they still outside for that movie.. sounds like it right.. definitely "
Looks like Scott is taking piecing off his wig to use for decorating his bobble heads
Nate: "Is she crying.. Looks like it's Rachelle"
Scott – She's having a hardcore breakdown.. and Ike is there.. you know what that could be sarah"
Nate: "No Sarah is outside"
Ika starts crying
Allison – "Bunch of babies crying all the time"
Scott: "Have we cried once?"
Allison – "These are some soft people what is going on in here"
Scott: "We don't have a freaking clue"

This video has the war room houseguests talk about Rachelle and Ika having a breakdown in the HOH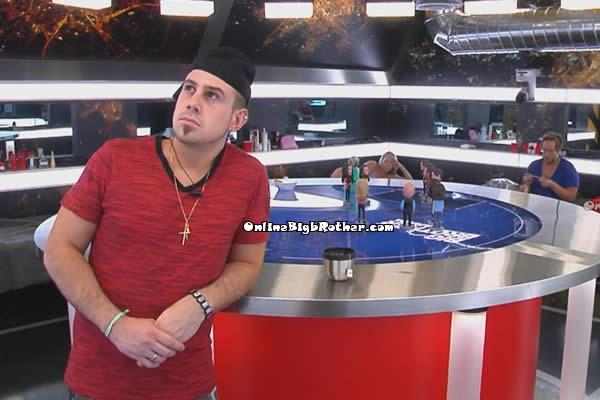 10:30pm Warroom
Nate says Kyle and Adel are talking.
Nate says the houseguests are going back in from the screening.
Nate: "Paul's in the bathroom shaking his heads"
Allison: "What is up with all the drama"
Scott says IKA and Paul got in a "screaming match" before the screening.
Scott: "Adel.. ugh it's like something in a horror locker room flick.. look paul is in there freaking out"
Nate: "They're running to Andrew.. something tells me he's the nice guy"
Allison: "Jon and Heather are hugging"
Allison: "Make out in the bathroom.. please make out someone. I love watching the showmances"
Scott: "I do to"
10:45pm War Room
Basically we are watching the war room house guests watch the regular house guests. Lots of drama goign on in the house today too bad the feeds have been blocked 🙁
Allison – "I'm starting to think Kyle is an a$$hole"
Scott and Nate agree.
Allison – "I'm loving Jon a little bit"
Feeds out again…
12:03AM Feeds still out 🙁
12:33AM Cam 5 feeds back showing the war room Looks like the war room house guests have their feeds turned off to.
Complete set of the Big Brother Canada Bobble heads https://twitter.com/bigbspoilers/status/442535499140313088
1:11AM War Room
Scott begs production to let them sleep until 11 tomorrow says it's the sabbath day they have to do it for jesus.
Nate: "I want to know what is going on with Sarah I want to know if she is freaking out"
Nate: "Lights dimming"
Lights go off, Scott is sleeping NAte and Alison continue to chit chat. Allison starts talking about how big of a Big Brother Fan she is.
Alison said she laughed so hard when Talla got drunk and fell in the hot tub. She also really liked it when Alec and Peter were in the Diary Room together.
Alison "I did love Amanda she had a lot of comic relief"
1:20AM War Room
Nate: 'They're still up'
Alison – 'I know we just heard that toilet flush.. it's so loud to'
Nate – 'You think Sarah's the next to go'
Alison – 'It's looking that way eh'
Nate = 'Unless they backdoor someone'
Alison – 'That would be quite the twist'
Nate: "Kyle or something.. could you imagine.. Kyle's out next he's out next got backdoored cause he didn't get a chance to play POV.. He made Sarah feel so bad she complained to Andrew and Kenny.. But Andrew did shake on it but it didn't look sincere"
Nate: "If I go in Canada i'll backdoor someone the first week"
2:30AM everyone sleeping.. Feeds were blocked for most the day and when they came back on everyone but Sabrina and IKA were sleeping. The audio was muted for their conversation.
[polldaddy poll=7857961]