POV Holder:
Jon
Next POV
April 12th
POV Used
?
POV Ceremony
April 14th
HOH Winner:
Jon
Next HOH:
April 17th
Original Nominations:
Sabrina & Rachelle
Current Nominations:
?
Have Nots
Neda, Arlie, Rachelle and Heather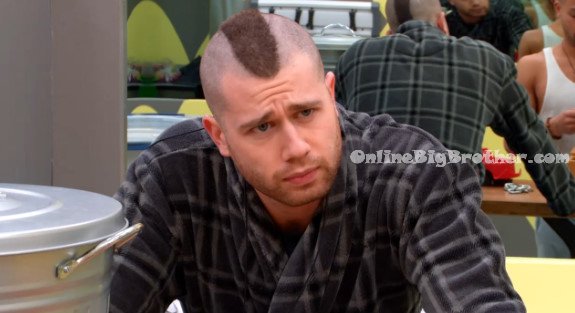 9:30am – 9:55am Big Brother wakes up the house guests. In the storage room Arlie tells Adel I didn't include you in the initial talk with them but I think Jon and I should make a deal with the girls that they can't put at least me and him or you and him up if they win the Gremlins because I honestly believe they would listen to it if they win next week and then they wouldn't put us up and they would totally put us up if we didn't make the deal. What do you think? Adel says totally up to you bro! Arlie says no, no, I'm asking .. we're together on this. Adel says me personally I think I don't think so because I have a good chance of going up if you do that. Arlie says that's why we could make a deal with you too. I just don't know if they would do it if it included you. Adel says yeah. Arlie says I can not do it though. Adel says I would rather you not. Arlie says no yeah, it's not up to me. We're in this together. I am running everything by you.
Adel says I just think that now that Jon won that thing it will be a lot easier for them now to put him up ..because he is a strong competitor and he just won a trip and you never cared about winning it you just wanted to make it to jury. I know that Neda is close to him but she is just as scared as he is. Arlie asks do you think the Gremlins would put him up if we saved them this week? Next week it might be just me and you that go up. Adel says that Gremlin's aren't going to win sh*t! Arlie says they still can! Rachelle will win an endurance challenge…I am just looking to cover all bases. We could get them to put up Heather. Arlie says I am doing this to protect us. We could also make a deal to protect you me and Heather. Arlie says we'll talk. Arlie and Adel leave the storage room. Arlie gets called to the diary room. There is a short leak of Arlie in the diary room where a female voice says Hi Arlie. Arlie responds Hi Big Brother…
10am – 10:15am In the bathroom – Arlie comments that he is looking at her a LOT differently after last night! Jon asks did you f**k Neda in your dreams. Arlie starts noding and laughing and says not exactly. Jon says finger popping each other's a$$holes! Arlie heads up to the HOH room and says so it looks like we are taking Allison out. We should make a deal with the Gremlins. Jon says yeah. Arlie says include me in on it. It is going to be a big one ..like complete protection till the final four. They will need to keep it but we won't. We will also get to tell them who goes up next week. We will decide who goes up this week too. Jon leaves the hoh room and then comes back. Arlie tell JOn that we really need to make this sound like the reason why we are saving them is because of their plea.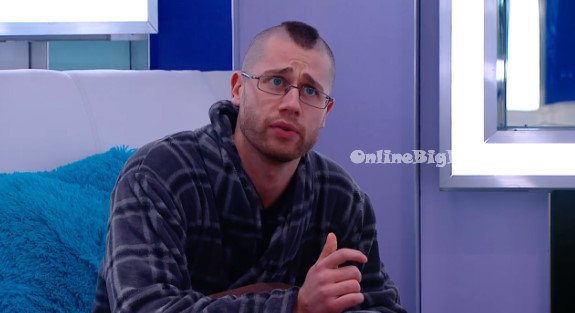 10:20am – 10:45am In the bathroom – Neda and Heather talk about how she (Allison) brought this on herself. Neda says I'm on board with it. Heather agrees. IN the bedroom – Sabrina says Jon told us to look surprised. Neda says yeah everyone is going to look surprised. I think she has an idea that it's happening but she doesn't know. Just pretend that you don't know its happening. Neda says I tried so hard for this to happen and I am just so glad that it's happening. Sabrina asks so its going to be us to the final 4. Neda says trying… Sabrina says so if one of the four of us don't win HOH this next week .. then we're going home? Neda says yes.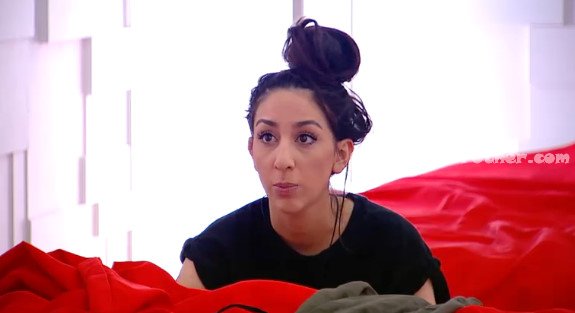 10:55am In the bedroom – Neda asks how much cranberry juice do I need to drink to get rid of a bladder infection? Allison doesn't say anything. Neda says nurse?! Allison asks are you allowed to drink that?! Neda says yes, I asked! Chill! Neda says this is the first time I've ever had a bladder infection. Allison says just keep drinking it. Neda says I got the medication before but just didn't want it this time.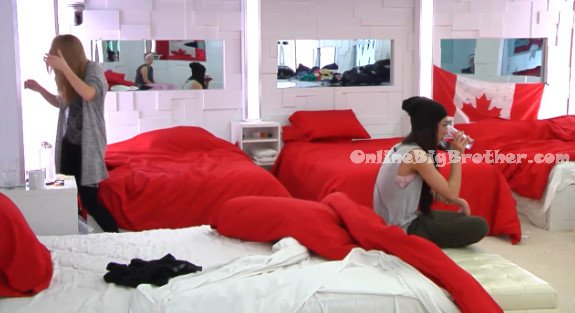 [polldaddy poll=7964297]
Stay connected and interact with other Big Brother Fans on our Facebook page.
And Follow: @BigBspoilers and @Dawgsbigbrother on Twitter for the most up to date spoilers.